Drake Brings His Son Adonis to Accept Award at 2021 Billboard Music Awards
Drake was awarded the 'Artist of the Decade Award' at the Billboard Music Awards 2021, and his son Adonis shared the stage.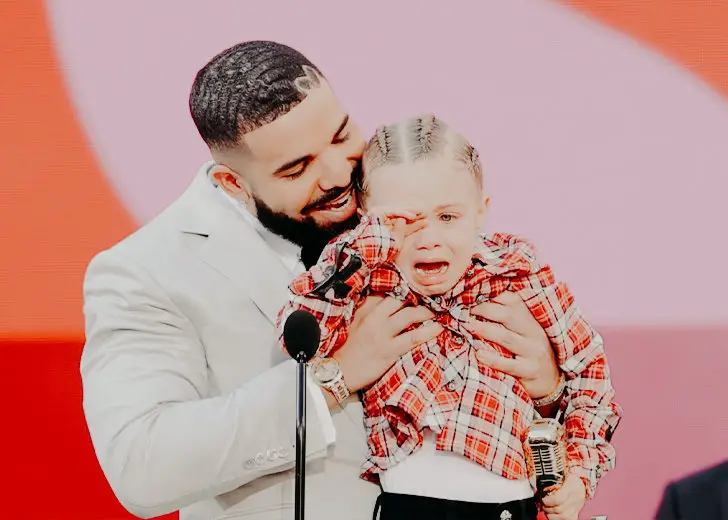 At the Billboard Music Awards 2021, Drake was honored with the 'Artist of the Decade Award,' and accompanying the hip-hop mogul on the stage was his son Adonis.
The Billboard Music Awards 2021 were held at the Microsoft Theater in Los Angeles, and the prestigious award was handed over by his OVO team and parents. 
Adonis Joined His Father Onstage
The award announcement was followed by a montage highlighting Drake's contributions to his genre and his lofty achievements, including his 27 Billboard Award wins.
Soon after, the iconic singer, wrapped in a dapper off-white suit and a heart etched into his hair, walked onto the stage with his son Adonis by his side and humbly accepted the award.
The superstar's son looked adorable in his red checkered shirt and casual black trousers. Adonis's look was completed with his dirty blonde locks braided into cornrows.
Adonis Is a Rare Sight
As soon as Drake got the award, he handed it over to his son and dedicated it to him. The event was made even more special in Adonis's presence because fans have seen so little of him. 
Even stills of Drake's adorable boy are rare, let alone a public appearance on one of the biggest music awards on the planet.
Although the news of Drake's three-year-old attending the event made headlines a day before the event, not many people expected him to take the stage. 
A Humble Acceptance
In his acceptance speech, the 'Laugh Now Cry Later' singer confessed that he was not very good at taking compliments despite the video montage portrayed him with a lot of confidence and bravado. 
He also admitted that he was very self-conscious about his music and always looked for ways to improve, even when he had done a good job.
Then again, that relentless drive was what he credited his award to. In his words, he was so unsure about his ways that he just kept doing it, again and again, hoping that he would stumble on the formula, eventually. 
He also said that he did not prepare a grandiose speech about how he made it to where he was and what it took because, in all honesty, he wasn't sure himself. Finally, he concluded, 
I just know that I've spent an incalculable amount of hours trying to analyze all the things I did wrong, but tonight for once I'm sure as hell we did something right.
Drake Is a Billboard Regular
Apart from the 'Artist of the Decade Award,' Drake's name has made it into Billboard's radar quite a few times. 
He has been ranked #1 on the Billboard 200 for a total of nine times and has had six #1 songs on the Billboard Hot 100 since 2010.
In the same span, he shattered several chart records, including Most Hot 100 top 10s with 45 of his songs listed to date and Most Overall Entries with 232 of his tracks ranked by the publisher.
In March 2021, he also became the first artist to have the top three of the Hot 100 chart all for himself at one time, with 'What's Next' at #1 followed by 'Wants and Needs' and 'Lemon Pepper Freestyle.'