Angel Brinks Wiki: Age, Baby Daddy/ Husband, On-Off Boyfriend & Facts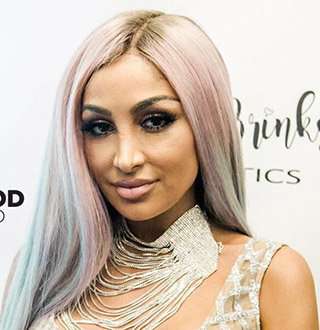 Fashion designer Angel Brinks went through a series of failed relationships, even facing a devastating loss. Finally, she put an end to her fickleness as she raised the curtains for her new boyfriend.
Angel Brinks is best known for her appearance in seasons four and five of the American reality television series Basketball Wives LA, which premiered in August 2011 on VH1.
Here are some enthralling wikis on Angel Brinks' age, net worth, fashion career, and her boyfriend.
1. Angel Brinks' Bio: Age & Fashion Designing Career
Born on October 19, 1982, Angel Brinks was raised in an Armenian-Italian family. She had a passion for designing from an early age.
Her family wasn't very supportive of her interest in fashion and would always push her to study medicine or law.
The 35-year-old designer would go to thrift stores, buy items, and sew them together with her grandmother's sewing machine.
You May Also Like: Izabel Goulart Wiki: From Sensual Romance With Boyfriend To Family, Diet & Workout
Angel continued to defy her parents' wishes and often sneaked out to take dance classes. Eventually, she stepped closer to her dream when she became a background dancer for Jennifer Lopez.
Angel turned to her dream of participating in the fashion industry in 2010, and it wasn't long before she achieved immense success and started her own fashion line.
Today, Angel is a professional fashion designer who has a fashion brand called 'Angel Brinks' that has already completed seven years of initiation. Her designs have already been worn by celebrities like Blac Chyna and Amber Rose.
2. Angel Brinks' Massive Net Worth
According to sources, Angel Brinks has got an estimated net worth of $500,000.
Angel has amassed a considerable fortune through her fashion brand by selling her designs. Non-celebrities can afford some of her designs, while some are pretty high priced.
She also earned a decent amount of money by appearing on the reality television series, Basketball Wives LA in the fourth and fifth seasons.
3. Angel Brinks' Husband: Unexpected Loss
While it usually flies under the radar, Brinks was previously married. She only revealed about her husband in 2016 on Twitter when she broke the news of him passing away.
Her husband was a rapper who committed suicide while Angel was nine months pregnant. Any in-depth information on why he did it isn't yet revealed.
However, it is known that Angel gave birth to her son, named Azari, while mourning her husband's sudden death.
Read Also: Andrea Tantaros Personal Life Secretly Took Turns | Married With Husband?
Her family supported her through a hard time and suggested she focus on her baby. She was careful while her son was growing up and asked questions about his father.
But Azari soon got a father figure as Angel welcomed another man into her life.
4. Angel Brinks' Former NBA Boyfriend Tyreke Evans: New Baby Daddy
After going through a rough time for quite a while, Angel let go of the shackles of her past and found love again as she started dating NBA player Tyreke Evans.
The fact that Angel was dating Tyreke was what got her the chance to appear in Basketball Wives LA. The two had an on-off relationship that led to many people dissing Angel to the extent of calling her a gold-digger.
They shared a baby girl in 2014 and named her Amani. They separated eventually but remained on good terms with each other because of their daughter.
Amani seems to be living with her mother as Tyreke has never posted a single picture of his daughter on any social media sites.
Amani and her big brother Azari are really good friends, and Azari adores his baby sister.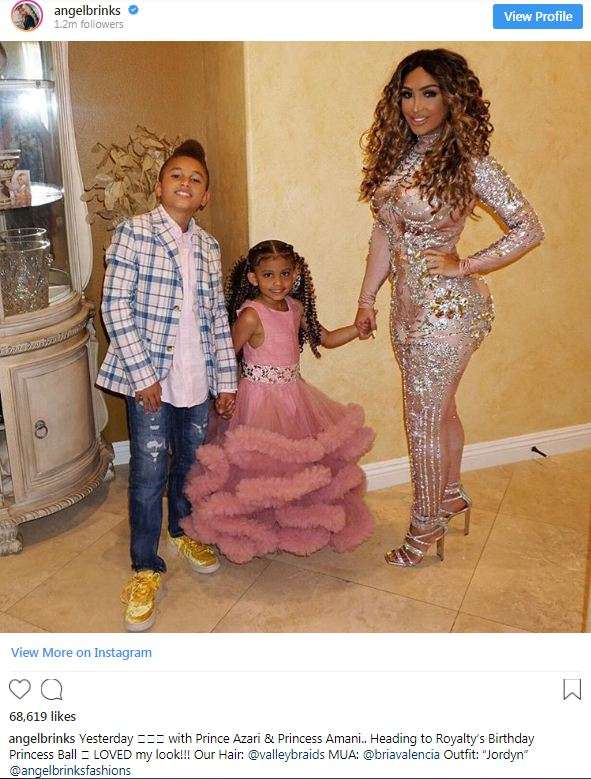 Birthday Event: Angel posts a picture with her son and daughter as they head out to a birthday ball event on Instagram on May 28, 2018 (Angel Brinks' Instagram)
Angel loves to dress her son and daughter in the most unique and fashionable way possible. She even introduced a kids' clothing line after her daughter's name.
The designer was raising two kids on her own until August 2018, as Angel let the people know about her current boyfriend on Instagram.
5. Angel Brinks' New Dedicated Boyfriend, Jackie Long  
Life was going alright for Angel when another exciting thing came her way, and she revealed her recent partner on Instagram.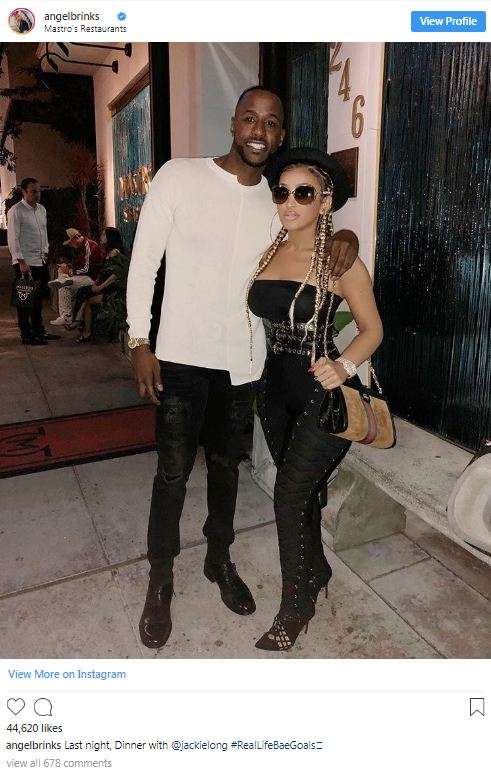 Quite The Loving Boyfriend: Angel posts a picture with her partner, Jackie Long, on Instagram on August 28, 2018 (Photo: Angel Brinks' Instagram)
Angel is dating actor-comedian Jackie Long, and fans have been hugely supportive of the relationship.
You Don't Want To Miss: Openly Gay YouTube Star Tyler Oakley Age 29, Has Boyfriend In 2018? Height, Net worth
Jackie Long is quite affectionate of Angel, and fans haven't missed out on that, filling the comments with love and appreciation for the pair.
From the looks of it, Angel may be thinking of staying dedicated to her current boyfriend and giving her kids a complete family.
Update: Angel Brinks Welcomes Baby #3
Brinks has since broken up from Long and gotten herself into another serious relationship. 
In fact, just recently, on November 13, 2021, she welcomed another baby with her new boyfriend, RoccStar. The couple broke the news via a series of Instagram stories.