Amanda Knox Bold Now - Flaunts Boyfriend While Scandalous Past Lingers
She then began dating her ex-boyfriend, Raffaele Sollecito after meeting him at a classical music concert...In 2015, Amanda was engaged to be married to musician Colin Sutherland...Amanda now discusses topics which intend to share their struggles against harassment, scrutiny, sexualization and media demonization.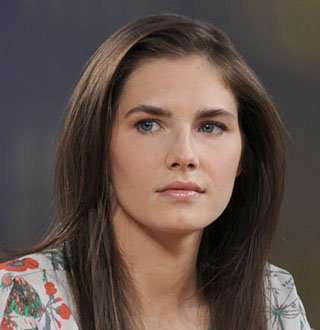 Quick Information
Date of Birth

Jul 09, 1987

Age

35 Years, 8 Months

Nationality American
Birth Name

Amanda Marie Knox

Profession

Writer, Journalist

Career

2007-present

Relationship Status

Engaged

Divorce/Split

Not Yet

Engaged Date

November 16, 2018

Dating/Affair

No

Fiance

Christopher Robinson

Net Worth

$200 Thousand

Ethnicity/Race

White

Religion

Christianity

Father

Curt Knox

Mother

Edda Mellas

Sister/s

Deanna Knox, Ashley Knox & Delaney Knox

High School

Seattle Preparatory School

College

University of Washington, University for Foreigners of Perugia

Height/ How Tall?

5 Feet 3 Inches (160 cm)

Hair

Long

Hair Color

Blonde

Eye Color

Brown

Lesbian

No

Children/Kids

Not Yet
American journalist Amanda Knox seemed to have turned over a new leaf -- her recent admissions and ventures are living proof.
The 31-year-old Seattle native was thrown into the public limelight after being accused of murdering her roommate in Perugia, Italy in 2007. She has chronicled her experience on the New York Times bestseller book titled Waiting To Be Heard: A Memoir, which has sold over a million copies worldwide.
She is the host of Vice Media's Broadly show titled The Scarlett Letters Reports, which aired on 2 May 2018 on Facebook Watch. She is also reportedly penning her second memoir.
Amanda makes an appearance on Good Morning America to promote her Vice show, The Scarlett Letters Reports on 2 May 2018. 
After enrolling in the University of Washington to pursue a career in linguistics, Amanda left for Perugia, Italy to spend a year at the University of Foreigners.
Bio: Family & Net Worth
In 2016, Netflix chronicled her trail-case story in a documentary titled Amanda Knox. Besides writing, she can be seen attending events organized by the Innocence Project.
Her book deals and freelance work as a journalist has helped her amassed a respectable net worth of $200 thousand.
You May Like: What Is Joel Schiffman Net Worth? Wiki Reveals - Age, Married, Daughter & Essential Details
Born on 9 June 1987 in Seattle, Washington Amanda grew up in a middle-class family. Her mother, Edda Mellas, a math teacher, and her father, Curt Knox, a VP of finance at Macy got divorced when she was just a toddler. She has a younger sister and two step-sisters. Her family provided constant support to her throughout her trials
Amanda Along With Boyfriend Accused Of Murder
Soon after her arrival in Perugia, the Seattle native became a roomie with Meredith Kercher, a 21-year-old British student. She then began dating her ex-boyfriend, Raffaele Sollecito after meeting him at a classical music concert.
On 1 November 2007, the day Meredith Kercher was murdered, she had slept over her then boyfriend's place. Upon returning the day after, they had allegedly found the front door to their apartment open; windows were broken and blood all over the bathroom.
The Police were then called, and after the initial search, they found Meredith's body in her bedroom covered in a duvet that was soaked in blood. Later, Amanda along with her boyfriend was taken into custody and interrogated for five days. She later accused the police of beating and bullying her.
After Sollecito's admission of not knowing where she was at the night of the murder, the Seattle native broke down and confessed to having witnessed her workplace boss Patrick Lumumba stabbed Meredith Kercher to death.
See Also: Irv Gotti Married Life Fail; Wife & Girlfriend Scandal Turmoil - Ashley Is Different Story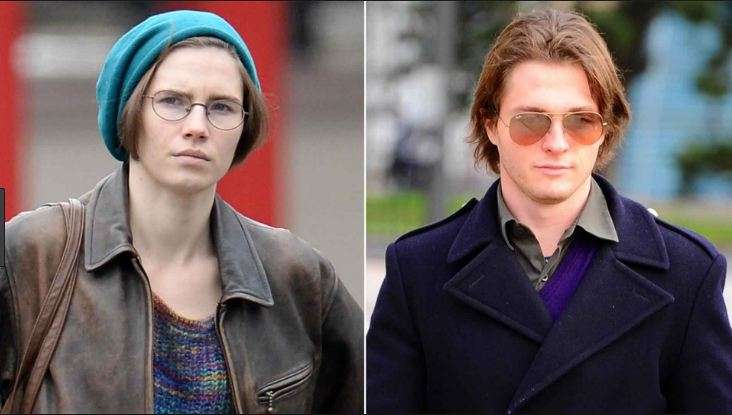 Love & Conviction: Amanda Knox (Right) & Raffaele Sollecito (Left) contradictory comments fuels intense investigation against them (Photo: Pininterest.com)
On 6 November 2007, the Italian police had arrested Lumumba, but because he had an alibi, the police had to let him go. Two weeks after Lumumba's arrest, the examination of DNA evidence taken from the crime scene was reported, and the results pointed to Rudy Guede, a drifter who strangely met Amanda and Meredith's through the Italian men who lived downstairs as neighbors at Via Della Pergola 7.
As the case unfolded, Rudy denied his involvement in the murder but was sentenced to 30 years in prison in 2008 based on DNA evidence.
Convicted Twice & Exonerated Thrice
Knox too was convicted of the murder and was sentenced to 26 years in prison. Her then boyfriend Sollecito, received 25 years.
After the sentencing, her family and supporters rallied against the verdict, and on 3 October 2011, the murder convictions against her and her then-boyfriend were overturned, freeing her to leave the country. After returning to Seattle, she enrolled in the University of Washington to study creative writing.
Just as she was finally beginning to feel settled at her role as a freed citizen, she along with her ex-boyfriend were asked to stand a trial for the same case in March 2013.
Citing new evidence, the prosecution was able to convince the jury that the two were behind Meredith's 'sex went wrong' murder. Following the trails, Amanda was again sentenced to 28 and a half years in prison while Raffaele was given a lenient 25 years sentence in February 2014.
The Supreme Court of Italy in March 2015 overturned the previous verdict, and three months later a final verdict was ruled in Amanda and Raffaele's favor.
Later, after returning to the states, she completed her studies and began doing freelance work.
She Would Get Married To Boyfriend Christopher
As for her split with Raffaele, we are yet to know when exactly it happened but one would assume that the burden of the trial weighed too heavy for them to continue their romance.
In 2015, Amanda was engaged to be married to musician Colin Sutherland, who is also her childhood friend. But in August 2016, media outlets reported that the couple had split after the 31-year-old journalist moved in with her new boyfriend, Christopher Robinson, who is an American author known for his book War of the Encyclopaedists.
Months after penning a review on Christopher's novel War of the Encyclopaedists on her blog, she met him at a local book lunch, and the couple has been inseparable ever since.
Speaking to People Magazine in August 2017, she touted the idea of being married to her boyfriend, Christopher and predicted that he would be a wonderful dad.
What is Amanda Knox Doing Now?
Following the success of 2018 #MeToo Movement, Amanda partnering with Vice Media's Broadly premiered a new show The Scarlet Letters Reports on 2 May 2018 on Facebook Watch.
Sitting with the likes of  Amber Rose, British American film actress & Mischa Barton, sexual assault victim Daisy Coleman, American adult performer Brett Rossi, and Canadian American feminist blogger Anita Sarkeesian, Amanda now discusses topics which intend to share their struggles against harassment, scrutiny, sexualization and media demonization. 
With The Scarlet Letters Reports, Amanda hopes to manage to draw attention to women in the entertainment industry who 'are shamed for their womanhood and sexuality.'
Applying her experience as a wrongfully convicted individual who was harassed and demonized publicly, she also hopes to raise her voice against prison reforms and the Criminal Justice System at great lengths on her show.
From a convicted murder to one of America's most famous activist -- now, that's called coming a long way.