MattyBRaps Writing Song For Secret Girlfriend? Young Age Rapper's Love
The first time that he opened up about having a girlfriend was when he was dating...he was soon rumored to be dating internet star...MattyB started dating pageant model...she played the love interest in two of his song-videos...in 2017 MattyB and his then ex-girlfriend continued...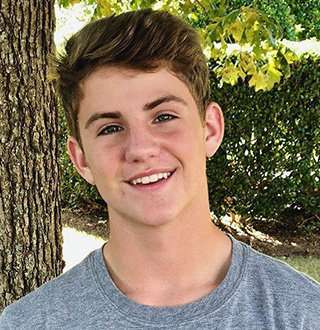 It was only feasible for people to romantically link MattyBRaps with different girls that appeared on his music videos. But who is the girlfriend that MattyBRaps sing about?  
MattyBRaps is a hip-hop artist who is often known for posting remix videos of popular music on his self-proclaimed YouTube channel. He also blogs occasionally on his vlog channel where he shows glimpses of his life with his friends to his subscribers.
Running Out Of Ideas: MattyBRaps tries the 'try not to flinch' challenge with his friend Justin Bradford on his vlog channel 'MattyBVlogs' (Published on 16 November 2018)
You May Also Like: Eudoxie Mbouguiengue Bio: Age, Wedding To Ludacris Ex's Nasty Feud
The first song MattyBRaps had available for purchase was a remix of Just the Way You Are that released on 11 August 2010 featuring Tyler Ward.
MattyBRaps Plunged In Hip-Hop From Young Age With Cousin's Influence
The Georgia native was born as Matthew David Morris on 6 January 2003; he was raised alongside his three older brothers, Blake, John, and Joshua, and a younger sister named Sarah.
It was at the age of five when MattyB heard hip-hop music and was captivated by it. When his older cousin, Mars, who is a rapper known as MarsRaps, moved in to live with his family, MattyB started to rap to his lyrics.
MattyB, age 15, persisted his cousin to help him with his own rap and it was when he reached the age of 7, the two made a YouTube video covering Justin Bieber's song, Eenie Meenie in 2010. It gathered more than 500k views in a single week which was the first step for MattyB to reach fame.
In 2012, his song, That's the Way reached 11th spot on the Billboard 'Social 50 Chart' which heightened the number of his fans. He has made frequent appearances on television, performing on The Wendy Williams Show, Today, Dr. Phil, and The Queen Latifah Show.
Considering all the recognition he has garnered alongside the views he gets on YouTube, there's no doubt that he carries an immense amount of net worth. And let's not forget to mention that he earns a considerable amount of fortune from his vlog channel that he fills with the time he spends with his friends.
Read Also: MATT OX Bio: From Age, Nationality To New Songs & Net Worth
Who Is MattyBRaps Girlfriend? List Goes On Long
When it comes to MattyB's girlfriends, the list isn't quite short. The first time that he opened up about having a girlfriend was when he was dating YouTube personality, Joelle Joanie aka JoJo Siwa. But the relationship didn't last long, and he was soon rumored to be dating internet star, CeCe after they made a video together.
But it only turned out to be a rumor that got dispelled when MattyB started dating pageant model Kate Cadogan in June 2013 after she played the love interest in two of his song-videos, Hooked on You and Ms. Jackson.
They met when MattyB played baseball with Kate's twin brother Jack and didn't waste any time to ride the rollercoaster of their romance. But their ride was a short one as they consequently split after a year.
Then came the turn of Gracie Haschak to take a plunge in the rumors of being MattyB's girlfriend. It was after she appeared in his cover music video of My Humps with her sisters in March 2015. Then again, it was just a meek rumor that didn't last for much longer.
Because in 2017 MattyB and his then ex-girlfriend, Kate continued their romantic rollercoaster and have been going strong ever since.
You Don't Want To Miss: Adam Conover In Love With Wife-Like Girlfriend & Gay! The Other Kind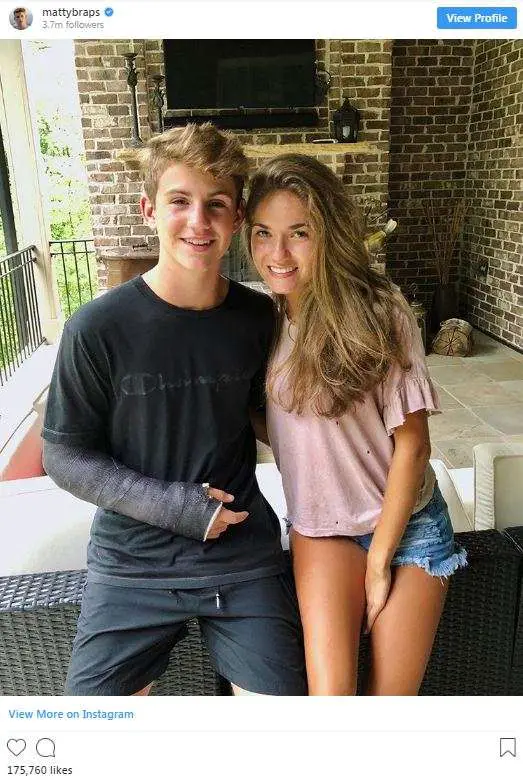 How Adorable: MattyBRaps and his model girlfriend Kate Cadogan smile for a picture (Photo: MattyBRaps' Instagram | 2 August 2018)   
And MattyB doesn't hold back a bit while showing his girlfriend off on social media sites while Kate shares the same feeling by posting pictures with MattyB on her Instagram.
She hasn't appeared recently in his music videos, but there's no doubt that the words of the song carry her name everywhere.