MATT OX Bio: From Age, Nationality To New Songs & Net Worth
Matthew Grau aka Matt Ox blows his birthday candles every December the 13th...After listening to Kendrick Lamar's Young & Black, Matt dropped his very first original rap at the age of...the person who couldn't be prouder, was his dear mother...And it was around that time Matt's father committed suicide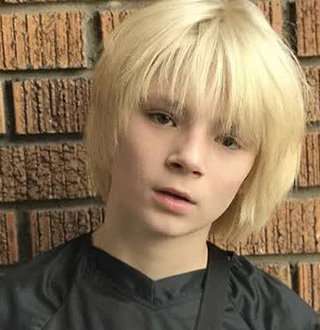 The perks of being famous comes in various shapes and sizes-- for many, it makes them forget their roots and drowns in the greed of luxury. And, the chances of being indulged in fame seems to be inversely proportional with age--the more you are famous at a smaller age, the more you are likely to indulge in such. However, for a young rapper aged just 13, the opposite seems to be quite true, as fame has brought him more closer to his single mom.
MATT OX is quite known for being one of the youngest rappers in the industry whose song Overwhelming got millions of views in just a few days time. His song became a huge hit after going viral on the internet which led him to being called up to various podcasts for interviews.
Height Of Musical Fame: MATT Ox talking chatting about his song, Overwhelming and his meet up with American rapper Lil Yachty on No Jumper (Published on 20 June 2017)
You May Also Like: Tara Palmeri, 30-Age: From Birthday To Obscure Married Life Status And More 
The teenage sensation has got over 22k followers on Twitter and has garnered more than 442k followers on Instagram.
MATT OX's Bio Reveals Passion For Rap Songs From Young Age
Born in 2004, Matthew Grau aka MATT OX blows his birthday candles every December the 13th. The American national hails from Philadelphia, Pennsylvania, a place where he piqued interest in rap at the tender age of four. The young rapper grew up listening to Eminem and Marilyn Manson.
After listening to Kendrick Lamar's Young & Black, MATT dropped his very first original rap at the age of five. This only encouraged him more, and he began to delve deeper in R&B by releasing more songs over time. His released songs including This N That, Low Key and Michael Myers after associating with the Working on Dying crew.
MATT started gaining prominence as he released more of his rap singles. And not to forget he was only 12 when he got featured on late XXXTentacion's album, in the single '$$$.'
Read Also: Geoff Tracy Biography: Age, Wife And Family To Net worth Of Restaurant Owner
And obviously, as with many other success stories, MATT's success has brought a significant amount of haters. But he has devised a method of dealing with them--ignorance, and believes in an old saying; 'Ignorance Is Bliss.'
MATT OX Commits To Taking Care Of His Mom 
Despite having earned a significant number of haters, mainly because of cussing in his songs, he has someone important on his side--his mom.
When MATT gained attention over his raps and songs, the person who couldn't be prouder, was his dear mother. His mom gave birth to him when she was just fifteen years of age; imagine that.
And it was around that time MATT's father committed suicide. Depicting on her tough times when she had to deal with MATT's father's loss and raise him up at the same time, she reminisced,
We weren't together at the time, so it was just me and Matthew. It's always just been me and Matthew. His father suffered from mental illness, so that's always been my no.1 concern with Matthew. And I think just being open-minded and honest helps him do the same with me.
But look at how MATT turned out; a young rapper fully pledged on taking care of his mom. Yes, he is more than willing to help his mom over everything, as evidenced by his pride at helping his mom retire from work.

Inexplicable Love: MATT tweets about retiring his mom before she turned 30 on Twitter on 18 August 2017 (Photo: MATT OX's Twitter)
How cute is that? He's only 13, and he has already done what most adults face trouble doing; take care of their mom with both financial and emotional support. As the average salary in the hip-hop industry stands at $62,142, there's no doubt that MATT can take care of his mother's financial needs.
Moreover, having delivered multiple hit songs and been shouted out by established rappers, it does not take a genius to deduce that has a net worth in millions. What's more, still only 13, he could become one of the richest rappers by the time he reaches his late teens.
You Don't Want To Miss: Norah O'Donnell, Perfectly Balanced Family With Husband - Height, Sister And More Facts
Matt has earned a significant amount of fortune after dropping some of his most popular tracks are Messages, Deposits, and Youngest Coming Up.
And his mom is fully supportive on what he does; well, except for the cusses he puts in the songs.