Instagram Star Kaylina Eileen Pregnant At Age 16 And Revealing Baby Daddy At 17
The puppy love soon turned into a serious relationship, and Kaylina got pregnant just at the age of 16...she again got back together with her boyfriend and the duo wholly committed to each other...Kaylina publicized the picture of her baby daddy with all her anxious fans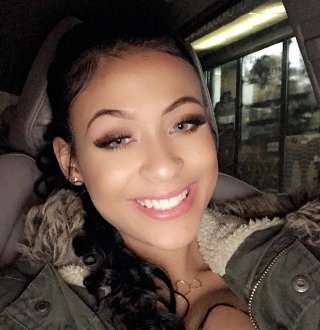 Instagram star Kaylina Eileen got hallowed with a beautiful blessing at the age of just 17.
Kaylina Eileen Garcia is a famous name in various social media sites including Instagram, YouTube, and Musical.ly. She has earned over 420k Instagram followers and 146k YouTube subscribers through her selfies and videos.
A Mom and still Dashing: Kaylina showing a tutorial to her mom makeup using Sistar products (Published on 10 August 2018)
Initially wanting to become a model and make-up artist her career suffered a brief hiatus because of her unexpected pregnancy news.
Kaylina Eileen's Bio: Age & YouTube Career
Kaylina Eileen was born on 6 February 2001 in the United States. She comes from a Puerto Rican and Dominican descent and has three brothers and one sister.
You May Also Like: Nathan Schwandt Wiki: Age, Dating, Girlfriend, Ex, Brother, Gay & More
Kaylina, who initially wanted to be a nurse, created a self-titled YouTube channel Kaylina Garcia in July 2016 and started videos of personal nature in her YouTube. It was the beginning of her fame, and soon after that, she created an Instagram account which helped her most to gained popularity worldwide. 
She uploads her selfies and videos on her page and also does personal business. Now she has over 420k followers on Instagram and 146k subscribers on YouTube.
Kaylina & Boyfriend Quickly Escalated From Puppy Love To Serious Relation   
As of her love life, she has been in a long-lasting relationship with Albanian boyfriend since junior high school. She met him in sixth grade in 2012 at the age of 11. They didn't sparkle the magic in the beginning, but in the next class, they started baby flirting.
After some months of flirting they formally started dating in 19th September 2013. But they broke up after several months when her boyfriend went to Albania.
However, she again got back together with her boyfriend and the duo wholly committed to each other. And in 2017 summer, they spent a lot of time together and formed a mature love bonding.
Kaylina At Age 16--"I'm Pregnant" 
The puppy love soon turned into a serious relationship, and Kaylina got pregnant just at the age of 16. She revealed that she was pregnant on 22 December 2017 and after three days of surprise, she displayed her pregnant picture through Instagram, startling everyone.
Instagram star Kaylina welcomed her baby boy, Noah on 4th June 2018 at 5:38 am. Her son weighed 7lbs 0oz at the time of birth. Kaylina took to Instagram to share about her beautiful moment her newborn baby on her Instagram on 5 June 2018.
Read Also: Coby Cotton Age 30, Adorable Married Life With Wife! Plus Trick Shots That Boost Net Worth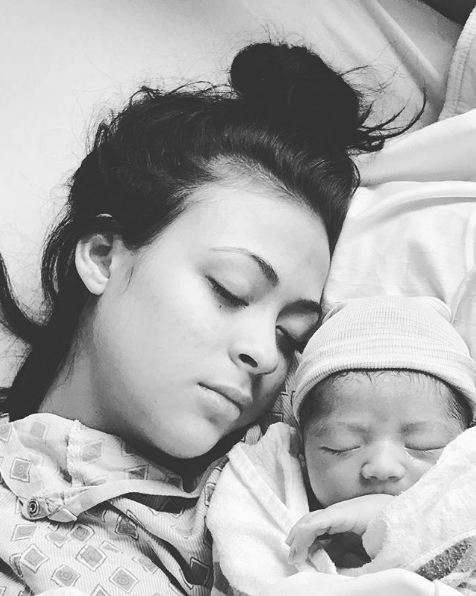 Welcome To The World: Kaylina announces the arrival of her baby boy on Instagram on 4 June 2018 (Photo: Kaylina Eileen's Instagram) 
She has been sharing her pregnant pictures with her fans since December 2017 on her social media. She had an amazing journey of pregnancy and also shared the journey for all her followers to savor in Instagram.
Who Is Kaylina's Baby Daddy?
Kaylina had never disclosed the identity of her boyfriend with the fans due to a very imperative reason. They had agreed not to show him in the media because of his family and their culture. But keeping all things aside, Kaylina publicized the picture of her baby daddy with all her anxious fans on 8 April 2018.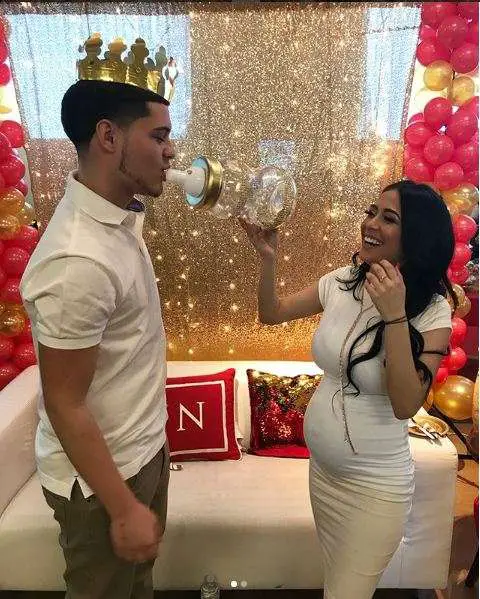 Baby shower: Kaylina reveals her baby daddy on 8 April 2018 via Instagram (Photo: Kaylina Eileen's Instagram)
However, she has still not revealed his name and when they are going to get married. Sooner or later, they are going to announce their wedding news as they are now the parents of a beautiful baby son.
You Don't Want To Miss: Liza Koshy Personal Details: Dating, Boyfriend, Family, Net Worth & More On Famous YouTuber
Kaylina Eileen Flaunts Her Post Pregnant Body On Instagram
Despite having delivered a baby, Kaylina doesn't seem to have gained any post-pregnancy weight. In fact, she often posts pictures and videos with her baby, and she doesn't look like a mother at all. 
Many moms in the comments were desperate to know the secret behind the body. Kaylina then revealed her post-pregnancy workout letting the fans know that she didn't achieve her a fit body without doing anything.
Putting aside her fit body, Kaylina seems to be absolutely in love with her baby boy that she can't help but show him off on her Instagram. Being a teen mom, is hard but Kaylina is putting aside every complaint about certain obstacles for her son.