Facts about Karrueche Tran's Parents and Nationality
Actress Karrueche Tran is half Black and half Vietnamese.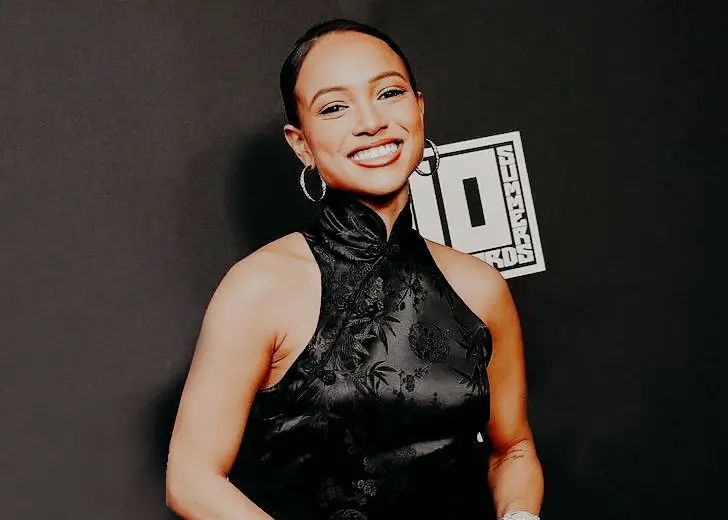 Karrueche Tran is an accomplished actress and award-winning producer who is most famous for her role as Virginia Loc in the TNT series Claws.
She has received several awards for producing the web series The Bay, including two Daytime Emmy Awards in consecutive years. She also stars in the series as Vivian Johnson.
Tran Belongs to a Mixed Ethnicity
Tran was born on May 17, 1988, in Los Angeles, California, United States.
Her mother, Cindy Adamson, is Vietnamese, whereas her father, DeVon Minters, is African American.
The actress, of American nationality, was raised by her Jamaican godmother and cousin sister in Los Angeles.
She also has a younger maternal half-brother, whose father is from England.
Speaking with Sway Calloway on Sway in the Morning in September 2017, Tran opened up about her family background and how she enjoyed being raised in an ethnically diverse family.
She stated she was half Black and half Vietnamese and was raised by her godmother since her birth.
Tran further claimed that having parents of different ethnicity helped her accept other cultures.
"I love that because it helped me grow so diverse and just accept...different cultures and just being you know diverse," the actress said.
Her closeness with her family is also visible in her social media. She often posts pictures and expresses gratitude towards them.
For instance, Tran posted a picture with her mom and godmother on Mother's Day in 2020 and wrote that she was blessed with two mothers. 
She Revealed Her Father is Gay
During an interview with MadameNoire in June 2015, the Claws actress revealed her father was gay.
She said that she knew about her father's orientation somewhere before she was in middle school.
"I knew something was different and I don't know how I knew or how I even knew what gay was," she added.
But regardless of that, Tran didn't view her father in a different light, even though people looked at him differently. 
Her Career - From a Celebrity Stylist to an Actress
Tran, an established actress now, was involved in a few non-acting professions after completing her graphic design course at a Community College in LA.
She first worked as a personal shopper at Nordstrom located at the Westfield Topanga mall in Canoga Park, California, for three years, from 2009 to 2012.
The actress then moved on to work as a personal assistant to an LA-based business owner and subsequently worked as a personal assistant for a celebrity stylist.
Meanwhile, she met singer Chris Brown in 2011 and started dating him the same year.
Their on-and-off romance finally ended in early 2015 after it was revealed that he had a daughter, Royalty Brown, with Nia Guzman.
He had also briefly dated singer Rihanna while he was still dating Tran.
The relationship brought her into the spotlight and created opportunities for her as an actress.
Her debut acting role was in 2014's TV movie The Fright Night Files. She continued her work and worked in several movies and television shows.
Presently, Tran's most notable acting credits include The Bay, Claws, Only for One Night, and 3-Headed Shark Attack.