Meet Jackson Krecioch's Only Sister! Boyfriend & Gay Love | Meets End
Despite being protective of his siblings' privacies, Jackson finally revealed his sister's identity and her sexuality...The Musical.ly star had been dating YouTuber and Instagram star...The couple was absolutely adorable as they were fully open about themselves and their relationship...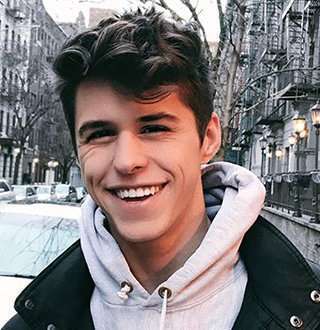 Musical.ly Star Jackson Krecioch never hid anything concerning his close circles on social media. However, his only sister out of seven siblings remained a mystery, until now.
Jackson Krecioch, an emerging teenager star is best known for his Musical.ly videos. He has got his most massive fanbase on Musical.ly with over 2.7 Million fans on the app.
YouTube: Jackson announces about his tour/meet-and-greet alongside Mikey Barone (Published on 16 June 2017)
Jackson is an ardent social media user who has over 340K followers on YouNow and more than 520K subscribers on YouTube. He doesn't have much content on YouTube but still has half a million subscribers.
Jackson Krecioch's Bio: Career, Age & Height
Born on 1 June 1998, Jackson was raised in Wisconsin along with his six brothers and a sister.
You May Also Like: Jessica Brown Findlay Dating Furtive Actor Boyfriend, 'Harlots' Actress Struggle & Salvation
He started his YouTube career in 2011, not long before gaining massive popularity in Musical.ly. Just at the age of 20, he has got a variety of contents in his YouTube videos that help him promote himself as an internet sensation.
Standing at the height of 5 feet 6 inches, Jason has not failed to keep good relations with other personalities as well. He has even posted a picture with famous YouTuber, Jenna Marbles on Instagram.
Jackson Came Out As Gay in 2016
Yes! Jackson is open about his sexuality, and he revealed about his sexuality in a YouTube video where he reminisced how hard it was for him to accept himself. He always thought that he was different and special from others.
He revealed that he dated other girls before but never felt anything. He had been doubting about his sexuality since the age of 12 but never accepted it till he was 17.
It was during his junior year of high school when he was sitting in the car after work, Jackson confessed to himself that he was gay. He was proud of himself that he said out those words because spilling out those few words was very hard for him.
Jackson also confessed in a video entitled 'COMING OUT' about how he prayed that he wasn't gay because he was not comfortable and was very new to the topic.
He further added that if he never said it out loud that he was gay because that would make it more real. And he just wanted to be like everybody else.
The YouTuber has loyal fans who don't judge his sexuality and are still sticking by his side. This has made him more and more driven to keep being himself and share glimpses of his life to the fans. 
The media sensation concluded the video by delivering some inspirational words to his fans to accept and be themselves as that's the only thing that would make them truly happy.
Jackson Splits With Boyfriend Dylan Geick
Following an awful heartbreak with the social influencer, Aaron Fuller, the Musical.ly star found his 'destined' partner, YouTuber and Instagram star, Dylan Geick and had been dating since 2017.
The couple was adorable as they were fully open about themselves and their relationship.
Similar: Is Graham Bensinger Gay? Personal Life Insight With Married And Wife Details
Both posted pictures of each other with the sweetest captions, but they broke up in mid-2018. Jackson let everyone in on their split, and it was terrible news for fans.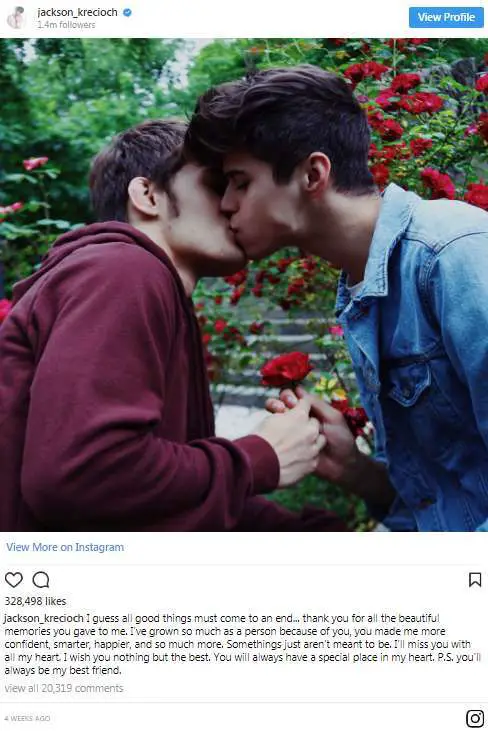 Parting Ways: Jackson posts a picture with his former boyfriend, Dylan revealing about their break up on 16 July 2018 (Photo: Jackson Krecioch 's Instagram)
Jackson wrote a very heartfelt caption reminding the followers, that the pair may have parted ways, but they were still friends. Neither has disclosed anything regarding their break up, and the fans still support Jackson with equal enthusiasm.
Jackson's Sister & Her Sexuality Revealed
Despite being protective of his siblings' privacies, Jackson finally revealed his sister's identity and her sexuality.  
Jackson's sister, Katherine Krecioch, has a Musical.ly page where she has gained more than 280K fans. She had a considerable amount of following on Instagram, but her account has been deleted for some unconfirmed reason,
There wasn't much information regarding Jackson's only sister, but that has already changed.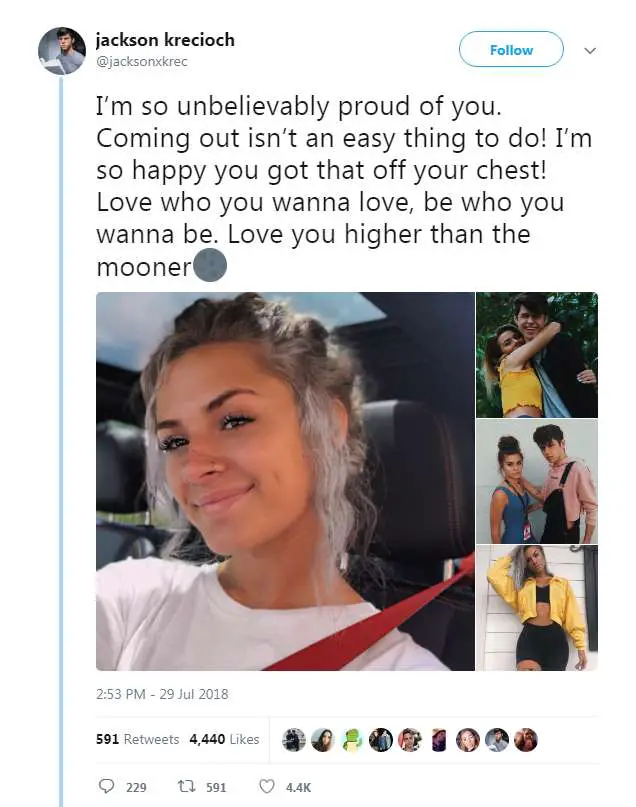 Twitter: Jackson tweeted about how proud he was of his sister for coming out as a Bisexual on 29 July 2018 (Photo: Jackson's Twitter)
Further below the comments when one asked what she had come out as, Jackson replied that she was bisexual. Katherine has frequently been active on her Twitter page but rarely talks about herself.
Read Also: Meet Genevieve Gorder's Husband To Be! Married & Divorced; She's Not Rushing Now