"Cloak & Dagger" Actor Aubrey Joseph Success Heights At Age 20, From Start Till Here
Aubrey had his first significant role as an actor at the age of 19 in January 2017...He shares a wondrous bond with his parents and siblings...Aubrey, age 20, stands at the height of 5 feet 8 inches... Aubrey has a puzzling dating life...Aubrey shared passionate on-screen chemistry with his co-actress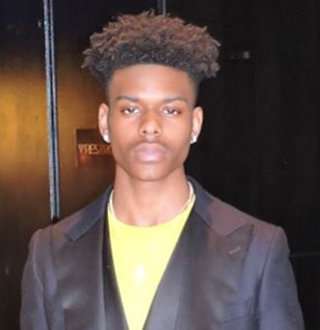 Young American actor Aubrey Joseph's chemistry with a fellow co-star was unbelievable--to a point where it seemed surreal! 
Aubrey Omari Joseph is an American actor who is famous for portraying the titular character Tyrone Johnson/Cloak on the Freeform Marvel TV series Cloak & Dagger. The young actor is also known for popular movies like Run All Night and Fading Gigolo.
Trailer: Aubrey Joseph, Olivia Holt, Emma Lahana, Ally Maki and Miles Mussenden feature on the show, Cloak & Dagger (Published on 19 April 2017)
 Aubrey is also going to play a role of a father in his upcoming project, The High Bridge in which he showed a glimpse of his on-screen daughter in April 2018.
Explore: 'Avengers: Infinity War' Sebastian Stan Dating History; Girlfriend In 2018 & Gay Rumors
Aubrey Joseph's Short Bio: Age, Height
Rising actor Aubrey was born on 17 January 1997 in Brooklyn, NY. He shares a wondrous bond with his parents and siblings. However, there is very less information on his parents and their background.
Despite keeping his uproots hidden, he is the middle child of three boys. His brother is a rapper named Choppy Chan. Back in April 2017, Aubrey even shared their look-alike picture on his Instagram.
Aubrey, age 20, stands at the height of 5 feet 8 inches (1.73 meters). 
At Age 19, Aubrey Earns His Most Significant Role As Actor
Actor Aubrey earned his first movie big break as an actor when he was cast to portray the young Simba in the Broadway production of The Lion King.
Aubrey had his first significant role at the age of 19 in January 2017 as Tyrone Johnson/Cloak, one of the lead characters, in the Marvel's Cloak & Dagger which is set in the Marvel Cinematic Universe (MCU). The cable TV series premiered on Freeform on 7 June 2018, with the series consisting of ten episodes and running through 2 August 2018.   
In 2013, Aubrey got his first film role in the American comedy movie Fading Gigolo. He also appeared in 2015's Run All Night and 2017's short film A Quaker Sound.
He debuted in television series from the Death Pact in 2014. Afterward, he also appeared in a 2014 episode of Law & Order: SVU and the 2016 HBO drama The Night Of.
Find Out: Terrell Brown With Partner At Age 29? Wedding And Wife En Route?
Aubrey Joseph--'Season 1 Of Cloak & Dagger Changed My Life'
After the final episode of Cloak and Dagger aired on 2 August 2018, the protegee actor took to his Instagram account to express his gratefulness and love for his cast as well as crew members.
In the long heartwarming post, he said that he would never forget the memories, the dedication and everything the cast & crew had taught him. He reminded himself and his fans about the years he had been dreaming about such a big role. He went on and said that he had to pinch himself every day just to remind himself that this was real and not a dream.
Staying humble despite the fame and money he earned, he ended it on an inspiring note saying that he was just like the rest of us who had a dream.
He asked the fans and everyone who was reading the message to never give up. Finally, he ended the post by cherishing the fans with love and gratefulness and left fans teased by announcing plans of the second season
Is Aubrey Joseph Dating Cloak & Dagger Co-star, Olivia Holt?
Keeping up with his love for secrecy, Aubrey has a puzzling dating life. However, he showed an unbelievable chemistry with his romantic relationship on screen with an amazing actress and singer, Olivia Holt--which led fans to ponder whether the chemistry shown is actually real off-set as well!
Aubrey shared passionate on-screen chemistry with his co-actress Olivia Holt, an American actress, and singer. They portrayed a character of Tyrone Johnson and Tandy Bowen, two teenagers who acquire superpowers and form a romantic relationship. In the series, they realize that their powers get superior when they are together.
See More: David Sutcliffe Still a Dating Material! The Once Married Actor Aging Like a Wine
Like in the series, they do share an amazing chemistry in real life as well, but just as a friend. Back in February 2017, Aubrey shared a loving picture of him hugging Olivia on his Instagram.

Aubrey Joseph and Olivia Holt share a hug at the set, Feb 2017 (Photo: Aubrey Joseph's Instagram)
As of 2018, he is single without any dating history. He is probably busy building his budding career.