Who Is Anthony Trujillo Girlfriend At Age 22? He Just Can't Be Single
Anthony Trujillo is completely content with his guy gangers that he has forgotten he might need a girlfriend to spark romance...Best friend Chance Sutton of the same age...beginner YouTuber mistaken for sister...real sister is...net worth enough for an expensive toy...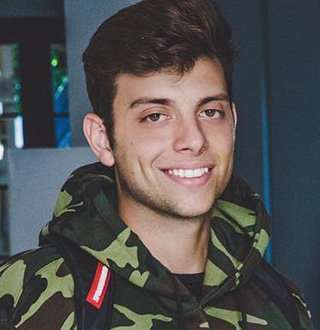 Rising YouTube star Anthony Trujillo is completely content with his guy gangers that he has forgotten he might need a girlfriend to spark romance in his life! This is exactly what it looks like for the least!
The global reach of social media has come in handy to many young artists to exhibit their talent and get stardom in return. American YouTuber Anthony Trujillo is one of such artists of the era. He along with his best pal Chance Stutton create YouTube content for their channel Chance and Anthony. Their channel is one of the fastest growing in America with more than 2.5 million subscribers in a span of a year.
Deck The Halls: Anthony Trujillo featured in Jake Paul's music video Deck The Halls (Published: 16 Dec 2017)
Anthony initially received notable recognition for being friends with Vine sensations, Logan Paul and Jake Paul and he went on to groom the fame on his own. He is also a member of the well-known social media group, Team 10. He has amassed more than 2.2 million followers in his Instagram under the username 'imanthonytruj.' His fans can't get enough of the wonderful pictures he shares on the photo-sharing site.  
Related: Chance Sutton Is Dating Gorgeous Girlfriend At Age 21! Height, Brother & More
Anthony Trujillo Friend With Paul Brother At Young Age
The Ohio native was born on 4 May 1996 in Cleveland. He grew up in a family of four, including him, his parents- Tony and Cinda and an elder sister Rachael. Though a fellow beginner YouTuber Rebecca Trujillo was almost mistaken for being her sister, the two have nothing related except their last names.
Anthony who stands at the towering height of 6ft, spent his childhood playing basketball in the neighborhood with friends like Logan and Jake who grew up to become fellow social media stars.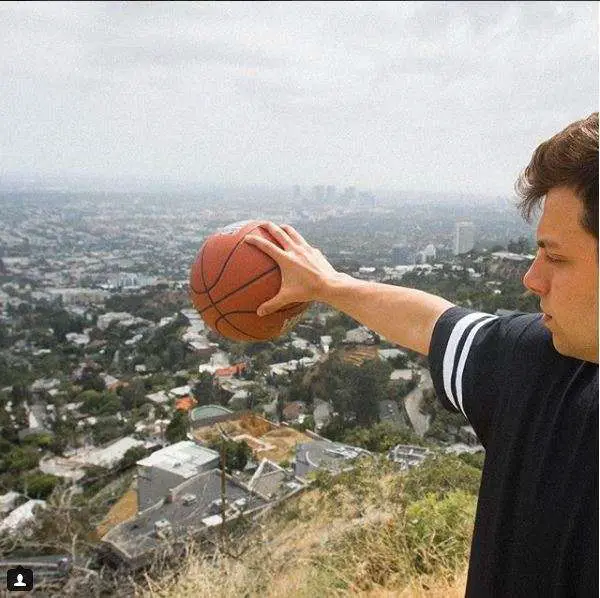 Ball Is Life: Anthony Trujillo grew up playing basketball, and he loves it to this day. (Photo: Anthony Trujillo's Instagram)
The 22 years old's friendship with YouTube partner, Chance dates back to childhood as well. They have been best friends for years, and coincidentally, they both are of same age, 22!
Moreover, his social media family extends to many siblings-by-profession stars like Tessa Brooks, Ray Diaz, Ivan Martinez among others.
What Is Anthony Trujillo's Net Worth?
The internet sensation is at a skyrocketing pace in his social media career. His major earning, for the time being, comes from YouTube.
Read Also: Tristan Tales 23 Makes Girlfriend Vlog & Its Cutest! Siblings, Family, Net Worth & More On YouTuber
Although there are not any rock figures for his net worth, he is expected to have collected an estimated net worth of $100,000. Not a significant number but enough to buy him his an expensive two-wheeler for a toy!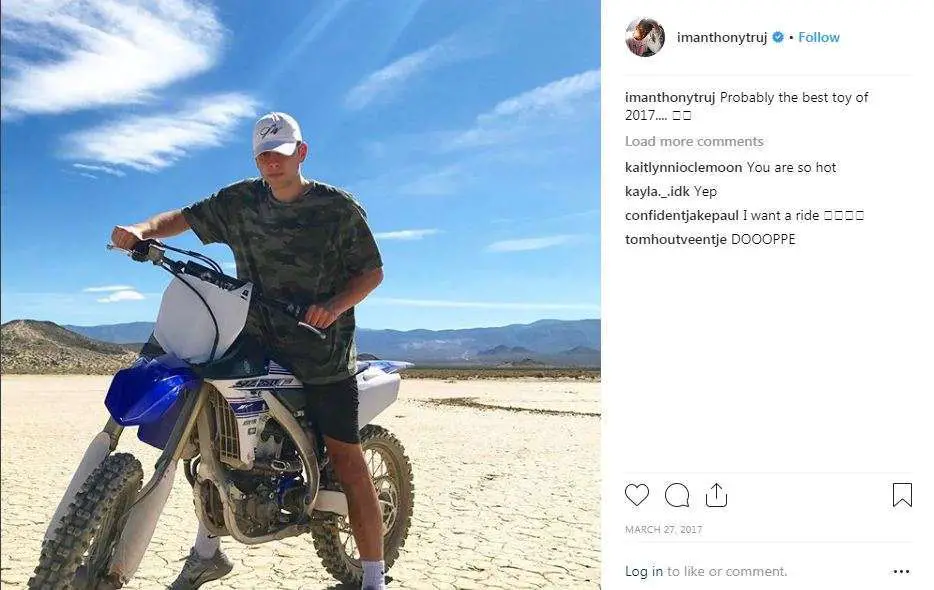 Toy, Seriously!: Anthony Trujillo on his blue and white two-wheeler- he called it a toy. (Photo: Anthony Trujillo's Instagram)
Oh! And how can we miss out on his luxurious lifestyle in Los Angeles Residence.
You Think Anthony Trujillo Has A Girlfriend? Won't Blame You For The Curiosity!
The charming young man's Instagram is not in deficient of pictures reflecting upon his personal life. His life is so far so fun with his friends, and it is clearly evident in his Insta feed.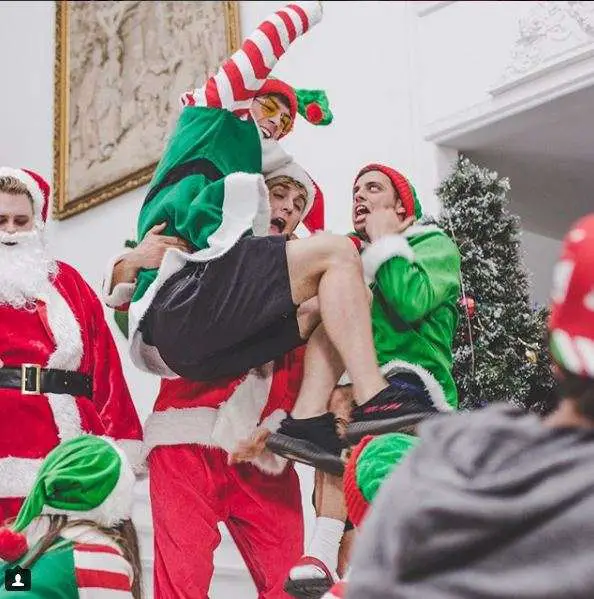 Fun With The Fellas: Anthony Trujillo is content with having fun with his fellow social media star friends but no sign of a girlfriend (Photo: Anthony Trujillo's Instagram)
But the major missing is an intimate looking picture that could hint towards his romantic side.
All About The YouTuber: FaZe Rain Builds Logo Off Of Net Worth, Spills Relationship & Girlfriend
We know how hard it is to believe that the handsomely cute guy is single. But he is. At least looks like he is single. If he wishes to deny, he might as well make us believe that he has a girl; post a picture with her or make a video perhaps!