NLE Choppa Has A Dedicated Tattoo Guy For Every Tattoo He Gets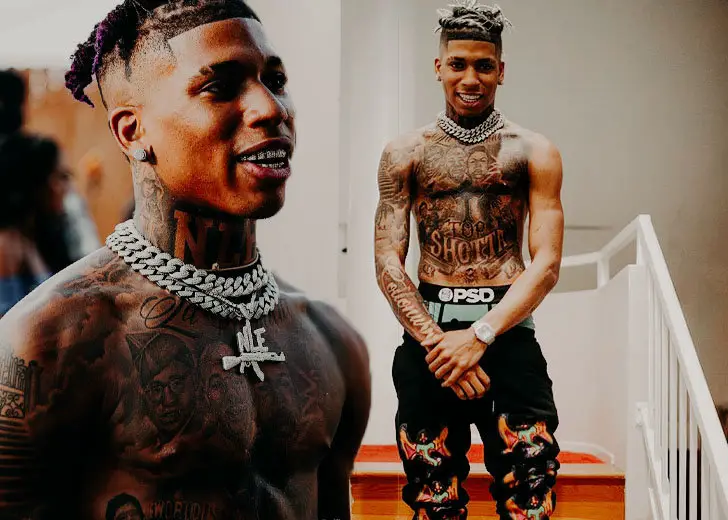 NLE Choppa, aka Bryson Lashun Potts, has so many tattoos on his body that even he has difficulty keeping count. Still, the rapper has a meaning associated with every tattoo he has on him.
The Shotta Flow rapper has an exclusive tattoo artist who inks him and creates body art dedicated to his family and loved ones.
Keep scrolling to know more about the Rap star's tattoos, their hidden meanings, and inspirations.
NLE Choppa And His Love For Tattoos
NLE Choppa has some attractive and interesting inks on his body that are connected to him personally and professionally. While some designs have family values associated with them, others showcase his professional milestones. 
Regardless of how many body ink designs he decides to get on his body, the talented artist stated that he would never let the needle touch his face.
He has a tattoo for his grandpa, his dad, his mom, and even his brother. Besides this, NLE Choppa also has a tattoo that reads "Cottonwood" on his right forearm to represent his hometown, which has two broken hearts instead of double "OO"  in the wood.
During an interview with GQ about his ink, Choppa candidly explained that he had a desire to get inked from a very early age. 
So I just pretty much knew like a lot of the tattoos I was gonna get, was gonna mean something to me. I told my momma when I was like five years old, I told her when I get older, I wanna have a lot of the tattoos and a grill.
Another prominent work of art tattooed onto the rapper is the "TOP SHOTTA" tattoo on his stomach with two handguns on both sides of the word, which he got to celebrate the success of his certified platinum song 'Shotta Flow.' He also has body art of inspirational figures like Bob Marley, Tupac, and Al Pacino on him.
The Only Man Behind His Meaningful Tattoo
The avid tattoo lover NLE Choppa unveiled that he has a special tattoo guy who has tatted most of his body ink. The man behind his meaningful tattoos was Dennis Estrada, the co-owner of Wrist Tattoo Work. The tattoo artist has shared a video on his Instagram handle flaunting his amazing work on NLE Choppa.
The rapper claimed that his tattoo artist would drive two hours to come to see him and was always on-call.
When asked about his favorite tattoo, the rapper confidently said that his favorite one was his neck tattoo, which was one of the newer ones. The ink reads "NLE" in bold letters that stand for NO LOVE ENTERTAINMENT, his brand name, and his label, also done by his tattoo buddy Estrada.
He revealed that it took just "an hour and thirty, probably two hours" to complete the neck tattoo. NLE Choppa wanted a bold and clear look for his ink so, he chose a bold font that would stick out and showcase his tattoo.
NLE Choppa Got His Tattoos Covered Up
Ink dedicated to his family members aside, NLE Choppa also had the name of his ex-partners tattooed on him. He had "Mariah" (name of his ex-girlfriend) inked on his neck. 
Post-breakup, it seems like the young rapper got his "Mariah" tattoo modified. In his interview with GQ, where he explained all his body art, the "Mariah" tattoo was missing, possibly because it got covered up with another neck tattoo of a rose flower. 
He also has a neck tattoo of "Angels" behind his right ear. The rapper believed that angels were watching over him and guided him to the right path.
Before the couple decided to part ways in November 2019, they were inseparable and fairly serious about their relationship. The couple got matching tattoos to symbolize their love for one another. The Memphis rapper got inked "Mariah" just two years ago.
While the rapper got his ex-girlfriend's name tattooed on the back of his neck, his Mariah took it to a different level and got the rapper's face inked on her back.
Moreover, the former flames are also parents to a beautiful baby girl named Clover Brylie Potts.
Well, one of his sleeves is yet to be touched with a needle. Will he get his daughter's name or face tattooed on his hands? Well, we will have to wait to know about his upcoming ink.