Young M.A Says Her Girlfriend Is the One Who'd Be Pregnant While Addressing Twitter Outcry
Young M.A wants two kids in the future with her girlfriend.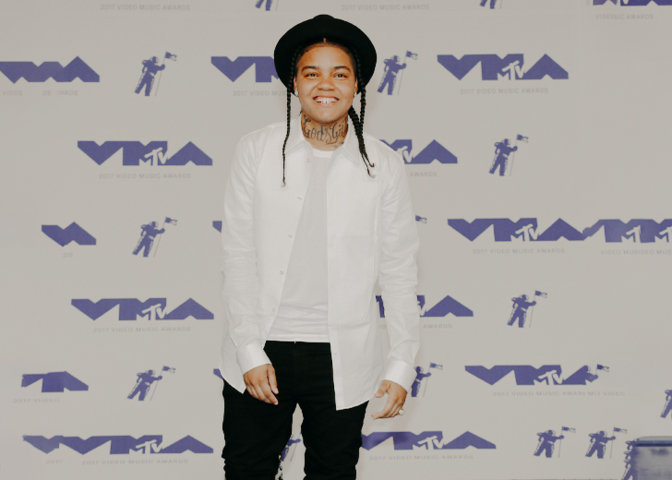 Katorah Kasanova Marrero, who goes by the stage name Young M.A, is a rapper and philanthropist. She debuted in 2016 with her song 'Ooouuu,' which was an instant hit. 
'Ooouuu' peaked at number 19 on the US Billboard Hot 100 chart and, to date, has millions of plays on Spotify. Since then, Young M.A has not looked back. 
She has released two studio albums, extended plays, and mixtapes each. She has also collaborated with many famous singers like Eminem, Young Thug, T-Pain, Fivio Foreign, and Dae Dae. 
The openly gay rapper is the founder of the KWEENZ Foundation. Inspired by her trauma, the rapper established this foundation to help the people of the East New York neighborhood who have lost their families to street violence. 
Family means a lot to the rapper. She is close with her mother, who has always supported her in her endeavors. Like her mother and family, Young M.A wishes to have a family of her own someday. 
Twitter Reacts to Pregnancy Rumors 
On November 1, 2019, Young M.A gave an interview with Headkrack where she mentioned her wishes of being a mother. She said that she would be married in ten years and live with her two children and partner.  
She mentioned she wanted a boy first and then a girl after that. She further explained that she wanted a son before a daughter so that he could look after his little sister. 
Young M.A reminisced about her childhood and said that her late older brother looked after her. So, she wants the same for her children as well. 
The interview is almost two years old, but it recently surfaced, making many think that the rapper was pregnant. As a result, on July 20, 2021, Young M.A was trending on Twitter.
While many joked that rappers like Lil Nas X and Kodak Black got Young M.A pregnant, most tweets were about people's disbelief. 
 Is Young M.A Pregnant?
After the rapper started trending, The Shade Room, on Instagram, shared the clip from her interview with Headkrack. Via the comment section of the post, Young M.A clarified the rumors. 
During the interview, in one instance, she had looked back and smirked. The rapper said that she was looking at her girl, who would be the one to get pregnant. 
She accused her fans and followers of being bored and making up rumors. She also accused them of selling stories and hinted that she is "working on one."
While Young M.A did not mention what she was working on, looking at the story's context, she was presumably talking about getting her girl pregnant. 
Who Is Young M.A's Girlfriend?
While Young M.A has hinted that she has a girlfriend numerous times, she has never explicitly mentioned who she is. However, many speculations are floating around on the internet. 
She is currently said to be dating Mya Yafai. Yafai is an actress, model, and journalism major. 
Allegedly, the pair started dating in April 2019. Six months later, they made an appearance at Megan Thee Stallion's Hottieween party dressed as Beauty and the Beast. 
Fast forward to February 2020, and it was reported that the duo went to Dubai to celebrate Valentine's day. However, things turned downhill when a fan page tweeted the pair broke up in March 2020. 
Nigerian singer Davido was seen holding hands with Mya Yafai while vacationing in St. Maarten.
Later when pushed on the matter, Young M.A. iterated that she didn't care what anyone decided to do with their life, romantically or otherwise. "It's her decision after all, but I would advise she get the bag," the rapper said.