Vinnie Hacker's Rumored Girlfriend 66sixela6 Asks His Fanbase to Stop
Vinnie Hacker's rumored girlfriend is back on Instagram and she has a message.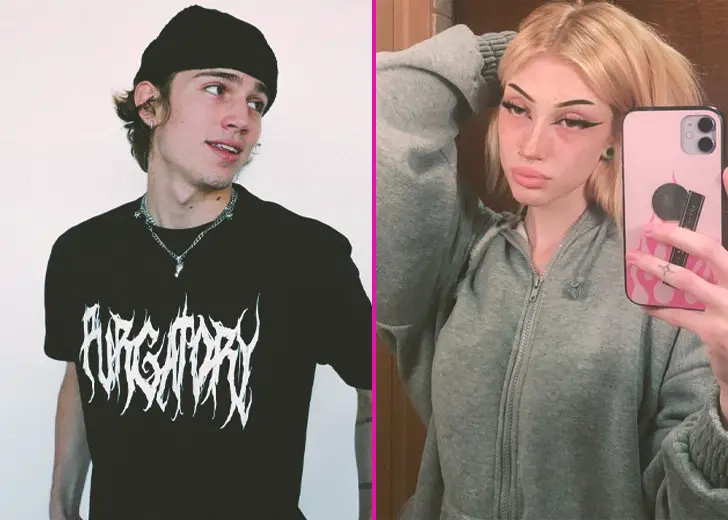 Sometimes seeking harmless fun with fellow TikTokers can become a nightmare. 
It was what happened to TikToker Lex who went by TikTok handle '66sixela6' and 'b6yl3x' on Instagram. In late June, Lex went viral after she uploaded a TikTok asking handsome hunk and Hype House member Vinnie Hacker if he wanted to hang out with her. 
In case you didn't know, Hacker's overwhelming fan base has a track record for behaving like an obsessive ex-lover. Girls who simp over his killer good looks disapprove of him dating and have scared off his few potential partners in the past. 
 After a video of Lex and Hacker in the same bedroom began making rounds on the video-sharing app, the fans speculated that they were not only hanging out but in a relationship.
After that, Hacker's fans accused her of using Hacker for clout and started harassing her about her looks. It was so bad that she had to deactivate her Instagram, although she kept her TikTok. But it appears she is back on Instagram. 
Vinnie Hacker's Rumored Girlfriend, Lex Back on Instagram
On October 16, Lex uploaded a story to her Instagram to announce her return. 
The TikTok Shaderoom also uploaded screenshots of Lex's Instagram stories. Lex's story had text overlay that stated that she wanted nothing to do with Hacker's fandom and asked them to go away. In the second photo, she also noted that this was the only time she would talk about it. 

Lex's Instagram Story Addressing Vinnie Hacker's Fanbase (Source: The TikTok Shaderoom)
She asked the online mob to stop harassing and annoying her and ended the message with thanks. Lex, however, did not clarify the rumors, keeping her statement short. 
Fans have expressed their concern, with many supporting her and expressing that she did not deserve the online bullying. One fan wrote that Hacker's fandom scared everyone away and that they needed to stop. Before this, Lex had also uploaded a TikTok lip-syncing to Harley Quinn. 
Fans had opined that her eyes had looked puffy and red like she had been crying for a long time. They also expressed their concern over her mental health. 
Vinnie Hacker's Been Single for 2 Years
Although Hacker's fans seem to have a theory of their own regarding his dating life, he set the record straight in a YouTube video on fellow TikToker and Sway House member Noah Beck's channel.
The video was uploaded on March 8, 2021, and titled 'Vinnie Hacker's Crush.' The boys talked about their lives as influencers in the video and the positive and negative things that came with their viral fame. Halfway through the video, Beck asked Hacker is he was interested in anyone. 
Hacker explained that he had been single for two years and wanted a relationship, but he didn't know how to go about it. But then he admitted that he was crushing on someone and refused to reveal who it was. 
Only time will tell who Hacker was talking about, but it is still a mystery for now.