Tyler the Creator Might Never Have a Girlfriend and Here's Why
Tyler the Creator has never been seen with a girlfriend. It might largely be due to him being gay.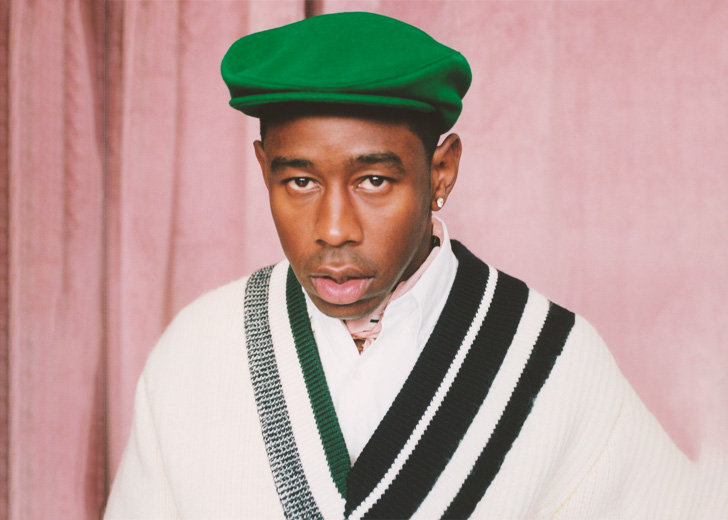 Tyler Okonma, publicly known as Tyler the Creator was born in Ladera Heights, California, on March 6, 1991. He is an American rapper and music producer. Having started his career in the year 2007, Tyler released his first solo mixtape B*stard in 2009 followed by his 2011 debut studio album, Goblin.
The music video of the song 'Yonkers' (Goblin, 2011) was nominated for the 2011 MTV Video Music Awards in the Video of the Year category while at the same event Tyler was awarded The Best New Artist [of the year].
Furthermore, he won the Music Innovator of the Year award in the year 2019. Tyler's latest award recognization dates back to 2020 where he was named International Male Solo Artist during the Brit Awards. Also, his album IGOR was named Best Rap Album at the 2020 Grammy Awards. 
The most notable downside to his ever-growing career has been his use of homophobic slurs. The controversial rapper's frequent use of the word gay has turned down a lot of people. Talking to MTV in 2011, he defended his choice of words and stated that "he has gay fans and they don't really take it [to be] offensive." 
As per The Fader, Tyler's debut album Goblin contains insulting homophobic words like "f---," used 204 times, and "b----," used 68 times. 
In the past, Tyler brought himself some legal scrutiny due to his abusive language. As a result of his unpopular tone, he was prevented from performing in the UK and Australia. "I'm getting treated like a terrorist," he opened up with the Guardian in 2015 as he was labeled a threat by the government of the respective countries.   
In his defense, the young rapper made it clear that he is not homophobic. 
He said, 
The 'hating women' thing – it's so nuts. It's based on things I made when I was super young, when no one was listening.
Does Tyler the Creator Have a Girlfriend? 
Currently, Tyler is not known to be dating anyone, at least not publicly. Also, even if it turns out that he's in a relationship, we can argue that it won't be with a girl. This might largely be because of the gay rumors surrounding him. 
The rapper has hinted and confessed a lot with his tweets and lyrics, however, it has gone unnoticed on several occasions. 
In his reply to a tweet by TV personality Kendall Jenner, Tyler called himself gay. Putting things to context, the rapper/music producer quoted a tweet by model Jenner where she claimed to be "apparently" dating Tyler. The rapper responded with a reply where he wrote "Not Possible, we're both gay."
On July 4, 2016, he posted a drawing on his Twitter showcasing a rainbow-colored man trying to come out of the closet saying, "Is it safe?" This strongly hints at him belonging to the LGBTQ community.  
On his August 13, 2015 tweet, he wrote "I tried to come out the damn closet like four days ago and no one cared." Few of his followers showed their support for him with one Twitter user writing, "He's been saying it for the longest, no one really took him seriously."
Is Tyler the Creator Really Gay?
First and Foremost, no one can claim this for sure even though Tyler himself has hinted about him being gay a lot.
Apart from his tweets, the hints regarding his orientation can be traced to his song's lyrics which can lead us to believe that Tyler, in fact, isn't straight. In his rap song titled 'I Ain't Got Time,' he can be heard saying, "Next line will have 'em like, 'Whoa' I've been kissing white boys since 2004."
Apart from that, his Instagram post also hints at him being gay. On February 29, 2016, he posted a picture of megastar Leonardo DiCaprio on his Instagram with the caption, "yes boyfriend yes."
The clues regarding his orientation can be further found in a 2018 incident involving Tyler and Jaden Smith. At an event in Los Angeles, Jaden called Tyler his "[expletive] boyfriend"
Smith, the son of legendary rapper and actor Will Smith further said,
Tyler doesn't want to say, but Tyler's my [expletive] boyfriend and he's been my [expletive] boyfriend my whole [expletive] life. Tyler the Creator is my [expletive] boyfriend, It's true
Later, Smith took to Twitter and announced Tyler to be his boyfriend. The Karate Kid tweeted, "Yup @tylerthecreator I Told Everyone You Can't Deny It Now." While Smith's actions confused a lot of people, a larger question looms regarding the love life of Tyler, will he ever be seen in a relationship with a girl?