Jaden Smith Keeps Fans Guessing If He's Gay
Here's everything you need to know that went down between Jaden Smith And Tyler, The Creator.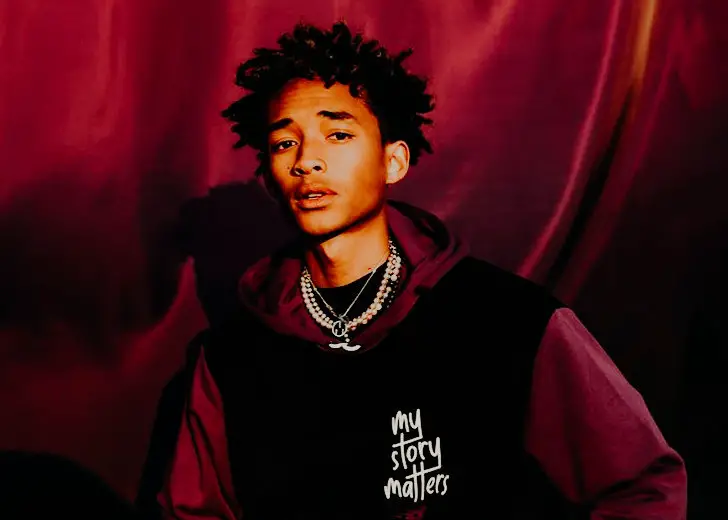 Jaden Smith has been in the spotlight all his life. The young actor and rapper has been in front of the camera since childhood and stands out as a one-of-a-kind personality who has the courage to express himself honestly in public.
Although he is known as the star kid of iconic Hollywood duo Will Smith and Jada Pinkett Smith, he has carved out his own identity for himself by mixing masculine and feminine aesthetics to transcend gender norms.
And given his celebrity status, it's likely that the viewers are curious about what's going on in his personal life. People have also questioned if Smith is gay in recent years.
Smith Fueled Gay Rumors after Calling Tyler His Boyfriend
It all began in 2015 when Smith admitted he was conflicted about his love for Tyler, the Creator in a tweet. "I think I'm In Love With You, I Don't Know I'm Still Figuring It Out But In The Meantime, Happy Birthday," he wrote while mentioning Tyler in the post.
The rapper then ignited several media headlines and social media reactions by teasing about his connection with artist Tyler, the Creator on stage at Flog Gnaw Carnival music festival in Los Angeles in November 2018.
According to the Gay Times, Smith told the crowd that Tyler was his boyfriend and has been his boyfriend his whole life.
Tyler, The Creator is my (expletive) boyfriend! It's true! Tyler, The Creator is my (expletive) boyfriend, if you take anything away from this (expletive) show, that's what you take away!
However, according to November 2018 reports from iHeart Radio, Smith was actually laughing when he made the statement. Also, the moment occurred when the 22-year-old was filling time as event organizers communicated with the fire department. 
According to a fan-shot clip, Tyler was seen laughing and waving his finger while nodding his head to let the audience know it was not the truth.
Soon after the event, Smith took to Twitter and wrote, "Yup @tylerthecreator I Told Everyone You Can't Deny It Now." Tyler then replied: "hahaha you a crazy (expletive) man." The tweet has since been deleted.
While some fans congratulated them on their relationship, others dismissed it as a publicity stunt or a prank. 
During an interview with Apple Music's Beats 1 Radio, Smith revealed their relationship once again. He said that he had recently stated Tyler, the Creator, as his boyfriend, and it was correct. 
In early 2020, Smith appreciated Tyler's Grammy win with a tweet while referring to him aswith  his boyfriend.
None of them has openly talked about their orientation. Yet, both of them have been seen as being natural conversation starters regarding their identity.
Tyler has been significantly straightforward, but it's unclear if he was telling the truth. 
"I TRIED TO COME OUT THE DAMN CLOSET LIKE FOUR DAYS AGO," he wrote on Twitter in 2015. "AND NO ONE CARED HAHAHHAHAHA."
Smith Is an LGBTQ+ Icon
The performer has become an LGBTQ+ symbol because of his gender-fluid dress choices and appearances. Smith has publicly talked about gender stereotypes, notably in the realm of fashion. 
In 2016, he told British GQ Style he doesn't see male and female outfits. According to him, individuals are either scared or happy with what they wear.  
The same year he wore a pleated skirt, a crochet top, and a cool leather jacket for Louis Vuitton's Series 4 womenswear campaign. His look received criticism from both critics and supporters, but in the end, he was lauded for his bold decision to defy gender stereotypes.
He then started his own gender-fluid fashion line, MSFTSrep, in 2016 after presenting at multiple events in both men's and women's attire. 
In a 2016 interview with Variety, he explained that his fashion line is created for "the girl who wants to be a tomboy or the boy who wants to wear a skirt". According to him, these people would mostly be at the receiving end of condemnation.