Trippie Redd's Tattoos and Musical Inspiration Align Together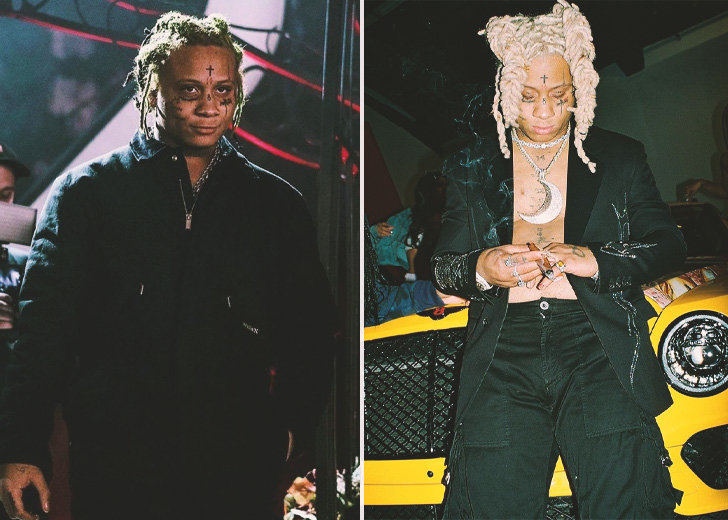 Mumble rapper Trippie Redd is known for songs like 'Love Scar,' 'Dark Night Dummo,' and 'Topanga,' the success of which saw the rap artist break into Billboard's Hot 100 Charts. 
Redd started his rapping career early at a young age, and after the tragic death of his beloved brother, the rapper aspired to make a name for himself in the rap business.   
Currently, Redd's career is on an upward curve. However, the rapper hasn't forgotten his roots, as his tattoos reflect his story.
What Do Trippie Redd's Tattoos mean?
The rapper explained the meaning behind his tattoos in conversation with GQ in 2019. In the initial question, Redd was asked to let the watching audience know about his first tattoo and when he got it.
In his response, Redd pointed his finger in the middle of his forehead, where the number 14 carved in red could be easily seen.
Redd explained the tattoo's significance and spoke of the exact reason he got that specific number engraved on his body. 
Per Redd, he got the tattoo when he was "fifteen-sixteen" years of age, and the number is an homage to the street where he grew up.
During his teenage years, the now accomplished rapper was in a group called Fourteen Hundred. The number has long since stuck with him, and he sees the number "everywhere I go."
He further called number 14 to be an "angelic number" for him. 
Interestingly, Redd has the number 8 carved in black in the middle of his nose. When asked about the significance of his nose tattoo, the rapper called it to be a dedication to his gang called Shore block 800. 
The rapper also has the numbers '1400/800' tattooed on his neck for the same reason. 
Designs of numbers 14 and 8 can be seen in multiple places on his left hand. 
Redd made an interesting revelation, talking about one specific design of the number 14 on his left hand. 
His left hand has a female gender sign painted in red, and the number 14 can be seen designed inside the symbol. When asked to explain the idea behind the tattoo, Redd called the design to remind the number of girls he's been with so far. 
Inspiration Behind Love Scar and TR 666 Designs
Further in the conversation, Redd displayed his knife tattoo, barbed wire tattoo, and his love scar tattoo designed on his right hand's index finger, below his right eye, and on the top of his left cheek, respectively.
When asked to explain his love scar tattoo design, which contains a scar running in between the words love and scar, an emotional Redd revealed it to be a tribute to his late brother, who died in a car accident when he was ten years old. 
Per Redd, his late brother's face had scars, and Redd's design is an imitation of his face marks. He also has an Oomps Revenge written on his right cheek. According to Redd, his life is his brother Oomps' revenge. 
His eyelids have the letters TR and the number 666 painted on it. The show's interviewer posted a quickfire question about the designs.
Redd responded by calling the designs to be inspired by his idol, Lil Wayne's tattoos. Rapper Wayne has the words 'Fear' and 'God' engraved on his eyelids.
While Redd talked about the tattoos on his hands and face, he did not reveal whether he had tattoos in other places of his body.