Inside Trina Braxton's Wedding with New Husband Von Scales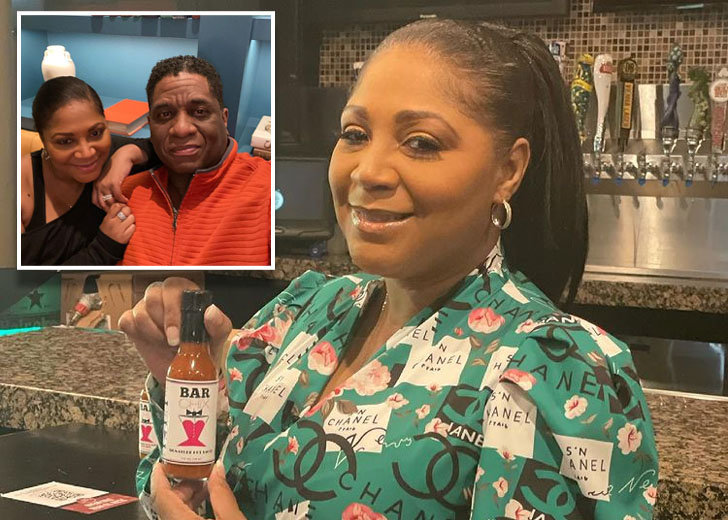 Trina Braxton, one of the stars of Braxton Family Values, was formerly married to her deceased husband, Gabriel 'Gabe' Solis. She and Gabe also raised her two sons, Eric Mojica and Caleb Mojica, whom she gave birth with an undisclosed partner.
But the family went through a disastrous few years between the early 2010s to mid-2010s.
A couple of such events included — the long-married couple separated in 2013 (divorce finalized in 2015) and Gabe's untimely death at the age of 43 in December 2018.
However, Braxton has now found stability and happiness in her life. All thanks to her loving new husband, Von Scales, with whom she tied the knot in December 2019.
Trina Braxton and Von Scales' Wedding
On December 15, the 'Party or Go Home' singer walked down the aisle for the second time.
Braxton and Scales had a beautiful wedding ceremony in St. Louis, Missouri, with their close friends and family members in attendance, including the star's celebrity family: Toni, Tamar, Traci, Towanda, Michael Jr., and their mother, Evelyn.
Speaking with People at the time, the singer turned reality TV star shared that her wedding was unpredictable and amazing.
"Our personalities shined through and it was a great example of our relationship. Simple elegance, but all about celebrating with family and friends. It was perfect for us," she added.
Braxton also stated that she was married to an amazing man, and the ceremony was more about the couple displaying their love "for each other amongst our loved ones and including our loved ones and blending our families. Who could ask for anything more."
The auspicious ceremony — held at Windows on Washington, a lavish venue in the historic downtown neighborhood of St. Louis — was officiated by Judge Mablean Ephriam.
The Couple Dashed Stunning Outfits on Their Wedding
On the wedding day, the bride wore a stunning, floor-length, white wedding gown, with lace straps and a deep V-cut bustier, designed by Naama & Anat Haute Couture.
She complimented her elegant look with a stunning double-layer, silver headpiece with jewels. She was accessorized with a simple silver necklace and pendant, earrings, and a bangle to match while her hair was styled in an updo.
On the other hand, the bridegroom sported a dashing light gray suit by Cedric Cobb. He matched it with a white button-down top and an embroidered gold tie.
He was also accessorized with a matching gold pocket square and a white rose.
Trina Braxton Says Her Wedding Was 'Horrible'
Even though Braxton and Scales' wedding looked great for the spectators, the reality television star personally felt her special day was "horrible."
"It was absolutely horrible. My flowers didn't show up. I had several cake-tastrophes. It was a mess, but, you know, we both showed up," the mother of two kids shared while speaking with In Touch in November 2020.
However, she also had a favorite part, as she described it was when the couple said, "I do."