A Look at Tiffany Haddish and Common's Relationship as They Split after One Year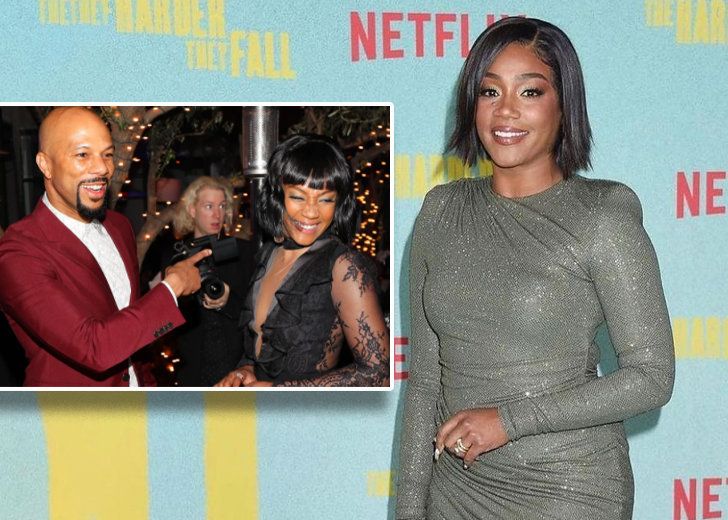 Tiffany Haddish and Common are no longer together.
While the pair hasn't yet talked about the split, a source close to People confirmed they parted after dating for a year.  
"They are never in the same city together," the insider reported, reasoning both Haddish and Common were just too busy for a serious relationship.
The pair had first met on the set of The Kitchen in 2019. However, their romantic rapport only started after they collaborated on a campaign from Bumble in April 2020. 
Here's a rundown on their relationship timeline. 
Tiffany Haddish and Common's Relationship
Haddish and Common were already dating since May 2020. However, the duo kept their budding chemistry under wraps.
Having said that, they had shed multiple hints about their relationship. 
For instance, the famed comedian had seemingly confirmed they were quarantining together in May.
And in June that year, the pair attended a Black Lives Matter protest together in Los Angeles. 
A month later, Haddish hinted at their budding romance once more during an interview with Stephen Colbert.
She disclosed she had made Common shoot a TikTok video with her, although he wasn't willing for it. 
Haddish Confirmed Dating Common in July 2020
After keeping her fans in the dark for months, Haddish finally opened about her relationship with Common in an interview on the Wild Ride! With Steve-O podcast in July 2020. 
Announcing that she was dating the rapper, Haddish remarked she was happier in the relationship. 
I'm just way happier and it's, like, knowing I got somebody that cares about me, that really has my back. 
She even added that Common was her first celebrity boyfriend and their relationship was the best she had in her entire life. 
Common Praised Haddish and Their Relationship 
Like Haddish, Common also went vocal and gushed about their relationship in an interview on Live with Kelly and Ryan in July 2020.
Admitting his affection for the Girls Trip actress, Common heralded her as a "wonderful woman, a queen, and just a beautiful person."
"You know, I just care for her a lot, enjoy her," he added, elaborating he was grateful to have her in his life. 
Even a year later, the affection was transparent when the multi-hyphenate appeared on the PEOPLE Every Day podcast in July 2021.
He shared that his relationship with Haddish had evolved him into a better person. 
In his own words, dating the actress had helped him to know and love himself more.
He was admittedly able to express things he wanted in the relationship. "I've evolved and gotten to that place." he added.
In September 2021, Haddish and Common had even hinted at the possibility of an engagement.
While appearing on the SmartLess podcast, Haddish told the host that she wouldn't want an engagement ring if her boyfriend proposed to her. 
Instead, she mentioned that an apartment building would be better than a ring. 
And following month, the Los Angeles native spurred rumors of being pregnant with her beau's child.
The rumors spurred after she seemed to have a baby bump when appearing at The Harder They Fall premiere. 
But Haddish didn't comment on the speculations, just like she has spoken nothing about her split with Common. 
Years before her relationship with Common, Haddish had walked down the aisle with William Stewart. She tied the knot in 2008 and divorced her ex-husband in 2013.