SZA Explains Her Injury and Reason behind Crutches at Grammys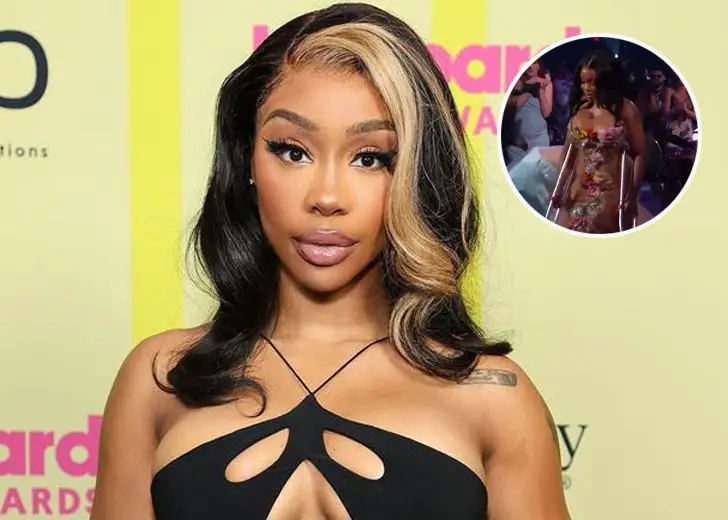 At the 2022 Grammys, SZA won an award for Best Pop Duo/Group Performance, together with Doja Cat, for their hit single 'Kiss Me More.' But shockingly, the singer walked to the stage to accept the award with the help of crutches.
While she visited the podium, Lady Gaga, who was sitting in the audience, ensured the Grammy winner didn't have a disaster for the entire world to see.
And now that has made fans wonder what happened to SZA.
"lady gaga helping sza going on the stage and cheering for her and doja cat as they accept their award [sic]," one wrote on Twitter.
Another posted a clip of the moment, asking, "sza??? what happened?"
SZA Spoke about Her Crutches and Leg Injury
The singer later explained the cause of her injury while speaking with the reporters backstage in the media room.
"It's very funny because I fell out a bed right before it was time to leave and get ready for this," she shared.
"Like the day before, but that's the way it goes. Everything awesome in my life has always come with something like very random, but it just adds to the energy."
During the conversation, SZA hinted she had more music in the pipeline, with her new album coming out soon.
"It's probably my most unisex project yet, if that makes sense. It's for everyone," she said of her upcoming album.
She also praised her collaborator, Cat, saying she was a star and "so masterful." And because of that, she said she could learn a lot from her. However, it is unclear if she would collaborate with her once again.
The single 'Kiss Me More,' which led SZA and Cat to win the Grammy together, had peaked at No. 3 on the Billboard Hot 100 and Official U.K. Singles Chart. The two singers even performed the hit live at the 2021 Billboard Music Awards.
Doja Cat Teared Up after Late Entry
While SZA took the help of crutches to reach the stage, her collaborator, who was supposed to be on the stage together, made it to the stage a bit late.
She reportedly went to the bathroom right before the award was announced and had to hurry back to accept it.
"I have never taken such a fast piss in my whole life," she said, fixing her dress, a little out of breath.

SZA, who walked with the help of crutches, clicked with Doja Cat at the 2022 Grammy Awards. (Photo: Twitter)
But she eventually teared up during the acceptance speech. She first said she appreciated it and thanked her family, friends, team, and fans for their constant support.
"And you know what, SZA? You are everything to me. You are incredible. You're the epitome of talent. You're a lyricist, you're everything. And I just need you to say something," she alluded.
Replying to her, SZA said, "Thank you, Doja; thank you to my momma; thank you to God and just thank all of y'all."
"I'm glad you made it back in time," she added.
Afterward, the duo hugged each other, and Cat started crying. But those were obviously her happy tears.