Rapper Doja Cat Reportedly Dating New Boyfriend from Super Bowl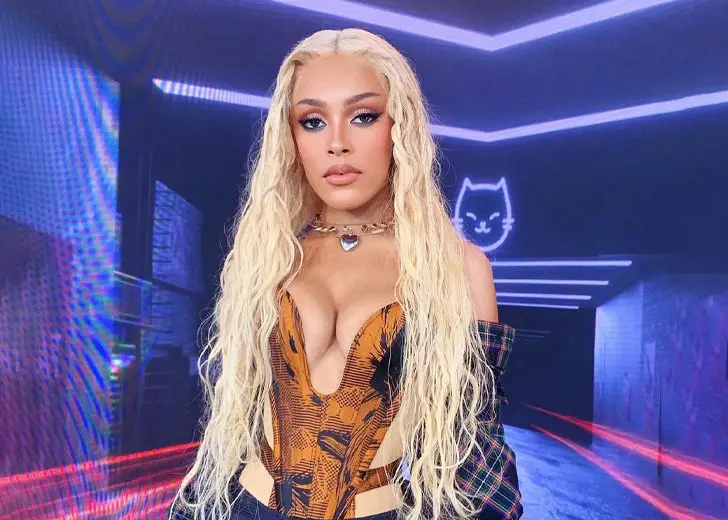 Doja Cat was reportedly accompanied by a mystery man at Super Bowl 2022, and fans are confident that he is the Los Angeles-born rapper's new boyfriend.
According to Dailymail, the 26-year-old walked arm-in-arm with a man — dressed in a white T-shirt, denim shirt, jeans, and a pair of suede Chelsea boots — at SoFi Stadium in Inglewood, California.
On the other hand, she flashed her taut midriff as she rocked a black and red wrap halter neck crop top with studded leather flares.

Doja Cat snapped at Super Bowl 2022 with famous celebs and supposed boyfriend [behind her]. (Photo: Twitter/DojaCrave)
She completed her jaw-dropping getup with chunky boots and a green Balenciaga handbag.
Doja Cat with Alleged Boyfriend at Super Bowl
After she was spotted with the mystery man, the news spread like wildfire across the internet.
The gossip site Deuxmoi also took to their official Instagram handle to shed light on the new boyfriend rumor. The media shared a tip, shared by their source, that read, "Doja already has a new man in her life."
The message added, "He's been seen with her plenty of times. Lastly at the Super Bowl ;) He's hot."
Similarly, fans have been discussing the mystery man on Reddit, with many claiming he must be her new boyfriend.
"Judging by appearance, he seems like a nice guy, he looks like he could be loyal, i respect that," one wrote.
Another user even explained why it was evident that the two were dating. The user noted, "He was by her at the Super Bowl the whole time. She purposely kept him out of her team pictures. It was obvious he was there as her date."
That said, some fans were not willing to go after the speculations and wait for the official announcement to know her actual relationship status.
"I wouldn't jump to conclusions just yet. And if she purposefully kept him away from all that, then this post is not doing her or him a favour. Let's keep their privacy. This should be deleted," a wellwisher added, requesting to stop speculating or breaching the pair's privacy.
Doja Cat Famously Dated Musician Johnny Utah
Cat, whose real name is Amala Ratna Zandile Dlamini, famously dated fellow musician Johnny Utah for a year from 2019 to February 2020.
It was, reportedly, also the only public relationship of her that came out in public since she rose to fame.
The two first opened up about their relationship on Instagram live video, where they revealed they met on Instagram.
At first, they were regularly flirting via their Instagram comment sections before eventually sliding into each other's DMs.
However, the relationship didn't end well. Talking about the split in another Instagram live session, the rapper shared that there wasn't any drama going on between them, and they remained on good terms with each other post-split.
Doja Cat's Other Relationships
Following her split from Utah, Cat was linked to Moroccan-American rapper French Montana in October 2020.
The dating rumors sparked after the two were spotted getting cozy on a boat together.
But the rumors were nothing but false, as she later revealed they were only spotted frequently because they were collaborating on a song together.
Interestingly, Cat was also rumored with fellow female rapper Bree Runway in June 2021. She even made a post about her, saying, "I have a girlfriend and I'm going public: Bree Runway."
However, it is unclear if she was joking or really dating Runway at the time.