Where Are Steven Tyler's Children Now and What Do They Do?
An in-depth look into the life and career of Steven Tyler's children.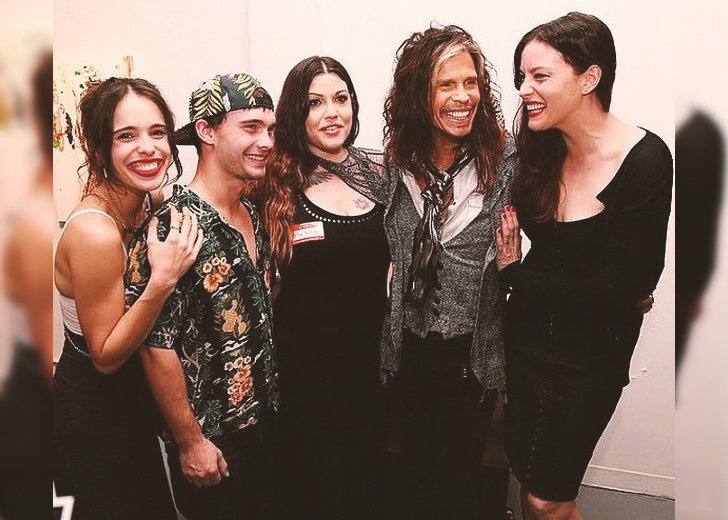 Steven Tyler, age 73, is a well-known musician and lead singer of the legendary rock band Aerosmith. He also has had an equal amount of success as a solo artist.
Tyler has collaborated with huge names like Carlos Santana, Alice Cooper, and Pink as a featuring artist. The widely popular song, 'Dream on' belonging to Tyler's band Aerosmith, was sampled by rap god Eminem for his song titled 'Sing for the Moment,' which turned into a mammoth hit. 
The uniqueness in Tyler's voice has been enchanting millions of people worldwide since 1970. However, while the whole world calls Tyler a rock superstar, four people have the privilege of calling him their father. 
A Dive Into Steven Tyler's Personal Life 
In his early life, Tyler had a short-term relationship with model Bebe Buell, and he became a father for the first time after the birth of his child, Liv Tyler, in 1977.
In 1978, Tyler married Cyrinda Foxe, mother to his second child Mia, born on December 22. Foxe divorced the rockstar in 1987, and she died from brain cancer in 2002.
He would go on to marry clothing designer Teresa Barrick on May 28, 1988, in Tulsa, Oklahoma. The then couple gave birth to a daughter, Chelsea, in 1989 and a son, Taj, in 1991.
Tyler and Barrick got legally separated in January 2006. However, in the same year, the Aerosmith frontman would be in a relationship yet again. This time with Erin Brady, who remains majorly unknown up until this day. 
However, Tyler's fourth relationship ended prematurely after a divorce was finalized in 2013. 
Given how his married life always came to a depressing, full circle, it can be concluded that the biological father of four children has seen many ups and downs in his life. 
Below is a look into what Tyler's kids are doing now in their respective lives. 
Who Is Liv Tyler? 
Liv is the eldest child belonging to Tyler. Interestingly, her mother Buell made her daughter believe that musician Todd Rundgren was her father. At the age of 10, Liv found out that Tyler was her biological father. 
She started her modeling career at fourteen when she moved to New York with her mother. Liv later worked with her dad in the music video of Aerosmith's evergreen hit 'Crazy.' 
In an interview with SiriusXM, Liv talked about her experience working in 'Crazy,' which is now an all-time hit. She revealed she was only sixteen at the time. Liv said the director offered her the part, and the role wasn't suggested to her by her dad.
She is also known in the blockbuster movie Armageddon where she acted with Bruce Willis and Ben Affleck. However, her portrayal of Arwen Undomiel in the Lord of the Rings Trilogy brought her worldwide fame.
Liv was once married to Royston Langdon, the lead singer of American rock band Spacehog and is now in a relationship with Dave Gardner, known for being in the Manchester United academy as a youth player. 
As per InStyle, she once dated acclaimed actor Joaquin Phoenix for more than three years. She is a mother to her three kids. 
An Insight into the Life and Career of Mia Tyler
Mia is Tyler's second child from his second marriage. Half-sister to Liv, Mia is an actress and also is known to be an amateur photographer. In addition, Mia is a mother to a son named Axton Joseph Halen from her boyfriend, Dan Halen. 
According to UPI, she was previously in a relationship with Papa Roach's drummer Dave Buckner. She married Bucker on stage during a 2003 Aerosmith concert in Las Vegas, but the couple later split.
During the unusual marriage ceremony, her father jokingly asked the crowd if he could "get a witness" for his daughter's marriage.  
What Is Steven Tyler's Daughter Chelsea Tyler Up to?
Chelsea is Tyler's daughter from his marriage with Barrick. Being the biological daughter of the famous rock personality, Chelsea followed in the footsteps of her father.
She is a member of a band called BadBad. Unfortunately, not much information about the band is available. 
Chelsea married her longtime boyfriend/actor Jon Foster on June 20, 2015, after dating him for 15 months. On Friday, February 21, 2020, her son Vincent Frank Foster was born. 
What Is Tyler's Son Taj Doing Now?
Taj is the least known child of the famed rock musician. But, like his blood sister Chelsea, he too has followed in his father's footsteps to pursue a career in music. 
He is a lead singer-songwriter and rhythm guitarist of the Boston-based rock band Hair Raiser. He is 30 years old. He also has acting credit for the 2001 movie Lizzie McGuire.