Simone Biles Receives Overwhelming Support For Her Withdrawal from Tokyo Olympics
Simone Biles thanks everyone for enormous love and support.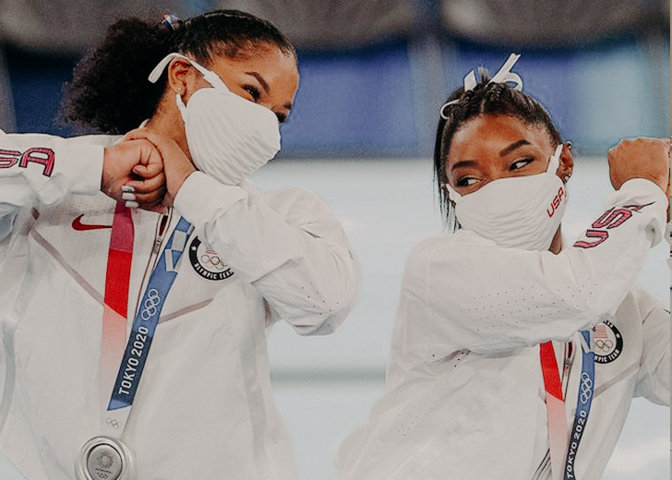 On the eve of the individual all-around final at the 2020 Tokyo Olympics, U.S. gymnastics superstar Simone Biles withdrew from the all-around competition, citing that she wanted to preserve her mental health.
The defending Olympics gold medalist had also withdrawn from the team final the previous day after the United States' first event.
"It's been really stressful this Olympic Games," Biles said at the press conference. "It's been a long week. It's been a long Olympic process. It's been a long year. Just a lot of different variables and I think we're just a little bit too stressed out, but we should be out here having fun and sometimes that's not the case."
In her statement, she also mentioned she had "twisties," which is a word for a mental block in which gymnasts lose their spatial awareness in the middle of complex skills. The Guardian reported it is a familiar, terrifying, and dangerous sensation for gymnasts.
Received Overwhelming Love and Support
In the wake of the situation, many big names from the sports industry, as well as the entertainment fraternity, came forward to show their support for the artistic gymnast.
One sports star who immediately stood up to wrap Biles with love was Nastia Liukin, a former artistic gymnast. She dedicated an Instagram post on July 28 to her fellow gymnast and penned a heartwarming caption.
"Thank you for showing the depth of who you are beyond an athlete as a leader, role model, mental health warrior, and person," she wrote in the first verse of her long caption.
The singing sensation Justin Bieber also expressed through an Instagram post he was proud of Biles for keeping her mental health ahead of anything else.
He briefly recalled an instance when people thought he was crazy because he did not finish his tour since he was going through a similar phase.
The official Twitter handle of Team USA also appreciated her strength and courage, writing,
We're thinking of you, Simone. Your strength and courage to focus on your wellbeing is something we can all learn from. Thank you for being the leader you are.
Another retired American gymnast Dominique Moceanu also poured out her throughs for Biles, sharing her experience with a tibial stress fracture during the gymnastics team competition at the 1996 Atlanta Olympics.
Describing the incident which led her to fall directly on her head, she wrote, "I was 14 y/o w/ a tibial stress fracture, left alone w/ no cervical spine exam after this fall. I competed in the Olympic floor final minutes later."
Thanked Her Well-Wishers
With such warm love and support from thousands of her well-wishers, Biles was touched. She took the occasion to thank everyone for their encouragement, which made her realize she was more than her achievements.
the outpouring love & support I've received has made me realize I'm more than my accomplishments and gymnastics which I never truly believed before. ðŸ¤Â — Simone Biles (@Simone_Biles) July 29, 2021
Biles won her first Olympics gold medal in the gymnastics team event at the 2016 Summer Olympics in Rio de Janeiro. In the overall competition, she won individual gold medals in all-around, vault, and floor categories, bronze in balance beam, and gold as part of the United States team.
So far in her career, she has a combined total of 30 Olympics and World Championship medals.