Sam Neill Was Reluctant to Leave 'Peaky Blinders'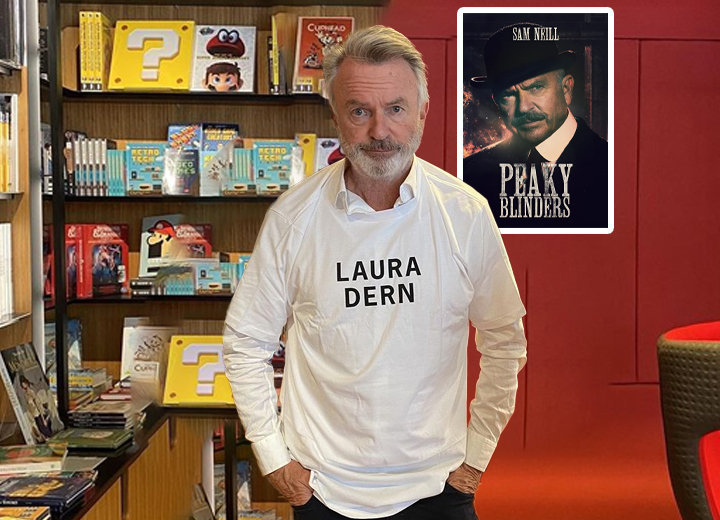 SPOILER Warning: Plot and ending details for Peaky Blinders follow.
The final season of Peaky Blinders debuted on June 10, 2022, on Netflix. For six seasons, fans followed the Irish gang known as the Peaky Blinders, led by Thomas Shelby (Cillian Murphy), as they made waves through the underworld of early 20th century Birmingham.
And they were introduced to Inspector Chester Campbell, played by Sam Neill, as the show's main antagonist in the series' first two seasons. 
Campbell was sent by Winston Churchill to deal with a stolen arms shipment from the Birmingham Small Arms Company factory. 
While he succeeded in his mission, he developed a personal vendetta against Shelby and his crew.
He was determined to kill Shelby, but before he could do, he met his untimely death at the hands of Shelby's aunt, Polly, played by Helen McCrory. 
Sam Neill on Being Killed off in 'Peaky Blinders'
Although Neill was killed off in the series, the show's creator, Steven Knight, admitted the star didn't want to leave.
During the season five premiere, the creator shared about the time he revealed his plans for Campbell to the actor. He explained that despite Neill's brilliance, he felt his character's storyline had run its course.
"He was in New Zealand and I was like I can't just send him the script, so I'm going to phone him up. So I phoned him up and said, 'Sam, this character has been brilliant, he's been fantastic.' And he said, 'I don't want to die,'" shared the creator.
He added that "like a coward," he told Neill he would reconsider Campbell's death. 
But despite what he told the actor, Knight knew Campbell had to be killed off, but out of respect for Neill, he warned him about it. 
After a week, the writer called Neill again and told him it was definite, and as soon as the actor knew, he said, "absolutely, fantastic."
Sam Neill Said He Missed the Show
Many fans theorized the actor would make a shocking return after his character was killed off at the Epsom racecourse in season two. 

Sam Neill as Inspector Campbell in Peaky Blinders. (Source: Twitter)
During an appearance on RadioTimes.com, Neill addressed the theories and his time on the series. 
"I absolutely love Peaky Blinders and I think Steve [Knight] 's writing is fantastic. I'm the biggest fan of Cillian, Helen and Paul Anderson [Arthur Shelby] and I am always happy to see them back because I kind of missed them," said the actor. 
He then talked about his experience on Peaky Blinders, saying that despite filming in "some pretty bleak parts of the world," he had an interesting time and learned a lot. 
Neill's character was evil, but the actor loved playing it. Although he did not directly address the theories, many fans took his reply to mean that he might be coming back to the show. 
Unfortunately, Neill never made the highly anticipated return, and just like that, the series was over, too.
But the story isn't over for Shelby and his Birmingham crew. They will make their last and final comeback on a film, which Knight confirmed in 2021.