Everything We Know about Regina King's Producer Sister Reina King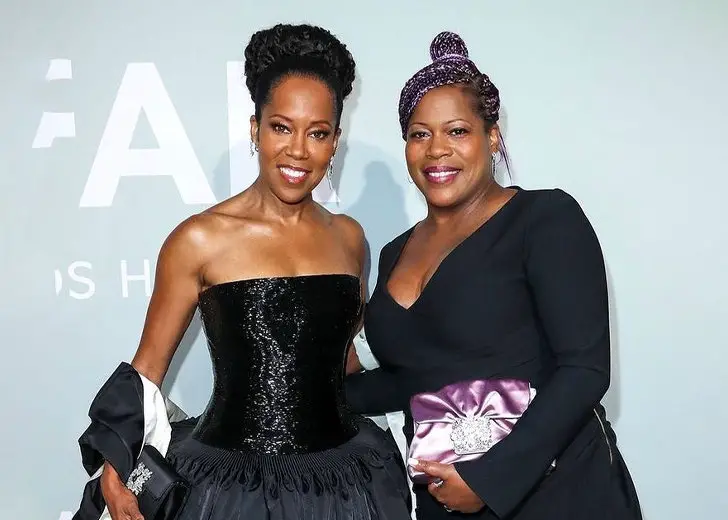 Born in Cincinnati, Ohio, Regina King is the eldest daughter of Gloria (Cain), a special education teacher, and Thomas King, an electrician.
The award-winning actress, 51, later grew up in View Park–Windsor Hills, California, along with her younger sister, Reina King.
Adding to that, Regina's sister, born in April 1975, is a former actress and film producer, best known for her role as Nadine Hudson-Thomas on the TV sitcom What's Happening Now!!, a sequel to the popular 1970s TV sitcom What's Happening!!.
Regina King's Sister Reina King's Career
Even though the two sisters worked in the same industry, the elder somehow achieved more success than her younger sister.
That said, Reina also has a decent portfolio to show that she made a notable name for herself on her own.
As an actress, the younger sibling further appeared as Tiffany James in the 1987 movie Maid to Order and actress Alfre Woodard's oldest daughter, Lanell Cooley, in the 1988 movie Scrooged.
Her other notable acting credits include 227, To Sleep with Anger, and A Hollow Place.
Besides, Reina and her elder sister Regina are the sole owners of Royal Ties Productions, a boutique production company that allegedly services all forms of media with quality content.
"The combined strengths of the partners, along with their established relationships with talent and industry executives, enable Royal Ties Productions to synchronize significant entertainment resources under one roof," the production company's bio reads.
Doing that, Reina has also served as a producer in several projects such as Bitter Root, Busted, Shirley, and Side by Side: The Story of the 50/50 Group of Sierra Leone.
Names of the Sisters Have Same Meaning
Interestingly, the parents of Regina and Reina named them in a way that their names have the same meaning.
Speaking on LIVE with Kelly and Ryan in December 2018, the elder sister admitted that Reina and Regina both meant "Queen" in Spanish and Latin, respectively.
"Regina means your name means Queen and your sister's name Reina also means Queen. What a coincidence!" the host said.

Regina King talked about her sister Reina King on 'LIVE with Kelly and Ryan.' (Photo: YouTube)
Addressing the statement, the actress explained that her mother was her father's second wife, and when the couple welcomed her, the actress' mother wanted to name her "Thomasina."
However, her father had other plans, as he wanted his daughter to have a royal name. Hence, he came across the name Regina.
"...and then my sister was a bonus child, a surprise. And he couldn't leave her hanging. She's Reina," Regina added.
Regina King and Reina King Are Close
The two sisters are close and often found supporting each other.
Take, for instance, as stated earlier, they founded and ran a production company together. That is very unlikely in Hollywood, as many siblings are reportedly not even in talking terms and minding their own business.
Similarly, the King sisters are frequently spotted together in public. In April 2015, the big sister even took to Twitter to post a picture of the two sisters marking National Siblings Day.