Ralph Macchio on His 'Magical' Chemistry with Co-star William Zabka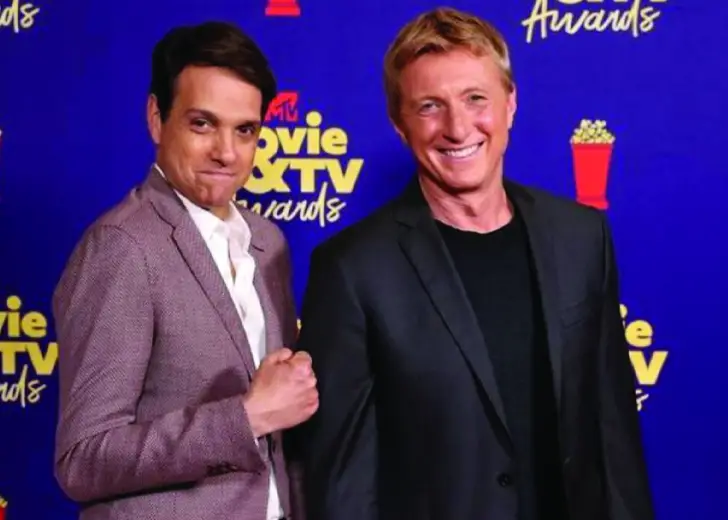 If you loved the Karate Kid trilogies, chances are you have already watched its sequel, Cobra Kai. 
The series first launched on YouTube Premium in 2018, and after two seasons, it was acquired by Netflix in June 2020. 
Cobra Kai brought back two iconic characters from the original movie: Johnny Lawrence, portrayed by William Zabka, and Daniel LaRusso, brought to life by Ralph Macchio.
The co-stars who lead the hit Netflix series are still on-screen rivals, and the fight scenes between their characters are a nostalgic treat for the fans. 
However, off-screen, it's a different story. They get on well, but after filming the second installment of the Karate Kid, they never kept in touch. 
Zabka moved on to other projects as he did not appear in the third movie, while Macchio continued a LaRusso for the last time. 
So how were the two actors able to bring their professional bond for Cobra Kai and ensure it translated well on camera? Macchio credits their "magical" chemistry and shared experience. 
Ralph Macchio on His Chemistry with William Zabka
During a conversation with journalist Kara Swisher on The New York Times' Sway podcast, Macchio shared a story of the first time he and Zabka were on camera for Cobra Kai since their Karate Kid days.
He revealed the duo had not been on camera since the 80s, and even while they shot the movie, their scenes were physical and had little talking. 
After filming, they were not a lot of sitting down in a coffee shop and having conversations. But despite not interacting for over three decades, they had this instant chemistry. 
"Life [had] gone by. [There was] a little more wrinkles, a little less hair, but there was this sort of magic between us I don't think we even had back in the day," said Macchio. 
He then stated that he believed one of the main reasons for his strong chemistry with Zabka was their bond for having been part of something iconic in pop culture since the first Karate Kid was released in 1984.
"I think something that had to do with sharing a unique connection of being connected to this entity that we all share from a different perspective that is something that doesn't happen very often," said the actor. 
William Zabka Felt the Friendship Spark Too
Zabka also felt a connection with his co-star despite never having reprised their iconic characters on screen before. 

Ralph Macchio and William Zabka at the Billboard Music Awards. (Source: Instagram)
In January 2021, during a joint interview with Macchio on The View, the actor recounted when they filmed the first scene for season one of Cobra Kai. 
Macchio's LaRusso walked into Zabka's Johnny's dojo, and it was the first time the duo looked into each other's eyes.
"It was very palatable, and we knew as soon as we finished that scene… these guys were back with their baggage, and it felt alive. And we felt when we walked off the set, and we completed that scene. We felt like this was going to work," said Zabka. He added that everything that happened felt special and sensed that the show would be awesome.