Rachel McAdams Is Appreciative of Her Parents' Relationship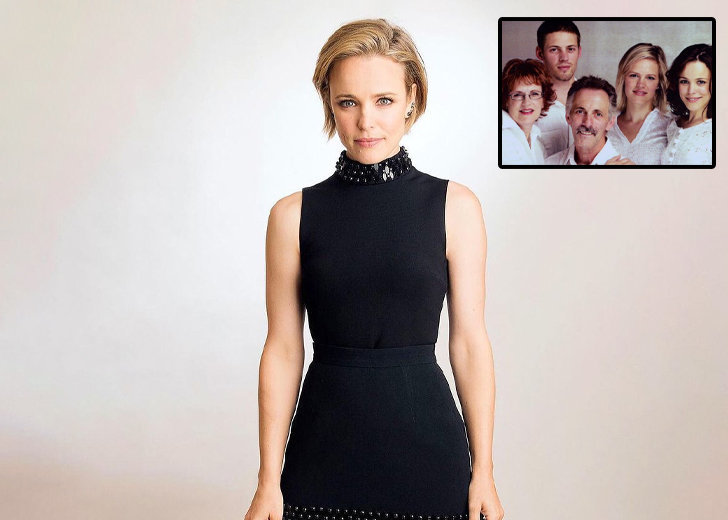 Rachel McAdams has been one of the most sought-after actresses in Hollywood since the Notebook came out. However, she remains out of the Hollywood drama for the most part.
Her conviction in staying grounded comes from her parents. She learned a lot about life from them, and also a lot about love as well.
Here's how McAdams picked off important life lessons from her simple upbringing in Canada.
Rachel McAdams's Childhood and Life with Parents
McAdams was born Rachel Anne McAdams on November 17, 1978, in London, Ontario, Canada. Her father was a truck driver, and her mother was a nurse.
The first of her parents' three children (she has one younger brother and another younger sister), she was not born into showbiz, and nor did she was pushed into it.
Never academically strong, McAdams was instead interested in figure skating. And her parents never forced her to do great in school.
The only thing they wanted from her was always to finish what she started. She kept with figure skating until she was 18, winning many competitions.
This taught her the work ethic she would carry for the rest of her life and would influence a lot of her acting career. It disciplined her.
As she grew up, she started looking for ways to express herself. McAdams then found acting, first at age 12.
She told The Scotsman that her parents might have been "terrified" of her wish to go to theatre school, but "they didn't show it and they were completely supportive."
Hers was a small family, not financially well-off, but her parents never made her or her siblings feel like anything was lacking.
"I didn't know we didn't have a lot of money because there was always food on the table. I didn't have a lot of stuff but I did figure skating for a long time and I always had my skates," she said of her folks to Stylist in 2015.
They also taught her independence.
"They weren't strict but we were expected to pull our weight and be independent," McAdams added. "By the time I got to college, I appreciated it because I knew how to take care of myself."
She held on to her small-town upbringing even after huge success in Hollywood. She lived near her parents in Toronto as of 2012 and drove bicycles around town, which she confessed she preferred to an LA lifestyle.
Rachel McAdams's Parents Made Her More Romantic
McAdams's parents have been together for over 40 years. They always treated each other with kindness.

Rachel McAdams's parents raised her to be independent and also made her more of a romantic. (Photo: Instagram)
"They are still together and still in love. I'm very blessed that way," McAdams told The Independent in 2011. "I had a great example of love in front of me, and that's probably what makes me such a romantic, because I've seen it firsthand."
Maybe that helped her play her roles in all the romantic movies she has done. Her films, like The Notebook and The Vow, have solidified her status as a great rom-com actress.
She has learned a few things about love on her own, too. After her split with Ryan Gosling in 2007 and with Michael Sheen later, she realized that not everyone had the same idea of love as hers.