A Peek inside Michael Sheen and His Girlfriend Anna Lundberg's Love Life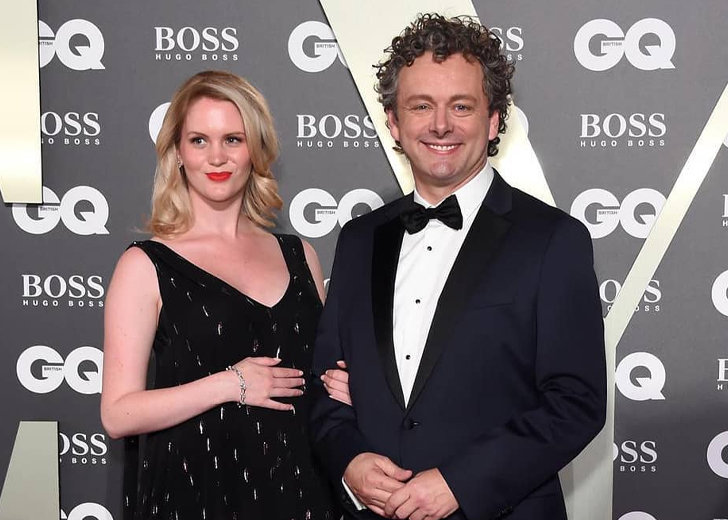 Michael Sheen and his girlfriend, Anna Lundberg, announced their relationship in May 2019 after attending the premiere of Sheen's Amazon Prime Show, Good Omens.
Sheen was cast alongside his former Doctor Who co-star David Tennant in the comedy series.
Two months before his union with his current girlfriend Lundberg, the actor had broken up with his former girlfriend, Aisling Bea.
Unfortunately, concrete details regarding how Sheen first met Lundberg isn't available as of this writing.
Flash forward to a few months, and in July 2019, the actor announced, on his official Twitter account, that the couple was expecting a child.
Two months later, their daughter Lyra was born.
To express his happiness over the birth of his baby, Sheen took to his social media and posted lengthy writing mentioning the infant's time, day, and date of birth.
Per Sheen, Lyra was born on September 23, 2019, at 8:41 a.m in Wales, with the help of midwives from Singleton and Neath Port Talbot Hospitals, whom he thanked in his tweet.
In a follow-up post, Sheen, on behalf of his wife, thanked everyone for their lovely congratulatory messages humorously stating how he experienced a wonderful, "bleary-eyed" week full of love, kindness, and "extraordinary poo."
While it was Lundberg's first child, it was Sheen's second. His first daughter, Lily Mo Sheen, was born from his previous relationship with actress Kate Beckinsale.
Getting to Know Michael Sheen's Girlfriend
Lundberg is a Swede, hailing from the city of Helsingborg in Southern Sweden. She was born in 1994 and is twenty-seven-year-old at present.
With the aspiration of becoming an actress, Lundberg attended the London Academy of Music and Dramatic Arts.

Michael Sheen and his girlfriend Anna Lundberg capture an intimate moment on camera. (Photo Credit: Instagram)
She has adequate experience working in theatre due to her involvement in plays like Othello, Spring Awakening, and Gloria.
Interestingly, in 2020, Lundberg worked alongside her boyfriend Sheen in BBC's flick Staged.
Around the same time, she was understood to be living with him in New York, after completing her year of education at NY Academy Company in 2018/2019.
Michael Sheen's Relationship History
Sheen's first known love affair was with actress Beckinsale, which unfortunately came to a closure in 2003.
Since then, he's dated several popular names, with former girlfriend Lorraine Stewart being the first after his split with Beckinsale.
Sheen spent seven years dating Stewart before moving on to Sarah Silverman, with whom he was together for three years.
Shorter stints with Carrie Keagan and Caitlin FitzGerald, then followed for the actor.
Later, he would spend three years with Rachel McAdams before moving with Anastasia Griffith.
Following a split with Griffith, Sheen hooked up with stand-up comedian turned actress Bea.
They were first spotted together in public while exiting the NHS Heroes Awards, hosted by ITV and the Mirror in London, in May 2018.
As per reports, Sheen fell in love with Bea while working with her on ITV's drama series Quiz.
The show was based on the true story of "Coughing Major" Charles Ingram, who won a million dollars on the show Who Wants to Be A Millionaire allegedly by cheating with the help of his wife and an accomplice.