Sarah Silverman Posts Cute Picture with Her Boyfriend — Know Her Dating History
Comedian Sarah Silverman met her current boyfriend playing Call of Duty: WWII amidst pandemic.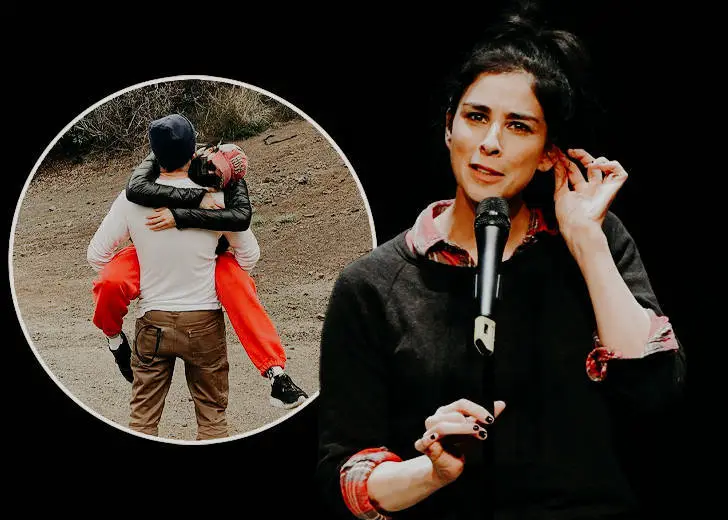 When they say that all is fair in love and war, Call of Duty: WWII was probably not what they had in mind. But the comedian, Sarah Silverman, who has dated the likes of Jimmy Kimmel and Michael Sheen, found romance mid-pandemic through the video game.
Silverman Met Her Boyfriend Via Call Of Duty
With many people exploring their hobbies during this pandemic, for the Ralph Breaks the Internet star, it was all about expanding and diving into her video game catalog. 
Back in October 2020, Silverman was hosted on The Ellen DeGeneres Show. There, she confessed that as the world was shutting down everywhere, she decided her time would be better spent playing video games again. It just seemed the right thing to do. She went to GameStop and bought a console and a couple of games, out of which she really got into Call of Duty: WWII.
In the show, she also revealed that she was, in fact, engaged in a new romantic avenue with a certain someone. That someone, however, was not revealed then itself. But she went over how they found love in their mutual love for video games. 
When Silverman posted about her love for the game online, she said that a man slid into her DMs and invited her to play. She knew this man as he was one of her contemporaries in the comedy entertainment business. At this moment in time, they had not met each other, but after clapping for the heroes at 7, they clapped some Nazi heads together. 
We would bang the pots and pans out on the fire escape. It really became just like a group primal scream. It was actually kind of beautiful to be in New York at that time. Then at 7:05, I'd put my headset on and I'd kill Nazis with this guy
And to perhaps as much a surprise to herself as to others, they were dating just like that!
The mystery man soon enough relocated to quarantine with the comedian in New York, and that is where we are today as a tight and madly-in-love couple. We now know the man as the talented comedian Rory Albanese, who was revealed in November 2020 on a podcast.
On February 10, 2021, Silverman took it upon Instagram to post a cute picture of themselves. 
In the picture, Albanese is carrying Silverman with his back turned to the camera. She captioned the photo with a verse from the poem Footprints in the Sand — "It was then that I carried you."
The Comedian Duo Laughing Their Way Through Love
Rory Albanese is a man of laughs himself. Apart from being an avid fan of the Call of Duty games, he is a stand-up comedian, a showrunner, and was an executive producer for The Daily Show with Jon Stewart. 
Prior to meeting Sarah, he had been in a long-term relationship with Reagan Baker, which crumbled in 2018. 
Silverman's Past Affairs Have Been With Funny Men
After being together for close to four years, Silverman called it quits with the actor Michael Sheen in 2017. Regarding the breakup, she commented that since she had been single and independent for so long, she enjoyed being that way.
Even when they were dating, she would often send Sheen away in the night because she valued her quality time by herself. Sheen, on the other hand, was completely okay with it. 
In 2018, she stated she had remained friendly with Sheen when she appeared as a guest on Jimmy Kimmel Live!, another funny man she had dated. 
Silverman and Kimmel dated for seven years, starting in 2002, and they were a high-profile item in the entertainment industry. They were pretty much on and off during their time but never got to the point of calling each other husband and wife. And again, they have continued to stay on good terms after the fallout.