'Pack Lite' Singer Queen Naija Scared for Life after She's Approached by Random Men - Plans to Get Gun License ASAP
"Okay. I'm getting my gun license ASAP," Queen Najia says.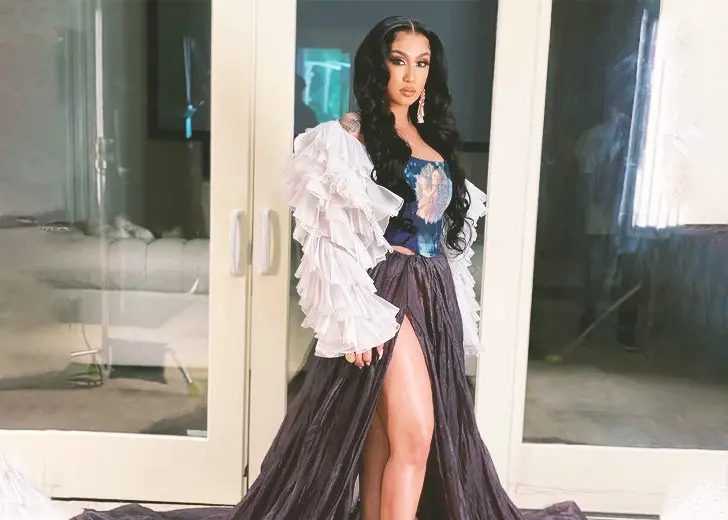 Queen Naija feels the need for a gun license to keep herself and her family, especially kids, safe from random men.
On Wednesday, October 6, the Michigan-born singer took to Twitter to share a couple of instances when random men walked up to her, and that scared her terribly.
"...this the second time a man has walked up to me & gotten in my space to make weird conversation," she wrote in her tweet.
She continued to write that she automatically gets nervous in such situations because of the stories of women who have been brutally murdered.
What Really Happened to Queen Naija
In another tweet, Queen Naija explained what really happened with her. She revealed that when she was allegedly sitting in her car and waiting on a food order, a random man suddenly walked right up to her window.
He subsequently pointed at the 'Pack Lite' singer's sweater and said, "orange sweater...I noticed your shoes matched your sweater!"
Queen Naija Feels the Need for a Gun License
In the wake of the situation, the 25-year-old singer felt the need for a gun license to feel safe and defend herself if necessary. "Okay. I'm getting my gun license ASAP," she wrote in her initial tweet.
Gun laws in the United States allow the sale, possession, and use of firearms and ammunition if one has a valid gun license. The laws and the provision to use the gun, however, varies with the state.
Fans Are Supporting Queen Naija
After Queen Naija, whose full name is Queen Naija Bulls, shared her scary incident, fans immediately started showing their concern and support for her on Twitter.
Replying to her original tweet, a fangirl suggested that she should get a gun and take gun training classes. "Be safe, it's a scary time to be a woman," she wrote.
Another chimed, "It's always been dangerous to be a woman."
When a fan asked where her bodyguard was at that time, Queen Naija responded, saying, "I only went to rehearsal I don't bring bodyguards to places like that."
"Please be careful. You never know someone's intentions these days. Better protect yourself whenever you can," someone added.
Here're some fan tweets that showed their support for Queen Naija:
Queen Naija Is a Mother of Two Kids
The singer's scare and willingness to get a gun is justified as she is the mother of two kids. Hence, she clearly wants to stay safe herself as well as keep her children protected from random people.
Speaking of her kids, she shares a 6-year-old son, Chris Jr., with her ex-husband Chris Sails. Sails is also a Michigan-born musical artist, just like Queen Naija.
Queen Naija's second child is a 2-year-old daughter, Legend Lorenzo, whom she shares with her present boyfriend, Clarence White.
Earlier in August, she posted a series of pictures of her two kids — both of whom live with her and her boyfriend in Atlanta — on Twitter, stating they were ready for their first day of school.