Pop Smoke's Mom Grieves for Dead Son While Slamming Gun Violence
Pop Smoke was allegedly shot by an under-aged 15-year-old suspect.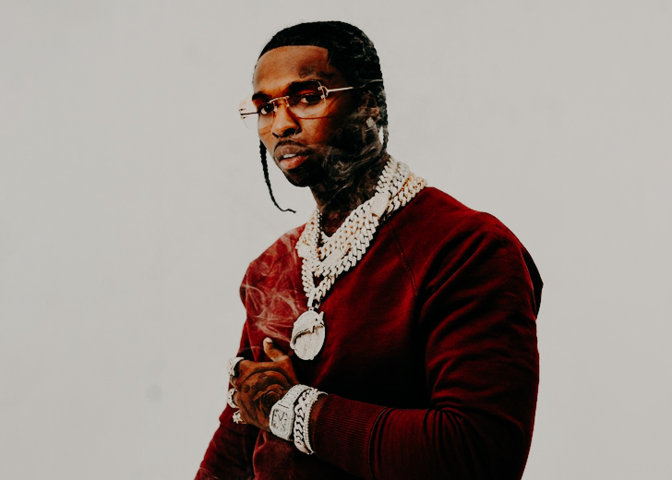 Pop Smoke was pronounced dead at the age of 20 after being found with multiple gunshot wounds on February 19, 2020.
The convicted shooters were four hooded men, one wearing a ski mask and carrying a handgun, who broke into the rapper's house in Hollywood Hills, California.
The rapper's assassination left many people in tears, including his aging mother, Audrey Jackson.
"On February 19th, at 4:00 AM, a gun was used to take my son from me. You know him as Pop Smoke, we called him 'Shar,'" she said publicly.
Since that event, the grieving mother has been slamming gun violence, which has destroyed many families in the country and taken her son away from her. 
In a public statement, she recalled Pop Smoke, whose real name was Bashar Barakah Jackson, running up the front of their steps and taking her hands to dance with her. She also remembered him coming to her room to "muscle pose" in the mirror.
Speaking in a recent interview with Power 105.1's Angie Martinez in July 2021, Audrey sounded a bit relaxed as she revealed her son's suspected killers had been arrested.
She expressed that sentencing the killers in prison wouldn't bring her son back, but they needed to go through the consequences of their actions.
They're off the streets, they've been caught. They need to serve some time. Throwing them under the jail isn't going to bring him back, taking their lives isn't going to bring him back but as long as there's a real consequence.
During the interview, Audrey was joined by her other son, Obasi Jackson, Pop Smoke's brother, who said he felt that his brother's killers didn't have to do what they did. "Now you deserve the ultimate penalty," Obasi added.
In the candid conversation, Audrey also admitted her departed son was living a "dangerous life" before stepping into the music industry as a rapper.
She said her biggest concern at that time was that Pop Smoke might be arrested and his civil liberties would end. She had never even fathomed someone would take his life.
Pop Smoke's Murder Case Report
Pop Smoke was shot inside the house he lived in. He had rented a house which was owned by The Real Housewives star Teddi Mellencamp and her husband, Edwin Arroyave.
Police started the investigation of the case but struggled to find a motive.
At the same time, the rapper's fans pointed out that he had posted photos on social media showing lots of cash, a luxury car, and designer goods.
Later, on July 9, 2020, the Los Angeles Police Department arrested five people in relation to Pop Smoke's murder. Four days later, prosecutors disclosed that four of them had been charged in the rapper's slaying: Corey Walker, 19, Keandre Rodgers, 18, and two minor teens.
But nearly a year later, some new information came out in court while determining whether the case against Walker would go to trial.
The new details disclosed that an under-aged 15-year-old suspect allegedly shot the rapper. The perpetrators had broken into Pop Smoke's house to steal his diamond-encrusted Rolex and Cuban-link chain.