PnB Rock's Girlfriend Stephanie Blamed for His Death after Instagram Geo-Tagged Post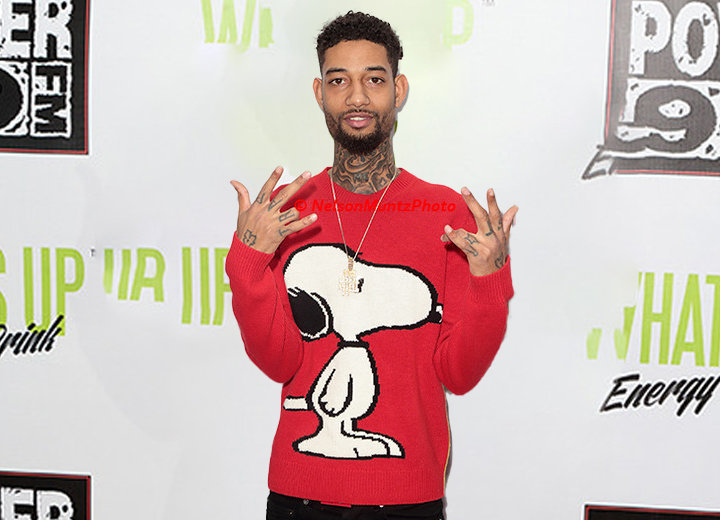 PnB Rock's death has sent shockwaves around the rap community. The rapper, 30, was shot dead on September 12, 2022, during a robbery at the Roscoe's House of Chicken & Waffles restaurant in South Los Angeles.
A lot of reactions have since surfaced about his death, with big names in the rap community as well as his fans taking to Twitter to share their feelings about the incident.
And while a lot of that has been condolences for the now deceased rapper, a few have made wild allegations against PnB's baby mama for causing the tragedy.
Kodak Black Blames PnB Rock's Baby Mama for His Death
Kodak Black has been, until now, one of the biggest names to have spoken up since the news of PnB's passing surfaced. And his first reaction was outrageous and headline-making.
Black went straight to his Instagram stories to write a few sentences on PnB's death. He talked of how he was with the now deceased musician just the previous night and how they were talking about his comeback in the music scene.
Then, in an outrageous claim, he implied that PnB's baby mama, Stephanie Sibounheuang, was responsible for his death.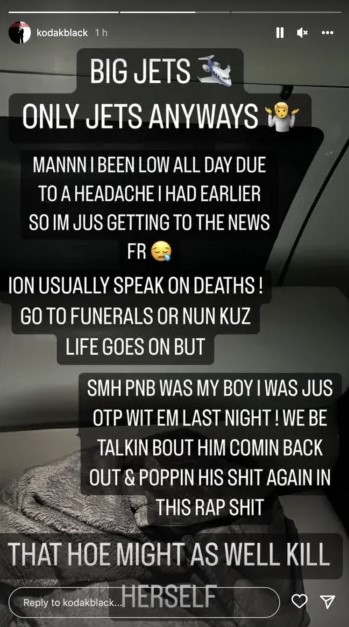 Kodak Black accuses PnB Rock's girlfriend Stephanie Sibounheuang, for his death. (Photo: Kodak Black/Instagram)
This allegation comes after speculations about how Stephanie might have leaked his location and that his murder was made easier with her revelation.
Stephanie had uploaded a geo-tagged picture of the couple, who were getting food at the Roscoe's House of Chicken & Waffles restaurant just a while before the attack happened. This location clue, many think, was the reason PnB became an easy target for the robbers.
Cardi B and Nicki Minaj Pitch In on the Situation
Nicki Minaj and Cardi B became the next few big names to pitch in on the situation. They had different takes on the blame Black had levied against Stephanie.
"I highly doubt nikkas was looking at PMB's babymom IG," Cardi B wrote on her tweet, implying she did not believe it was Stephanie who was at fault for the crime and that it was just happenstance.
Minaj, however, seemed to agree with Black on the accusations.
In her first tweet, she seemed to imply that there was no way any rapper or their loved ones were posting their whereabouts after Pop Smoke's death.
And in her second, she said people around successful rappers had much to gain, possibly pointing fingers at Stephanie.
There is no shortage of people on both sides of this allegation, evident in the replies to these tweets and others.
Peculiar Circumstances of Death
After the news of PnB's death became public, DJ Akademiks posted a video from one of the rapper's conversations from a week ago.
In the video, he said he had an encounter during the pandemic and implied his life was in danger.
However, Akademiks also became the voice of reason in all of this. In another tweet, he said people should not be passing the blame to anyone else but the person who killed PnB's demise.