Olivia O'Brien Has a New Boyfriend and No, It's Not Logan Paul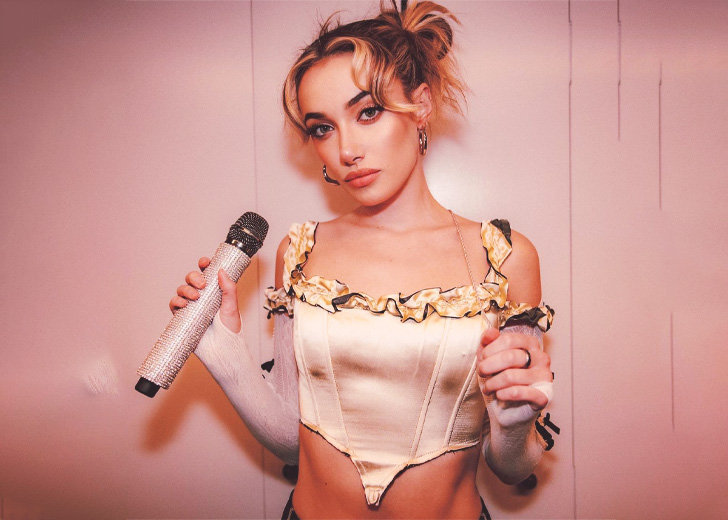 Olivia O'Brien's relationship with Logan Paul has been the center of gossips for years. After all, O'Brien confessed to writing many songs about the famed YouTuber while appearing on the Zach Sang Show podcast in July 2021. 
Not only that, the 'I Hate U, I Love U' songstress confirmed hooking up with Paul multiple times, alluding they had an on-and-off relationship over the years. But those instances are now remnants of the past, or that is what O'Brien said in a recent appearance on Zach Sang's podcast. 
Olivia O'Brien Is Not Dating Logan Paul
O'Brien appeared as a guest on the Zach Sang Show podcast in October 2021. He cleared the air regarding her relationship with Paul once and for all.
At the beginning of the interview, the host brought up the burning discussion on her rapport with Paul, pinpointing that the duo spends a lot of time together. "Well, he is my friend," O'Brien interrupted the interviewer. 
Just then, another host, Dan Zolot, expressed it was lovely O'Brien wasn't hiding about being together with Paul. He brought up the fact they traveled overseas together in September and posted pictures from the escapade on their socials. 
Admitting they had visited London, Germany, and Iceland during the trip, the famed singer clarified they were just friends. "Everyone thinks that we're dating and all this drama and weird stuff has started. But I'm not. I am not dating Logan at all," she remarked. 
And when Sang posed a question — don't you want to end up being in a relationship with your best friend? — she disclosed Paul was not the person she would date. Then, to everyone's surprise, the 21-year-old revealed she was instead seeing a new guy.  
Who Is Olivia O'Brien's New Boyfriend?
O'Brien admitted she started hanging out with her new boyfriend after she returned from the September trip.
In her own words, she was not in a mindset to be in a relationship and had been going through a crazy weekend when she met the guy. His personality, however, changed her mentality towards dating.
Consequently, the duo went on a dating spree for 11 days straight, and O'Brien recalled he was a gentleman at every meeting. 
As per her accounts, he would pick her, take her on dates, pay the bills, and drive her home safely. He would open the doors for her. And that's not all. He even sent her a giant bouquet of roses with a greeting card on their first week anniversary. 
O'Brien noted she had changed in the most unexpected way since meeting the guy. She stated she had never enjoyed cuddling, but she "always wanted to cuddle" him.
The YouTuber declared he was the only person who had slept in her bed. "I told you about my OCD. I'm really weird about my bed. He slept in my bed two nights in a row and, I like, literally was fine with it," she shared. 
O'Brien implied that her new boyfriend had her realize she was worthy of finding a loving person. She uttered she had never had a feeling like that. She explained, "Normally when guys are super nice to me, I don't like them. But I actually like him.  
Although O'Brien sang praises of her new boyfriend, she didn't reveal his identity.
Having said that, she dropped hints about him. And according to her statements, her new boyfriend lives in West Hollywood and has fifteen dogs. "He rescues them from being killed," she added. 
O'Brien also revealed that her new beau shared the same height and profession as her dad. Ergo, he is six foot two and three quarters and works as a certified investment professional.