Noah Beck on Why He Did Not Attend Dixie D'Amelio's Birthday Bash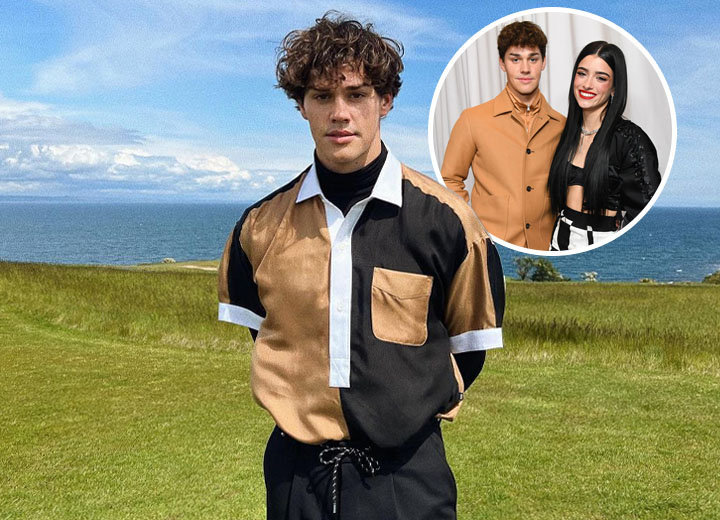 Dixie D'Amelio officially turned 21 on August 12, 2022. To celebrate her special day, the singer threw a birthday bash with her friends and families.
According to a photo uploaded by tiktokinsiders, one particular person was apparently missing from the party — her boyfriend, Noah Beck. He was nowhere to be seen on the ride for D'Amelio's birthday trip.
This made people speculate that the duo had broken up. But Do-Ah shippers defended the duo's relationship, saying the speculations were false and made little sense. 
These fans said that D'Amelio's sister, Charli D'Amelio, was also missing in the photo but wondered why no one seemed to talk about it and instead doubted D'Amelio and Beck's relatiosnhip.
"Here we go again. Noah and Dixie kept their relationship offline because y'all like to assume that they 'broke up,'" commented a user. 
Previously in a BFFs podcast appearance, D'Amelio claimed she and Beck kept their relationship private because the random gossip was affecting their mental health. 
Noah Beck Addresses Absence from Dixie D'Amelio's Party
But before netizens could speculate any further, Beck took to Twitter to address his absence from the Las Vegas birthday bash. 
The TikToker had written a lengthy statement saying that he had work commitments on his girlfriend's birthday and asked people to stop assuming the worst. 
"Regarding Dixie's birthday party, work held me back from attending the fun in vegas. A lot of the work that is done behind the scenes, the stuff that makes all this other stuff possible. As consumers of our content, please stop assuming the worst between us," said Beck. 
He added that they were hardworking and understood the sacrifice of striving for success. 

Noah Beck addresses why he was absent from Dixie D'Amelio's birthday party. (Source: Twitter)
But most people did not see the communication between them that kept their bond strong, which led them to assume the worst. 
Beck also asked netizens to support them instead of bringing them down. He said he and D'Amelio got thrown into the industry and were trying to figure it out, but to do that, he needed the help of people who supported and loved them. 
Noah Beck Says He Will Block Haters and Online Trolls
In the same statement, Beck also noted that from now on, he would be blocking accounts that left negative comments about his people. 
The TikToker explained that he rarely addressed issues he knew would blow over in a few days, but he noticed that people who "supported" him often slandered the names of people he loved. 
Beck clarified that the "supporters" he spoke of were the ones with his face as their profile photo and his name in their bio.
He noted that he always strived to spread positivity and wanted to inspire and put a smile on the faces of those who follow him. But, unfortunately, that had not been enough. 
Beck, who rarely makes headlines, said he tried to lead by example by staying unproblematic and enjoying life while being kind to others. 
But with that said, he warned people he would be blocking people who were being unkind. 
"I will be blocking accounts. I can't sit back anymore while it goes on. We are normal people too, and we see everything. words hurt. Please stop hurting people," Beck begged the haters and online trolls. He also asked them to be kind to others.