Noah Beck Hints Break up with Dixie D'Amelio in TikTok Comments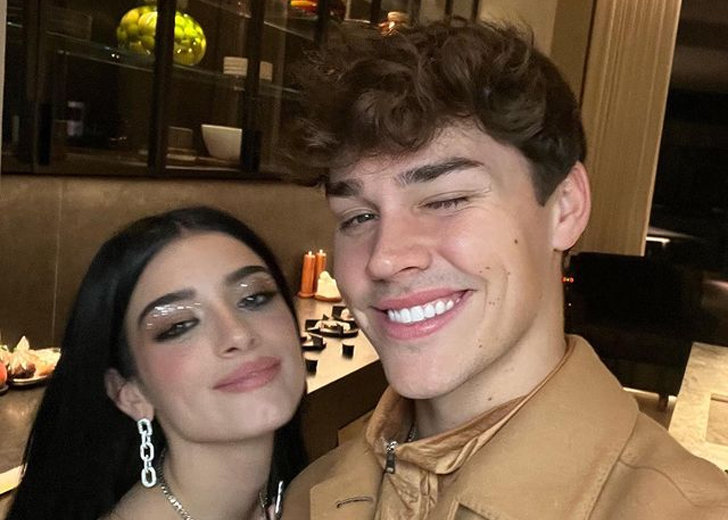 Noah Beck and Dixie D'Amelio, who celebrated their first dating anniversary in September this year, seem to have had a break up.
The social media personality recently shared a video on TikTok featuring his sister Holly Beck. But many fans started asking him about D'Amelio, with a few inquiring if he was still dating his girlfriend.
"R u and Dixie still dating," one asked.
Another dropped a similar question, "Are you still with Dixie," to which Beck responded with, "nah."

Noah Beck's comment hints at his break up with Dixie D'Amelio. (Photo: TikTok)
His reply to his fan's question hinted that he had a break up with D'Amelio.
Fans React to Noah Beck and Dixie D'Amelio's Break up Hint
Immediately after Beck dropped the comment, his fans got shocked, and the comment also received huge attention from netizens.
"He's joking," a fan wrote, replying to Beck's comment.
Someone also said, "Noahh, they r gonna take it serious," implying he was joking about the split. The fan also hinted that his fans would take the joke seriously.
"Some of u guys need to understand dixie and Noah's humor," another fan exclaimed.
Another asked, "IS THIS TRUE?" while his other follower wrote, "No tell me you're laughing."
Commenting on Def Noodle's Instagram post, the couple's fan also claimed that the two were still together and even went live some time ago.
Def Noodle had reported, based on Beck's comment, that the couple might have broken up.
"They're still together :) they went on live yesterday he's joking!" the comment read.
However, Beck and D'Amelio have made no official comments regarding the breakup speculations. Hence, it would be too early to believe in any speculations on the topic.
Noah Beck and Dixie D'Amelio Often Kept Their Relationship Offline
Since revealing their relationship in October 2020, TikTok stars Beck and D'Amelio have often preferred to keep their love life offline.
The 20-year-old internet personality even took to his Twitter back in July 2021 to announce that the couple would be making their relationship more private.
The decision came in the wake of backlash that accused the couple of faking their relationship for attention and social media views.
In his tweet statement, he first apologized for not being as active due to personal reasons before expressing, "I hate to see when I come on here that people assume things about my relationship."
He continued to write, "Dixie slander is not tolerated here lol. Pls do not bring others down based off assumptions. We have both been very busy with work, personal reasons, etc."

Noah Beck and Dixie D'Amelio snapped together on December 13, 2021. (Photo: Instagram)
He then said that he and D'Amelio loved their fans, but it was a lot of pressure for them to be dating with this many people watching.
Because of that, they had decided on keeping the "majority of our relationship offline" for the time being, with the social media star asking the fans to respect their decision.
Earlier this month, Beck was also present at Madison Square Garden in New York City to support his girlfriend, D'Amelio. She was making her Jingle Ball debut in collaboration with iHeartRadio.