Nelly and Ashanti Clear the Air on Getting Back Together
Have Nelly and Ashanti moved past their break-up?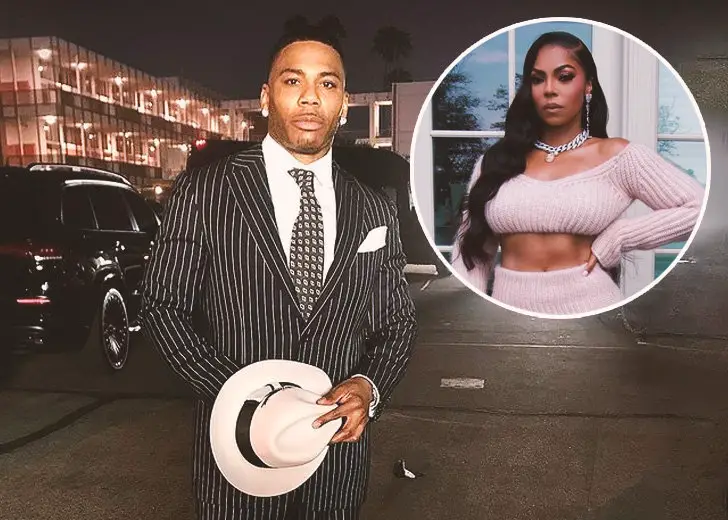 American rapper Nelly and singer Ashanti recently saw each other at a public event. Upon noticing Ashanti, Nelly gave his former decade-long girlfriend a big hug.
His action has since sparked online speculations regarding their relationship. However, Ashanti was quick to respond to the questions aimed at her regarding herself and the rapper.
Speaking recently to Fat Joe on Instagram Live, she clarified that nothing is going on between the two. As per Ashanti, it was the first time she met the 'Hot in here' hitmaker after their break up. 
What Recently Happened Between Nelly and Ashanti? 
Ashanti was invited as a guest by rapper duo Fat Joe and Ja Rule to their Fat Joe and Ja Rule Verzuz at Madison Square Garden's Hulu Theater on September 14. Nelly decided to give his ex-girlfriend a big fat surprise as he walked up to the singer to hug her. 
Later, while talking to Fat Joe on his Instagram live video titled 'Verzuzzzzz recap,' Ashanti said she "did not know he was going to be there." However, a few seconds earlier in the video, at around 34 minutes, the host explained Nelly's invitation to the event.
He told Ashanti, "I put the Verzuz flyer up, and in three seconds your ex Nelly called me and said 'Bro, I want in.'"
Fat Joe speculated that it was an effort pulled by Nelly to be near Ashanti. He further went on to fuel the reconciliation rumor by claiming "everybody saw that hug on stage." 
How Did Ashanti Respond?
During the online conversation, the 'Foolish' hitmaker had a grin on her face and spoke about the whole saga in a composed manner. "I had no idea he was gonna be there," said the singer.
I haven't seen him since we broke off. I don't know, it's been six years or something.
The controversial rapper Ja Rule, the one half of Verzuz, was also part of the live conversation. He posed a few difficult questions to his friend, Ashanti.
The 'I'm Real' rapper was keen to know whether the ex-couple was back together. However, Ashanti dashed the question when Ja Rule asked her, "Is something still there?"
Fat Joe was quick to ask if she wanted the "old thing back?" to which Ashanti replied with a series of nos. She further added, "I wasn't expecting it. I seen his eye getting big [as Nelly was walking toward her]. I didn't know what was going to happen, but it was positive."
Toward the end of the discussion, Ja Rule poked at Ashanti by calling Nelly single. Ashanti responded to the tease by saying, "Yeah, but I ain't, so." 
Rapper Nelly recently broke up with longtime girlfriend Shantel Jackson and is understood to be single. 
While answering Fat Joe's relationship question, Ashanti opted to be as open as she could. She wished Nelly her best and talked about herself being a private person. 
Ashanti told her friends and the live audience that between her and Nelly, "there were a lot of stuffs unresolved. A lot of grey areas." 
The Nelly Side of the Story
There isn't much regarding Nelly's response on the internet. However, he did appear on The Big Trigger Morning Show yesterday.
Nelly cleared the air during the interview, saying it wasn't like it was made to believe. The rapper said, "I say 'what up' to everyone," and told the host he was doing the same with Ashanti.
However, he also made it clear that he "didn't want any uncomfortable feelings" between himself and Ashanti "while they were celebrating."