All about Ashanti's Jaw-Dropping Outfit That Fat Joe Thought Was Going to Fly off Her
"She walks in, I automatically rush her to the stage because I thought the outfit was gonna fly off her," said Fat Joe.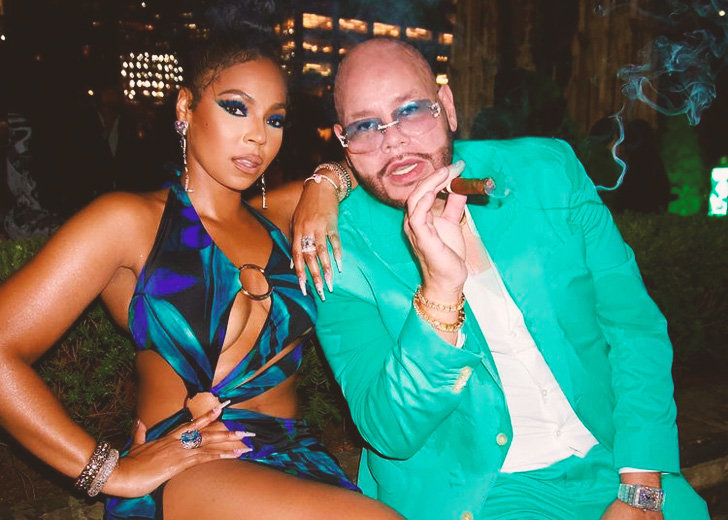 Joey Crack, better known as Fat Joe, celebrated his birthday over the weekend of August 20, 2021, on a rooftop garden at Rockefeller Center in NYC.
As expected, the guest list was packed to the brim with stars. The event even featured live performances by Busta Rhymes, Remy Ma, N.O.R.E., Papoose, Jim Jones, and Ashanti.
All About the Ashanti Look
While the latter did pull on a few heartstrings with her performance, it was her awe-inspiring outfit that ultimately became the talk of the town. 
The singer came to the party clad in a revealing blue cut-out mini dress that showed off all her curves. The blue-on-black mini dress was held together by three rings, each placed strategically on her breast, abdomen, and hips. 
The look was brought together with her locks tied into a bun atop her crown while glittering bling accessorized the apparel. All in all, the style icon looked stunning. 
For the fashion-savvy crowd out there, her dress was made in New York by Louisa Ballou. Ballou's Instagram shows the same dress donned by none other than Chloe Bailey.
The drop earring bling on her ears came from Saint Laurent, Tom Ford shoes, and Cartier and Lorraine Schwartz for the bangles. 
Joe Sang Praises
So much so that the following day the birthday boy spent several minutes discussing the 'Rain On Me' singer and her attire, as he was doing an Instagram live recap of his birthday party. He said,
When Ashanti comes out that car, Je-sus Christmas! I mean, what wasn't she wearing? Holy [expletive]…She is looking like a [expletive] missile out there in them streets.
Once on the roll, the rapper could not stop raining compliments over the songstress and hyped her up to kingdom come. Joe claimed that in all the years that he'd known Ashanti, she had never looked better. 
Joe Thought It Was Going to Fly off Her
As soon as the 'Rock Wit U' singer walked into the party, the rapper rushed her onto the stage because he apparently thought that her outfit could not make it through a sudden gust of wind. 
"I thought we had five minutes with Ashanti in there…" he joked, "You know how they rip off the basketball pants? This was one of them dresses."
Once on stage, the Grammy Award-winning songstress took over the crowd with her singles "Foolish" and "Rock Wit U." As her performance made it onto the internet, her name was trending on Twitter. 
Ashanti Took to Her Gram
"Gave em the blues," she later wrote on her own Instagram post of the much-hyped look. In the comments, Joe shared that her dress was all anyone was talking about. Jamie Fox commented, "Geeezus," for lack of a better word. 
Ashanti also made it a point to appreciate the rapper for all the compliments. She took to Instagram shortly after his birthday recap session and shared a series of clips from his live session. 
In the caption, she hollered that if one's brother did not hype them up like Joe did her, they were trash. She shared her love for the rapper and even claimed that she was crying over his words. But, of course, they were tears of joy.