MrBeast Reacts to 'Squid Game' Video Breaking Records on YouTube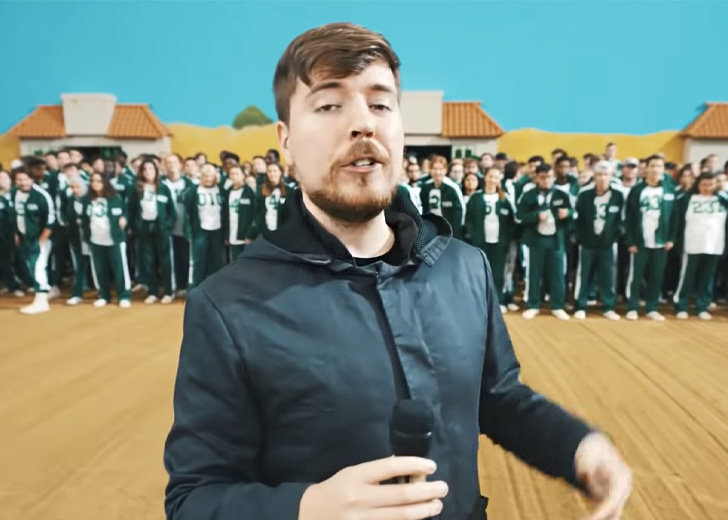 On November 25, 2021, Jimmy "MrBeast" Donaldson released his highly anticipated Squid Game reenactment. 
MrBeast built his YouTube empire by doing crazy stunts and giving away loads of money. He knew his next project should be a recreation of the dystopian sci-fi series, so he promised fans a full-scale recreation if his TikTok video received over 10 million likes. 
Fans surpassed it, and the video had over 81 million likes at the time of writing. The YouTuber also kept his promise.
He created his very own version of Squid Game, where 456 people play children's games for the ultimate prize, $456,000, but of course without the life and death mayhem. He copied many games, including Red Light Green Light, Marbles, Tug of War, and Dalgona. 
And in true MrBeast fashion, he and his crew recreated every detail right down to the costumes and the sets. It is one of the most ambitious projects the YouTuber has undertaken. And based on the reactions, his hard work has paid off. 
MrBeast Reacts to His Viral Squid Game Recreation 
Since the ambitious Squid Game project was released, the video has gone viral, smashing records left and right. 
His video hit one million views within nine minutes, and by the time it was 30 minutes, the video had over two million likes.
Within an hour, the video had over three million views and over one million likes. The view count currently stands at over 17 million views and has over 2.8 million likes. 
The video broke the record for "highest viewed first-hour video by a creator ever," according to creator Callux's tweet.
In the video's comment section, fans commended the YouTuber and his team for the mind-blowing sets and attention to detail. 
Fellow top creators also reacted to the video. Jacksepticeye tweeted, "this is insane," while Logan Paul and KSI expressed their appreciation and awe for the video. 
Apart from encouraging viewers to watch the video, MrBeast asked viewers on Twitter to make a reaction video as well. 
The viral video did so well that it prompted the creator himself to release a thank you video. MrBeast thanked everyone for the support and iterated that they put so much effort, time, and money into the video.
"Just to see everyone say all the nice things..I just want to say thank you. It means a lot. I love you guys," he said. He added he was really excited about how well the video was doing and loved how it turned out.
He also shared that he was afraid because he did not know how to one-up this video. 
'Squid Game' A Global Phenomenon
For those not aware, Squid Game is a South Korean drama that dropped on Netflix on September 21, 2021. 
Within days of its release, it was trending at no.1 on the streaming site. The tale of debt-ridden South Korean citizens battling each other in a deadly game of life and death, all for the last man standing to take home the massive cash prize, struck a chord with audiences worldwide. 
The show became the most-watched show on the streaming giant.