MrBeast's New Real-Life 'Squid Game' Tug of War Scene Leaked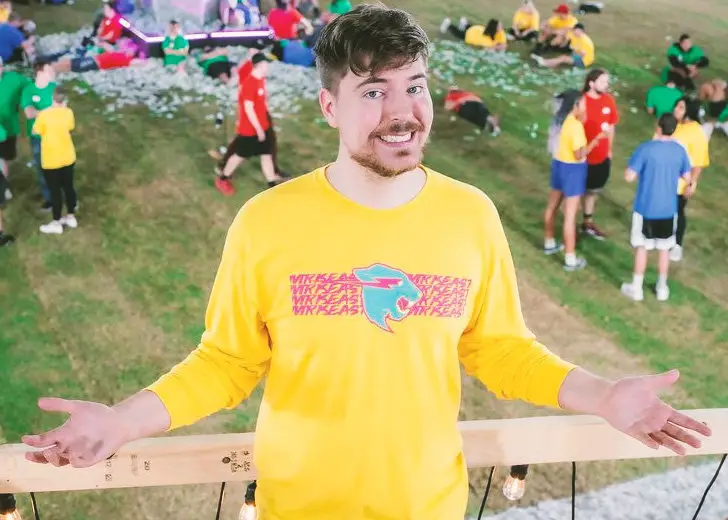 MrBeast has established himself as one of YouTube's most loved content creators with his insane and equally entertaining videos with lots of money up for grabs for anyone participating.
He has made waves with his unique ideas throughout the years, some of which included donating thousands of dollars to Twitch streamers, giving away Lamborghinis, and hosting an extreme game of tag with the cash prize of $500,000.
Aside from the challenges mentioned above, MrBeast has also used his popularity and platform to make philanthropic efforts.
He has helped provide food to those in need through the Beast Philanthropy organization and helped plant trees and clean the sea through Team Trees and Team Seas.
No matter what he does, MrBeast's videos generate a lot of buzz, and millions of people follow him regularly to keep up with his content.
However, starting in November, he attracted even more attention with his announcement of recreating the games from Squid Game with 456 contestants.
Squid Game has been filmed and now just needs editing, it is the craziest video we've ever filmed times 100!

Should be up early next week :) — MrBeast (@MrBeast) November 19, 2021
Ever since he made the announcement, millions of netizens have grown excited about the video.
On November 18, 2021, MrBeast took to Twitter to provide an update on the project, revealing that Squid Game had been filmed and just needed editing.
He also added that it was the "craziest video [he] had ever filmed times 100" and that it would be up the next week.
MrBeast had also shown the sets he and his team created for their video, recreating the stages where the games were held from the popular Netflix series on his Twitter.
Real Life Squid Game Tug Of War Scene Leaked
As the hype around the real-life Squid Game has been building up steadily, Keemstar gave a sneak peek of a scene featuring the recreation of the tug-of-war game from the series on DramaAlert.
The YouTuber expressed his excitement at the much-anticipated video and added that the release date might be Monday.
MrBeast is coming out with this big video. It's called Squid Game. He's redoing the whole thing. Everyone is looking forward to this. This man, MrBeast, has spent like $5 million on this video. I can't wait to see it. I think it comes out on Monday.
Controversy Surrounding MrBeast's Real Life Squid Game
While millions of people have expressed their excitement over MrBeast's recreation of the Netflix show, many others have also found fault with it.
The YouTuber has been criticized for spending millions of dollars on a video when he could have used it to give back to the community.
However, the argument falls short of standing up for itself as MrBeast has used his influence to contribute to many good causes, including fighting hunger, cleaning up the ocean, and planting more trees.
PewDiePie also commented on people's attempt at trying to cancel MrBeast for his real-life Squid Game. He added people were just making arguments while looking at the surface and deliberately ignoring all the good things MrBeast had done.