How Many Tattoos Does PewDiePie Have? A Look into His Body Art Collection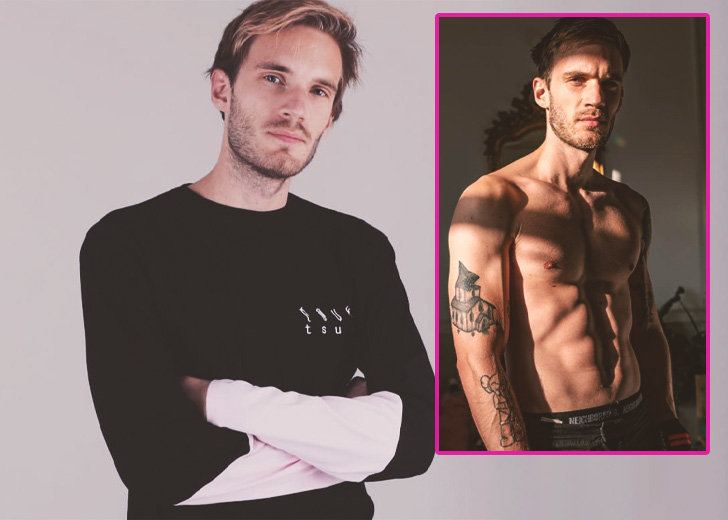 Born Felix Arvid Ulf Kjellberg, the Swedish YouTuber, is widely known by his YouTube name, PewDiePie. As of this writing, PewDiePie's YouTube channel has 110 million subscribers, making him the most subscribed individual in the world. As a result, he is dubbed as King of YouTube by many of his followers.
Apart from YouTube, the entertainer is also known for his hobbies, including books, Minecraft, and tattoos. The 32-year-old YouTuber has multiple tattoos engraved on his body.
A Look into PewDiePie's Tattoos
The popular YouTuber is a lover of body art and has six tattoos on both of his arms. PewDiePie hasn't kept his body art a secret and has showcased the artwork on his social media account.
The YouTuber has also openly discussed his tattoos during his chat with the YouTube channel Cold Ones Clips in June 2019. 
First, PewDiePie has a tattoo of a Swedish Church with an open roof done on his biceps. In December 2016, the internet personality took to his Instagram account and posted a picture of the tattoo.
In the post's caption, PewDiePie mentioned Sweden to be the place he got the design made and, in the same writing, thanked his tattooist William Pacheco for the work.
The online influencer has a picture of "a skeleton on a cat" crafted in soft black ink on his upper right arm. Even though PewDiePie did not straightforwardly announce the tattoo, he showcased the design in his 2015 holiday post on his Instagram.
In July 2016, PewDiePie posted a picture on his social media and wrote how he was "back again with another amnesia custom story."
In the particular picture, PewDiePie rocked his "2012" look and was spotted with an artwork of a girl tattooed on his forearm. The design was based on the works of American artist Kaws.
On his left forearm, YouTuber PieDiePie has inked an image of a frog playing the trumpets. PewDiePie, on his Instagram, posted the picture of his tattoo and paid his "tribute to an ol pal," Osaka-based Japanese illustrator and tattoo artist known as Haskey C.
PewDiePie's Other Tattoos
PieDiePie has two other interesting tattoos done on his arm. These designs are complex artwork and aren't straightforward compared to his aforementioned tattoos.
On his left forearm, PewDiePie has a heart-shaped face along with an eye with three drops made.
When asked about the artwork during his YouTube interview with Cold Ones Clips, PewDiePie called the design to be an "instant tattoo" and later revealed to have forgotten about the concept behind it. In his explanation, the YouTuber said, 
I think I have a reason when I got 'em but clearly, I don't remember any of it. I swear to god, I don't remember what that is.
The last tattoo that PewDiePie has on his body is of a naked lady kissing a skeleton. The tattoo is relatively bigger than the ones he's had and sits perfectly on his left shoulder. In his interview, PewDiePie said that he "don't remember exactly" the concept behind the design.