Moses Hacmon's Ex Daphney Claims Trisha Paytas Announced Pregnancy on the Date He Raped Her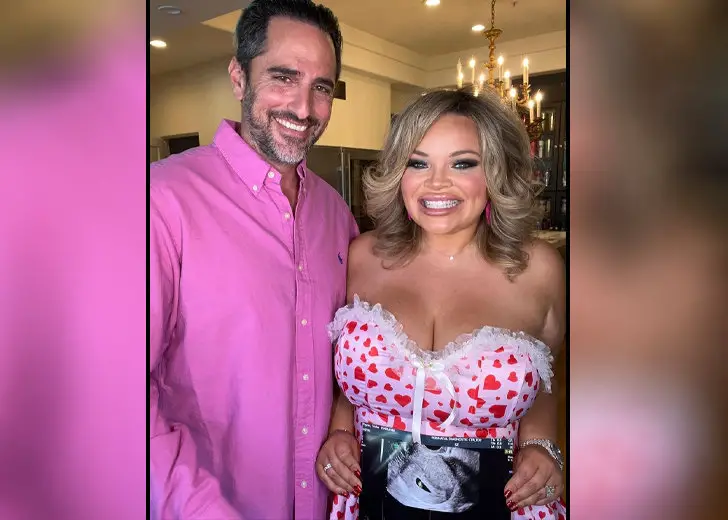 Trigger Warning: Stealthing, rape, and molestation. Reach out to National Sexual Assault Hotline (1-800-656-4673), Victim Connect Live Chat (victimconnet.org), and National Teen Dating Abuse Helpline (1-866-331-9474) if you are ever or have been taken advantage of.
Trisha Paytas announced their pregnancy on February 14, 2022. They posted pictures of themself with their ultrasound of their baby alongside their husband, Moses Hacmon.
The pair are expecting their first kid, and they were excited to announce it to the world. But unfortunately, many did not share the same sentiments as them.
After the announcement, Paytas was trending on every platform. Many influencers congratulated them for their pregnancy as well. 
But a lot of people were concerned about Paytas and Hacmon's unborn kid. One such person was Hacmon's ex, Daphney, who goes by @ms.mercury and @penguinosidehustle.
She reminded her fans and followers of her unfortunate incident with Hacmon, who raped her. 
Moses Hacmon's Ex Daphney's IG Stories
A couple of hours after Paytas revealed their pregnancy, Daphney took to Instagram stories to bash her ex and the YouTuber. She shared her disappointment via her second account, @penguinosidehustle. 
She reminded her followers that Hacmon and his wife had announced their news exactly on the date he raped her. Back in 2021, Hacmon found himself in hot waters after being accused of rape by his ex partners. 
Daphney was the one who was the most vocal about it. Via Instagram live in September 2021, she went into details about how Hacmon took advantage of her.
The pair met on February 14, 2019, and got intimate twice. Daphney was serious about their relationship, but for Hacmon, it was merely a hookup.

Moses Hacmon's Ex, Daphney, accused him of rape and stealthing on IG stories. (Source: Instagram)
Initially, when they got intimate, it was consensual. Hacmon was wearing protection at the time, and Daphney was okay with it.
But later, she saw him stealthing, which she did not consent to. As a result, Daphney accused her ex of rape. 
She also urged people to report him and get him arrested for it. Back then, stealthing was not illegal, but currently, it falls under civil offense in California. 
Hacmon responded to stealthing and rape allegations and said he did none of what he was accused of. But people, including Hacmon's sister and brother-in-law Hila and Ethan Klein, believed in Daphney. 

Moses Hacmon's Ex, Daphney, posing for a picture. (Source: Instagram)
Daphney also exposed Hacmon for wanting to leave Paytas after their kid was born. Apparently, Hacmon texted Daphney, saying he would leave his fiancée after the birth of their baby.
He also confirmed he was doing so to collect the child support. There have been no updates in this regard from Hacmon and Paytas' side.
Regardless, Daphney is still vocal about the issue and wants to make her ex take accountability. 
On her Instagram Stories posted after Paytas' pregnancy announcement, Daphney wrote how she remembers Hacmon and his actions. She also said he was "a monster and unfit for society."
Similarly, Daphney wished that the couple's kid was not a girl. Hacmon and Paytas have not responded to Daphney's comments yet.