Milana Vayntrub Has Kept Her Love Life a Secret Ever since Her Last Known High-Profile Relationship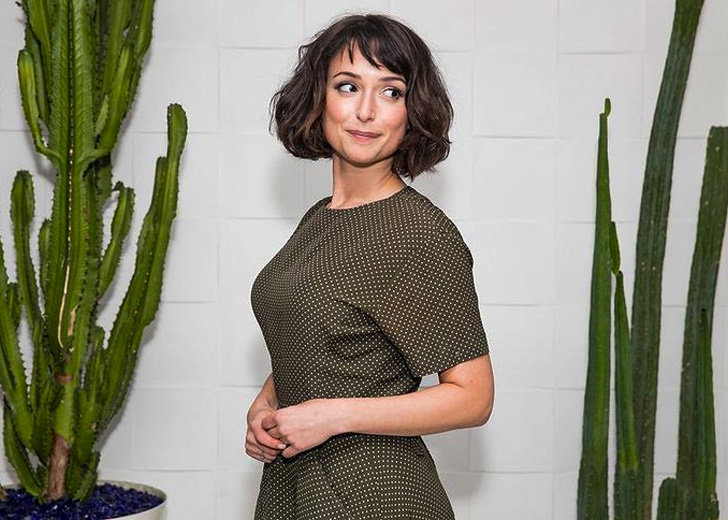 Milana Vayntrub, born Milana Aleksandrovna Vayntrub, is a famed Soviet-born American actress who rose to prominence after her appearances in AT&T television commercials as saleswoman Lily Adams, initially between 2013 and 2016.
Afterward, she was a regular face on the Yahoo! Screen science fiction comedy Other Space and NBC drama This Is Us. Her other film and TV show credits include Werewolves Within, The Shabbos Goy, Marvel Rising: Secret Warriors, and Die Hart.
In addition, Vayntrub also made the rounds in the industry with her relationship stories early in her career. However, she has been comparatively secretive about her relationship status in recent years.
Scroll through to learn about her relationship history over the years, as well as some facts about her career.
Milana Vayntrub Is Reportedly Single Now
Fans have often asked questions such as, "is Milana Vayntrub single?" or "is Milana Vyantrub married?" 
According to Otakukart, the Squirrel Girl actress is presently single. The report stated that she was not dating a boyfriend or married to a husband as of June 2021 and relished her single life.
The outlet further revealed Vayntrub preferred to keep her relationship status under wraps, making her dating life extremely private. And even though she is single, she has not mentioned it publicly.
Milana Vayntrub And John Mayer's Relationship
Vayntrub gathered quick limelight when John Mayer reportedly was her boyfriend around 2006.
At that time, Vayntrub was only 19 years old and taking her initial steps in the entertainment industry, whereas the famed musician was 28 years old and established.
Many media publications also reported that she was one of Mayer's many casual flings, and as a result, their relationship was never made official in public.
But after a year of dating, the two reportedly broke up without citing the reason behind it.
Besides Vayntrub, Mayer has been linked to several other divas, including renowned names like Taylor Swift, Miley Cyrus, Kim Kardashian, Katy Perry, Jessica Simpson, Cameron Diaz, Minka Kelly, and Jennifer Aniston.
Coming back to the University of California alum, she has not been linked to any men after her break-up with the Bridgeport-born singer.
Milana Vayntrub Recently Starred on 'Werewolves Within'
The 34-year-old actress was recently featured in the American comedy horror film Werewolves Within, which had its world premiere at the Tribeca Film Festival on June 16, 2021. The film was later released in theaters on June 25, 2021, followed by a video on demand on July 2 by IFC Films.
The film is based on a video game of the same name from Red Storm Entertainment and follows a group of people in a small Vermont town who get trapped in a snowstorm only to suspect one of them is a werewolf.
In the film, Vayntrub portrayed one of the lead characters, Cecily Moore, and was accompanied by other cast members like Sam Richardson, Milana Vayntrub, Sarah Burns, Michael Chernus, George Basil, Wayne Duvall, Rebecca Henderson, and Glenn Fleshler.
Werewolves Within's story was written by Mishna Wolff and directed by Josh Ruben.
And upon its release, the movie received positive words from critics, who praised the film's blend of horror and comedy, as well as Ruben's direction, Wolff's screenplay, and the performances of the cast, especially Richardson and Vayntrub.