How John Mayer's Obsession with Grateful Dead Led to Dead and Company's Formation
John Mayer first heard Grateful Dead's song 'Althea' circa 2011.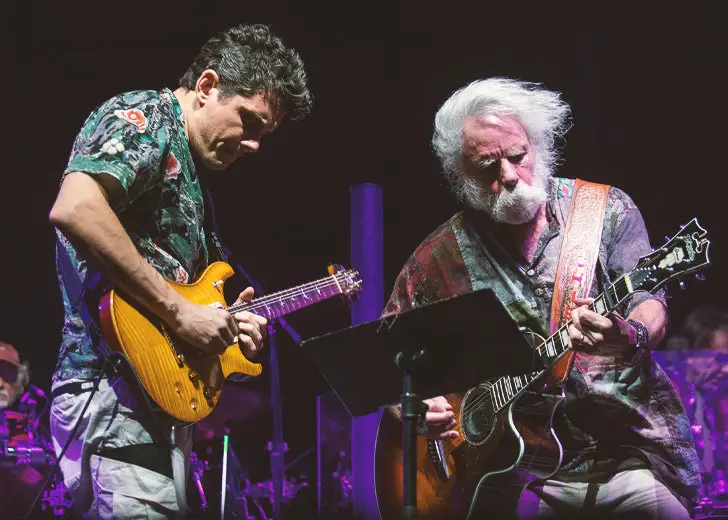 Singer-songwriter John Mayer has been an instrumental figure in the music industry for the last two decades. He has entertained music fanatics with his powerful music albums and singles.
In 2015, the Connecticut-born artist also made an impactful contribution when he formed the band, Dead & Company, consisting of former Grateful Dead members Bob Weir (guitar), Mickey Hart (drums), and Bill Kreutzmann (drums), along with Oteil Burbridge (bass/drums), Jeff Chimenti (keyboards), and himself (guitar).
Mayer and his band members are currently on the road — touring across the country, which started in Raleigh, North Carolina, on August 16 and will wrap up in Cancún in January 2022.
Dead and Company's Formation
In October 2015, a day before Dead & Co. was announced, the 'I Guess I Just Feel Like' singer sat down with Billboard and talked about how his obsession with Grateful Dead, a popular American rock band, led to Dead and Company's formation.
He recalled listening to online music platforms like Pandora and SiriusXM circa 2011, where he initially came across Grateful Dead's song 'Althea.' "I actually came in from being outside in the pool, I was dripping wet and had to see what was on the iPod," he added.
Mayer soon started recognizing pieces of songs from the stated band. There even came a time when he only listened to their songs while driving around Los Angeles.
That was my entrance into it — how you could cut across town and sit there in traffic and listen to a dozen classic rock songs or you could just sort of drift and watch the sun go down or look at the billboards and take it in on a really abstract level.
The famed singer further admitted that he was not aware of Grateful Dead or their shows previously. But once he heard them, he felt like he could represent those touching songs with the present generation, who didn't hear Grateful Dead's music.
"I don't have any of that fan show-going experience, so I really discovered the music on a totally pure level," Mayer said.
The Band's Shows over the Years
After the band was announced, members came together for Dead and Company's live debut, a Halloween gig on October 31, 2015, at New York's Madison Square Garden. They also performed later that year, on December 31.
"I'm honored and excited to share that I'll be joining Bob Weir, Bill Kreutzmann, Mickey Hart, and Jeff Chimenti of the Grateful Dead and John Mayer for a new venture—Dead & Company," Burbridge, one of the band members, said in a statement before the debut event.
In 2016, the band played their first festival performance at the Bonnaroo Music Festival.
In the following years, Dead and Company went on the 2017 Summer Tour, Fall Tour 2017, 2018 Summer Tour, and 2019 Summer Tour. The band further had three concerts as part of the "Playing in the Sand" event at the Moon Palace resort in Cancún, Mexico, in January 2020.
Interestingly, despite the annual tours and shows, the band has released no studio recordings. However, the songs performed during the concerts are available on CDs, iTunes, and other streaming services.