Michael Keaton Keeps Details about His Mystery Girlfriend under Wraps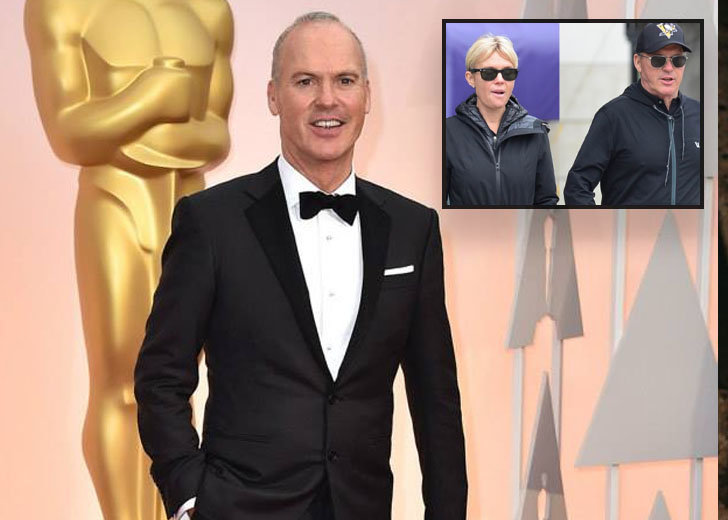 Actor Michael Keaton was spotted with his mystery girlfriend in March 2020.
The couple was pictured walking down the road in Santa Monica, California.
The acclaimed actor wore a black casual outfit, including a hooded jacket, black joggers, and neon mild-green sneakers.
Additionally, Keaton donned black shades and a baseball cap and looked sharp as he walked alongside his girlfriend.
On the other hand, the blonde mystery woman had a waterproof coat with grey jeans and Nike black sneakers on her.
Later, the rumored couple was seen with groceries, exiting a shop on Montana Avenue.
Earlier in 2021, Keaton was once again seen in the company of the same woman.
On July 06, Keaton's rumored girlfriend was photographed kissing the actor as he arrived at the LAX Airport in Los Angeles.
Despite Keaton being seen frequently with his undisclosed girlfriend, there isn't concrete information to suggest if they are dating now.
Another obvious factor contributing to the dilemma is Keaton's total silence regarding the matter.
Micheal Keaton's Relationships Prior to Rumored Girlfriend
The Batman actor was previously married to his wife, Caroline McWilliams.
His wedding with his former wife, McWilliams, took place in 1982. Their relationship as husband and wife ended in 1990.
Keaton has a son named Sean Douglas, born in 1983, from his marriage with McWilliams.
Unfortunately, the actor's ex-wife passed away on February 11, 2010.
Per a Los Angeles Times report in 2010, she died aged sixty-four at her Los Angeles home due to complications of multiple myeloma.
Like Keaton, his wife was also into the entertainment business.
She came to public notice after her role in longtime CBS drama Guiding Light.
A year before his divorce with now-deceased ex-wife McWilliams, Keaton was in love with Golden Globe-nominated actress Courteney Cox.
Keaton and Cox met through a mutual friend and had their first date at Cox's house.
According to InStyle, she fell in love with Keaton after being blown away by his performance in the 1988 movie Clean and Sober.
"We talked for five hours. We talked about our dream homes," the actress told People in her recollection in 1995.
Reportedly, the couple was very private about their relationship and used to opt for home-cooked meals rather than heading out.
However, after spending around six years as a couple, Keaton and Cox called their relationship off in July 1995.
"It's the most important relationship I've ever had," remarked Cox. 
Before their separation, there were strong rumors of the actors getting married to each other. 
While the reported cases are known in public, Keaton had, in his own words, spent time with his girlfriends in Montana.
During his exclusive conversation with The Guardian in 2017, the Birdman actor talked about when he disappeared from the public eye.
After his 1998 movie Out of Site came out, Keaton opted for a sabbatical.
He would spend the next sixteen years "hanging out in Montana, hunting with neighbors and walking in the woods."
Keaton was further asked about his then-relationship, which he bluntly refused to talk about in public.