Actors Warner Bros. Should Consider For Possible 'Batman Beyond' Project
A live-action Batman Beyond may be years away from development; it could be well around 2024/25 till we see the release of a live-action 'Batman Beyond' project.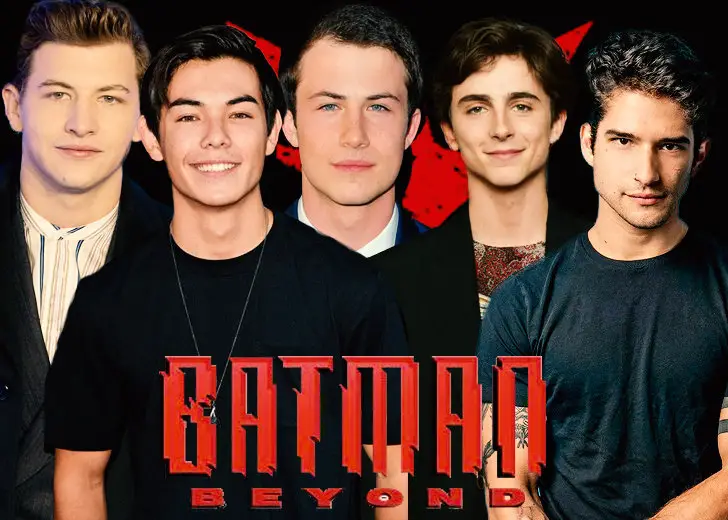 A live-action Batman Beyond may be years away from development; it could be well around 2024/25 till we see the release of a live-action Batman Beyond film.
Previously, we covered how the upcoming movie The Flash' movie might set up a live-action Batman Beyond project after 68-year-old Michael Keaton was reportedly in conversation to have been cast as Batman in the upcoming Flash movie.
Batman Beyond (1999 to 2001) was a futuristic animated series that told the story of  Terry McGinnis—young Batman struggling with work-life balance while being mentored by a seventy-year-old Bruce Wayne.
The latter had created and donned he ultimate bat-suit as original Batman but is no longer able to fight crime in his fragile state.
Initially, Terry uses the suit to avenge his father's death. But after seeing his potential, Wayne takes him under his wing to train him, and thus a new Batman is born.
As the new Batman, Terry is an amateur learning the ropes. He was only 16 when he discovered Batman's suit in a Batcave. 
Because Terry became Batman at a relatively younger age than Bruce, Terry is often hot-headed and stubborn. He doesn't have the collected personality of his mentor. He struggles in his normal life and has to balance his crime-fighting career as well.  
Possible Actors In an upcoming 'Batman Beyond' Project
Terry McGinnis
Actors playing Terry will need to showcase the youthful exuberance. The actor should also be able to portray a sense of maturity when Terry fully realizes the heaviness of his responsibility. 
So, here is a list of top 5 Warner Bros. should keep an eye out for. 
1. Tye Sheridan
Sheridan has proved that he can lead a big-budget production and also stand his ground alongside more established names.
 By the time a Batman Beyond project likely comes out, the actor will approximately be 28 years old. But this won't be a problem since there have been plenty of instances when older actors played younger characters.
But what makes Sheridan a compatible actor to play Terry is his experience of playing not only a young superhero but also emotionally distressed or detached characters who could make a comeback in life.
He played a young Scott Summers/Cyclops in Xmen: Apocalypse (2016) and Dark Phoenix (2019). His performance as the young leader of X-men would also put him on Steven Spielberg's sight for Ready Player One (2018). 
In Ready Player One, Sheridan played Wade Watts, an 18-year-old loner who spends the majority of his time immersed in the virtual game of OASIS with no larger aim in life. 
As the story progresses, Watts evolves into a mature and level-headed guy. He eventually wins the multi-billion-dollar prize that the game offered. 

(IPhoto Source: Pinterest)
Sheridan's breakout performance was Ellis in Mud (2012). As one of the leading young protagonist of the film, Tye was able to bear the emotional weight of the film despite international star Matthew McConaughey playing the titular character. 
After his acclaimed performance in the movie, he went on to star in another indie hit named Joe (2013) alongside Nicholas Cage. In Joe, Tye played a wrecked teenager from a broken family. His character displayed the right amount of machismo and naivete. 
2. Tyler Posey
28-year-old Tyler Posey started acting since he was eight years old. He started getting noticed from films such as Men of Honour (2000), Collateral Damage (2002), and Maid in Manhattan (2002). 

(Photo Source: Tumblr)
His breakout role was a character named Scott McCall in the MTV series Teen Wolf (2011-2017). In the series, Posey is turned into a supernatural werewolf being after bitten by a werewolf.
As a teenage werewolf, McCall battles to keep his identity a secret while protecting his friends and family from unknown supernatural threats. 

Posey in 28-year-old now, but he would be able to channel the same teenage angst he showed on Teen Wolf to the character of Terry McGinnis.
3. Ryan Potter
Like Sheridan, Potter is no stranger to superheros or supernatural roles. People may know him from DC Universe's Titans (2018), where he played Garfield Logan (Beast Boy).
His other superhero role was voicing the main protagonist Hiro Hamada in Disney animated feature Big Hero 6 (2014). The movie was based on Marvel comics of the same name. 

(Image: Pinterest)
In addition, Potter is a self-proclaimed DC nerd and spent a lot of time campaigning for Robin's role in the DCEU. He shot a video of himself wielding Robin's trademark bo staff and practicing martial arts moves.
Towards the end of the video, Potter even gave a shoutout to Ben Affleck to cast him as Robin in his then The Batman film. 
However, Robin was never planned to appear in any films in the DCEU at the time. Still, Potter's passion paid off because he was cast as Beast Boy on Titans series. 
As of now, the actor is 24 years old.
4. Dylan Minnette
Minnette is 23 years old and is a more versatile actor than his above counterparts. Unlike his previous three contenders, Minnette does not have superhero credit to his resume.
But he has given acclaimed performances in famed projects such as Prisoners (2013), Don't Breath (2016), The Open House (2018), and Netflix hit series 13 Reasons Why (2017).

(Photo Source: Tumbler)
 Minnette's eyes are also one of his biggest assets when it comes to landing him the role of Terry McGinnis. His eyes have a haunted look, and this would go a long way to personify the teenage angst that Terry faces playing the dual role of Batman and a high-school student.
5. Timothee Chalamet
If there's anyone on this list that can give him a tough competition, it is Timothee Chalamet. Chalamet is quickly becoming a rising young star in Hollywood, with some even comparing his career to Leanardo Di Caprio's. 
Like Di Caprio, Chalamet has managed to land all the right roles. He played Ellio Perlman in his breakout performance in Call Me By Your Name (2017). His performance as a 17-year-old gay student in the movie earned him an Academy Award nomination. 

(Photo Source: Tumbler)
Likewise, Chalamet's roles in Hot Summer Nights (2017), Lady Bird (2017), and Little Women (2019) were also loved by the fans and critics alike. 
The actor will next appear in Dennis Villeneuve's Dune (2020) as the main protagonist Paul Atreides. The movie is slated to become one of the next big sci-fi movies alongside Christopher Nolan's Tenet (2020). 
If Chalamet keeps heading where he is headed, then he could certainly win an Oscar award well before his time. The actor is 24 years old and will be around 28 if we assume that a live-action Batman Beyond project will come out after four years.