A Look at Martha Stewart's Playground on 'Martha Gets Down and Dirty'
Martha Stewart welcomed MTV Cribs inside her home for an exclusive look.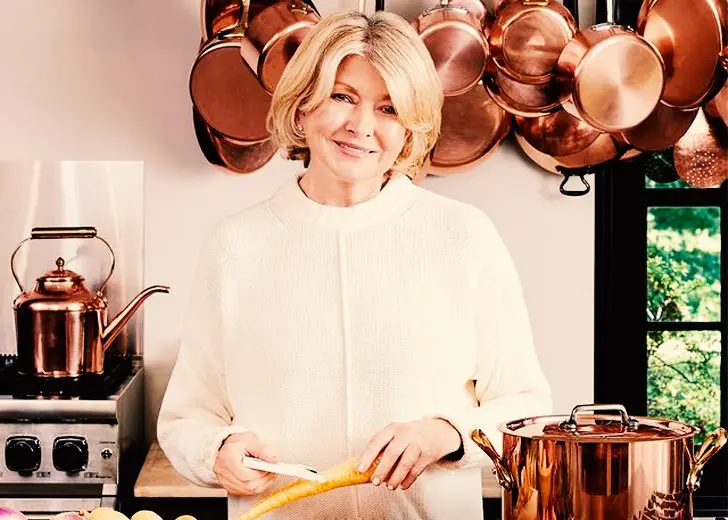 Martha Stewart has been gracing the television screen for decades through shows like Martha Stewart Living and Martha. More recently, the lifestyle tycoon appeared on the Discovery+ series Martha Gets Down and Dirty.
Stewart shared her gardening know-how and lifestyle tips in the eight-episode series, which aired from July 1, 2021, to August 5, 2021. The series also saw some of her celebrity friends as guests, including Kim Kardashian West, Seth Meyers, and Tiffany Haddish, among many others.
The television personality shared she would show everything it took to achieve a picture-perfect garden.
I've lived on this farm for almost 20 years — don't let the manicured lawns and picture-perfect gardens fool you — there's always SO much to do. I'm going to take you behind-the-scenes as I get my hands dirty around my property, as well as help my celebrity friends.
Stewart also gave fans a look at her 150-acre plus farm in Bedford, New York, through MTV Cribs. She gave an exclusive look inside her house for the second episode of MTV Cribs' 18th season.
There are seven houses on the farm, including the main house (which she called the Winter House), the tenant house, a vegetable greenhouse, a horse stable, and a personal gym.
There are also various livestock on the 156 acres plot of land — 3 horses, 150 chickens, numerous geese, and 14 blue canaries.
Martha Stewart's Career
Stewart has a long and successful career that started with modeling for Chanel when she was young to help pay for her college tuition. She went on to open several businesses in the coming years and eventually wrote a cookbook called Entertaining (published in 1982).
Following Entertaining, she released several books like Martha Stewart's Quick Cook (1983), Martha Stewart's Pies & Tarts (1985), The Wedding Planner (1988), and more. The books achieved much success, and Stewart made dozens of television appearances on programs such as The Oprah Winfrey Show and Larry King Live.
Stewart further expanded her reach on media and television starting in 1990 when she signed with Time Publishing Venture to start a new magazine called Martha Stewart Living. Three years later, she began a weekly half-hour television program that shared the same name as her magazine.
The magazine and her television program grew over the next decade, with the magazine's circulation peaking at 2 million copies per issue in 2002. As her popularity soared and her number of works on television and book space increased, she established the Martha Stewart Living Omnimedia in 1997.
Stewart served as the chairwoman, president, and CEO of Martha Stewart Living Omnimedia. The company overlooked everything related to Stewart and consolidated her position as one of the best lifestyle mavens out there. It also made her America's first self-made female billionaire.