Malu Trevejo Gets New Gigantic Back Tattoo — Here's a First Look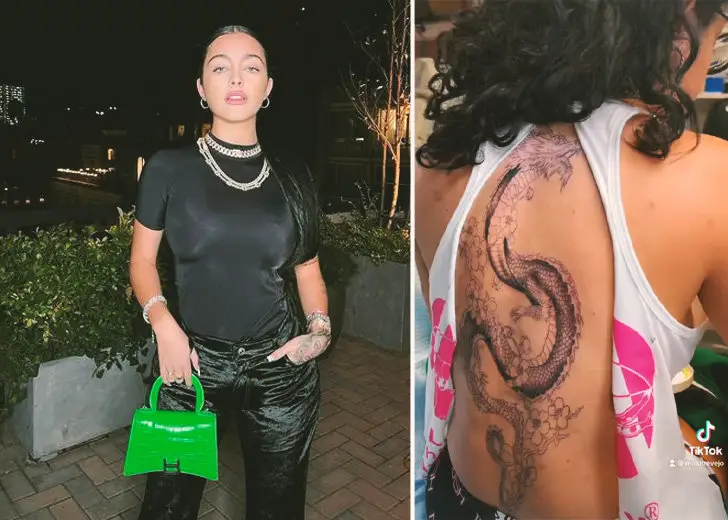 María Luisa Trevejo, famously known as Malu Trevejo, is flaunting her new back tattoo.
On Saturday, November 20, the Cuban-American singer took to her TikTok handle to give the first glimpse of her gigantic new dragon tattoo on her back, adding to her many tattoos inked all over her body.
In the TikTok video, she sat down on a bench and munched on chips while the tattoo artist, Alex Chiong, inked her back.
The artist also posted a snap on his official Instagram handle, with him still tattooing dragon on her back. "Today is Friday and the body knows it, it knows that it loves tattoos," the caption in the post read.
Later that day, Trevejo shared another video on TikTok. She danced in the song 'Curazao' by El Alfa, Farruko, and Chael Produciendo before turning around and showing off her new ink.
In addition, she shared an update on her Instagram stories stating her new body art was not complete, and she had another appointment next week to complete it.
Fans React to Her New Back Tattoo
Fans were in awe of her new tattoos as soon as Trevejo showed them off in her TikTok video.
"I love how tattoos look on you," one fan commented in her TikTok post.
Someone wrote that she was excited to watch the complete tattoo, writing, "That's a dope tat can't wait to see what it looks like fully finished."
"What's ur aftercare for the back tattoo?" another fan inquired.
Malu Trevejo's Other Tattoos and Their Meaning
During one of her Instagram live sessions in March 2020, Trevejo's fan asked her how many tattoos she has and the meaning behind them.
Replying to the question, she revealed that she had more than ten tattoos and simultaneously showed her 'Tiger with Lotus' tattoo on her left arm. She said she got that design because the tiger was her favorite animal, and the lotus was her favorite flower. 
She then displayed another one on the same arm — and the tattoo was a quote by Erin Van Vuren. 
The quote says, "I will not be another flower picked for my beauty and left to die. I will be wild, difficult to find, and impossible to forget."
Another significant tattoo on her body is of an eye located just below her chest. She reportedly got the tattoo in June 2018, inked by Chiong.
Her chest tattoo is a unique ocean-themed design where the shell forms the nose of the woman's face. In addition, tiny fishes are also inked near the eyes, along with a crescent moon on the top.
Trevejo further has a crown inked near her right ankle. She got the matching tattoo with her former boyfriend in July 2019. The crown tattoo symbolizes power, leadership, luck, importance, victory, triumph, honor, and glory.
Trevejo also has a tattoo of Medusa on her left hand. In the Greek culture, Medusa is described as one of the monstrous females who had the living snakes on her head instead of hair.
Additionally, she has tattoos of a hibiscus flower on her left forearm, a butterfly on her left shoulder, and paw prints near her left wrist.