4 Movies from the Year That Everyone Finally Acknowledged Gay People Exist Even in Christmas
LGBTQ Christmas Movies from 2020 that you don't want to miss!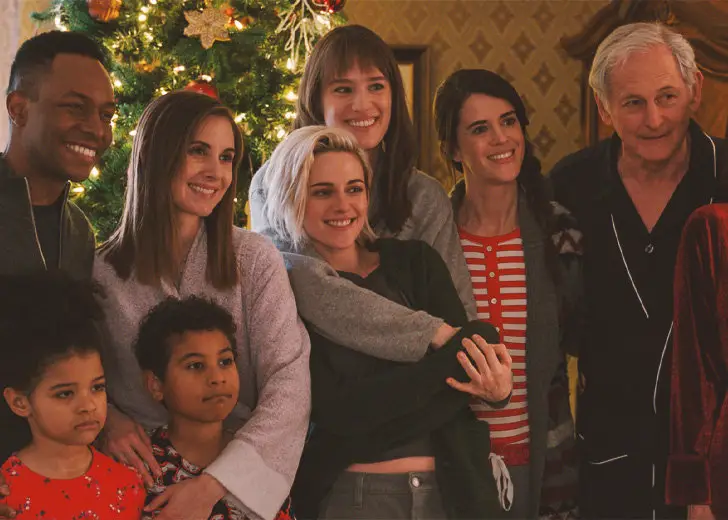 It's never too early to start snuggling up and watching heartwarming Christmas movies.
It's even better when LGBTQ characters are in the lead roles instead of just being the gay best friends in the background.
So, Get yourself a nice mug of hot cocoa, because here is our list of favorite LGBTQ holiday movies from 2020!
'Happiest Season' — Hulu
As a part of a long-awaited wave of queer-centered holiday flicks blessing the world in 2020, filmmaker Clea DuVall presented us with Happiest Season. 
Happiest Season opens with the long-term couple Abby (Kristen Stewart) and Harper (Mackenzie Davie) spending Christmas with Harper's family in the suburbs of Pennsylvania.  
Meeting your girlfriend's family for the first time can be intimidating, even more so, if they don't know you're gay.
Acceptance is a powerful word. Some people spend their whole lives in pursuit of it. And while it may be easier to be surrounded by strangers and cite acceptance, it gets complicated when it comes to family.
Abby and Harper deeply unearth all these sentiments. So keep a box of tissues handy! 
'The Christmas House' — Hallmark
The Christmas House will not leave you disappointed if you're looking for a wholesome holiday movie. 
Phylis and Bill Mitchell summon their grown sons, Mike and Brandon, home for the holidays to recreate the Christmas house. Brandon and Jake are anxiously awaiting details about adopting their first child, while Mike reconnects with his high school sweetheart.
During his conversation with Popsugar, Jonathan Bennett, who plays Brandon in the movie, wishes he had a Movie Like The Christmas House growing up.
"I think of all the young Jonathans out there, who are sitting in their small towns in the Midwest, hoping they might feel a little more seen and a little less scared this Christmas."
Mainstream networks like Hallmark went from removing an ad featuring a lesbian couple to spotlighting a gay couple in a Christmas movie, Bennett stated he is "proud of the network," for changing its ways.
'The Christmas Setup' — Lifetime TV
The Christmas Setup is a delightful classic holiday flick that follows the story of New York lawyer Hugo (Ben Lewis) who heads to Milwaukee.
Hugo runs into Patrick (Blake Lee), Hugo's high school friend and secret crush, who has recently returned after a successful stint in Silicon Valley.
As they enjoy the local holiday festivities together, Hugo and Patrick's attraction to each other is evident, but then Hugo receives word of a big promotion across the pond in London, he must decide what is most important to him.
In the premiere of The Christmas Setup, actor Lee expressed his gratitude to Lifetime for providing the cast the opportunity to represent the queer community in a Christmas movie. 
"I think this movie is a wonderful thing for people to watch. It feels important, and it feels needed."
'Dashing in December' — Paramount
As expected of a Jake Helgren movie, Dashing in December starts in the typical classic holiday movie fashion.
Wyatt Burwall (Peter Porte) finally returns home to convince his mother Deb to sell the Colorado family ranch.
Wyatt is unexpectedly inflamed by a romance with Heath Ramos (di Pace) that reawakens the spirit of Christmas in Wyatt's lonely heart. He wants Deb to sell the family ranch, but cannot let go of the love of his life. 
This nostalgic movie will make you want to return home for the holidays and will leave you feeling the holiday magic.