Lauren London Parents' Ethnicity, Kids, Movies, Parents, Husband And Net Worth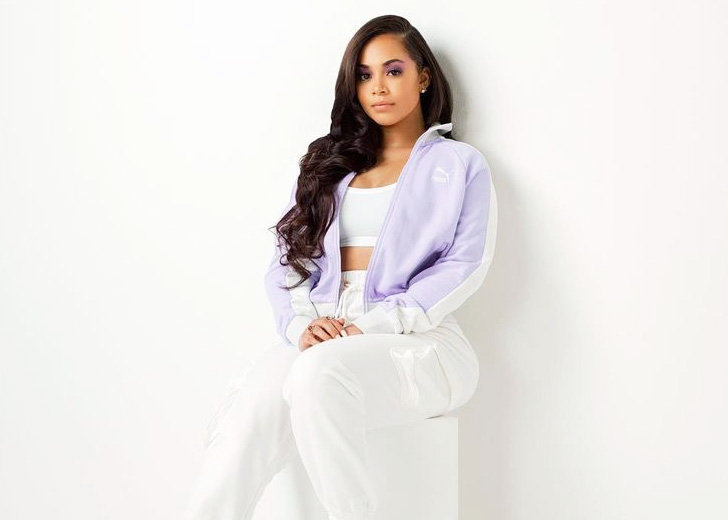 Lauren London is a renowned actress, model, and television personality who initially rose to fame after her performance as Erin Garnett in the 2006 coming-of-age film ATL.
Her exceptional performance in the film ATL also earned her a nomination for Outstanding Performance by an Actress in a Supporting Role at the Black Movie Awards.
Today, she has many notable movies and television acting credits, including Madea's Big Happy Family, The Christmas, Baggage Claim, The Perfect Match, Without Remorse, The Game,  Games People Play, and You People.
In 2023, London was seen in the American romantic comedy film You People alongside the likes of Jonah Hill and David Duchovny.
The Netflix top-rated movie features an unlikely modern-day love tale between finance broker and pop culture podcaster of Ezra (Jonah Hill) and stylist Amira (Lauren London) which manages to showcase the two people of different backgrounds and racial identities (black and white) competing together in the face of several difficulties of blending in.
And at this point, if you are thinking about the famous kiss between the two actors during the movie's final wedding scene and how romantic it was, then let us tell you that it was CGI, according to actor Andrew Schultz, Papermag reports,
With the movie hitting the screens, fans are now wondering who Lauren London has been dating after the death of her boyfriend Arimiess Ashedom, also known as American rapper Nipsey Hussie.
Hence in this article, we focus on the personal life of the talented actress, including her early life, ethnicity, her relationship life, and current dating status. We will also cover information about London's age and net worth.
Lauren London's Father and Mother belong to Different Ethnicity
Born in Los Angeles County, California on 5 December 1984, the 39-year-old actress is biracial, as her parents belong to two different ethnicities. Her mother is African-American, while her father is an Ashkenazi Jewish. Her parents divorced when she was only three years old and it was her mother who looked after her. 
According to Los Angeles Times, London is a second-generation Angeleno. Her family arrived in the city through the great migration.
Her grandmother was from Chicago, and her great-grandmother was from Mississippi. That said, the actress' mom, who went to Crenshaw for a year before transferring to Dorsey, was the first in her family born and raised in L.A.
"My mom was an original L.A. baby," she told the publication in May 2021.
But success didn't come easily for her, as she worked hard towards her profession and repeatedly proved that she belonged in the industry. The credit also has to go to her parents, who raised her to be strong and fight against all the odds.
Lauren London Talks about Struggles with Biracial Identity
London has often opened up about her struggles in the past with her biracial identity and growing up as a mix-race child
In one instance, she said to Kathleen Cross that one has to discover who they are and how they feel about themselves on their own despite their given ethnicity.
"Whatever your ethnicity is in this life, you are going to be on a journey to discover who you are and how you feel about yourself," she stated.
She also recalled being teased by her cousins on her mother's side for not being "Black enough" while growing up. She added, "And then I'd spend the summer with my dad and be sent to all white summer camps where I was 'that Black girl.'"
Lauren admitted that prompted confusion that she struggled with "for about a minute," but after a while, "I figured it out for myself."
London now does not let others define herself. If someone thinks she was not "Black enough," it was their issue and not hers. She further explained,
I'm okay with who I am and it is what is. I'm a Black woman like my mother, and I love who my father is, and I love both sides of me. Nobody makes a big deaI about it anymore because I won't take that anymore.
Lauren London is a Mother to Two Boys
The famed actress is a mother of two beautiful boys herself. She welcomed her elder son, Kameron Carter, born on 9 September 2009, with her on-and-off partner Lil Wayne.
After breaking up with the rapper, she dated Ermias Asghedom, better known as Nipsey Hussle, and gave birth to her second child Kross Asghedom, born in 2016. The couple was together until the rapper's death on March 31, 2019. At the time, she captioned an Instagram post of a tattoo of him inked on his hand. She wrote, 
I am completely lost. I've lost my best friend. My sanctuary. My protector. My soul. I'm lost without you. We are lost without you babe. I have no words," she wrote. That April, London also honoured Hussle by getting a tattoo of him on her arm. 'Real Love Never Dies.'
Since then, London has been raising her kids on her own as a single parent. To Real Life Podcast in July 2022. she implied that her own experience being raised by a single mother helped her to raise her children as a single mother herself.
Now, she has been living with the idea that it would be unrealistic for her to find love again after Nipsey's death.
What happened between Jonathan Hill and Lauren London?
London recalled to The Tonight Show With Jimmy Fallon that she had an awkward first meeting with her You People co-star Jonathan Hill. According to her, she drove to meet Hill prior to the movie's filming, but someone in the van was in front of the entrance and the path forward remained blocked. 
After that, she honked her horn and also frustratingly said 'Who is blocking the —'" However, to her surprise, Hill came out of the van. She was embarrassed but they eventually turned out to be a good friend and colleagues. 
What is Lauren London's Net Worth?
According to Celebritynetworth, London's estimated net worth is $8 million.