Who Are Latto's Mom And Dad? What's Her Parents Age?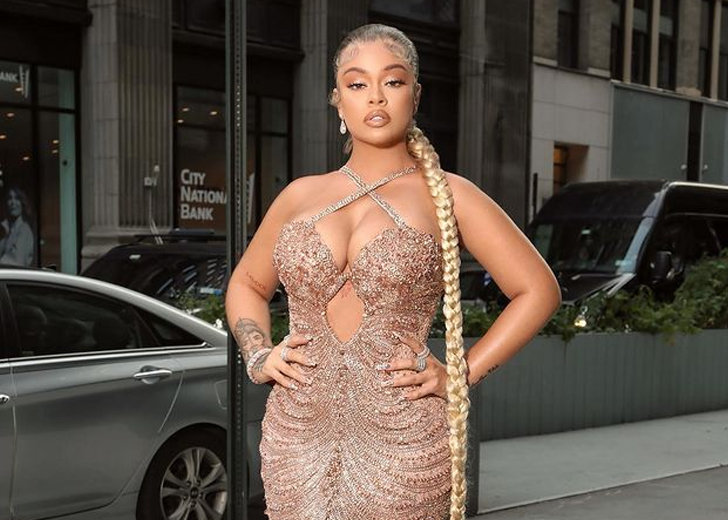 American rapper Alyssa Michelle Stephens has been professionally known by names such as Latto, Miss Mulatto, and Big Latto. But how did the names originate?   
Where is Big Latto from?
Alyssa Michelle Stephens was born to her mother, Misti Pitts, a white American, and her father, Shayne Stephens, an African American, in Columbus, Ohio. 
During her interview with Dj Vlad in 2018, the rapper spoke about growing up with her biracial parents of different races. 
She revealed she got bullied for being light-skinned during her school years because of the stereotypes against light-skinned people.
She added that she grew up with her parents and their families, thought little about race, and identified with both. 
But it was only when she went to school that she realized people thought differently about her biracial family.
Latto was supposed to be walking in her drag racer father's footsteps
The rapper also spoke about her rap career and revealed that her father had different plans for her growing up. 

Latto's Parents (Source: Latto's Instagram)
Her father's family was into drag racing, and he wanted her to carry on the tradition. So the rapper grew up around cars and was taught to drive from a young age. 
My dad spent so much money, thousands of dollars invested into me becoming a junior drag driver. One day I was like, 'I don't want to do this any more. I want to be a rapper.' And he kind of looked at me crazy.
Her father was shocked at her decisions, but he supported her. As someone who had frequently worked with rappers and understood the rap industry, her father advised her on the pros and cons of becoming her rapper. 
But ultimately, he let her decide. 
Why did Mulatto change her name to Latto?
And Latto stuck with her decision and chose a rap career. She even took on the moniker Mulatto, but it ended in controversy.
For the unversed, the term Mulatto refers to people who have European and Black African roots. 
The term is a racist slur and is considered as offensive as the "n-word." It was mainly used to denote multi-racial children.
Unfortunately for the artist, her choice of the controversial name resulted in a backlash from the public.
In May 2021, NME reported the rapper had changed her stage name to Latto. "We're gonna start positive, and I feel like that's gonna bring that energy my way. I feel like, in a way, that could've been holding me back, and I don't want to attach that to myself anymore," she told Billboard.  
"I don't want to go by Mulatto anymore, because this was a long process, and I want people to respect the process and the time and energy and tears and meetings it took for this name change," she explained, adding, "I feel like it's a new chapter, and I don't want any more of that negative energy. Latto is good fortune."
Also, in May 2021, the rapper explained to Billboard that she had kept the controversial name in good faith to take something negative and spin it positively. And also added that she was insecure about her race and wanted to embrace her identity. "Mulatto was a negative term that I was trying to make positive," she said.
Previously, during an interview with Hot Freestyle, she had noted that her intention was never to "glorify being mulatto" and if that was what people were perceiving, she felt it was only right to change her name. 
You know you might know your intentions, but these are strangers who don't know you, never even met you in person. So you gotta hear each other out, and if you know those aren't your intentions and that's how it's being perceived, it's like why not make a change or alter it? For me, it was the name. So now I'm like, 'OK, my intentions was to never glorify being mulatto.' So if that's how it's being perceived and people think I'm saying, 'Oh, I'm better because I'm mulatto' or 'My personality trait is mulatto' … then I need to change the matter at hand.
And with the name change, she is now known as Latto. 
Why does Latto have 777?
According to Latto, the 777  number signifies luck and good fortune. After changing her stage name to Latto, which she says is like "Lotto," the famous rapper also tattooed 777 on her right hand.
The Big Energy rapper also released her second album titled 777 in 2022.
Why is Latto also known as Big Latto?
Latto explained to Billboard that she had been using the name Big Latto when she was "geeked up."
"I feel like Big Latto is more like an alter-ego. It's the turned-up version of Latto — it's not the stage name. My name on stage was Mulatto, and then when I was super turnt, it was Big Latto. Now it's Latto, and when I'm geeked up, it's Big Latto. That's like, seasonal when you get into that mode. It's not 24/7," she explained. 
Who is Latto?
Latto, once known as Miss Mulatto was born to parents of different races. She moved to Atlanta in her teens to fulfill her dreams. 
She is a rapper who skyrocketed to fame after winning the first installment of the Lifetime series, The Rap Game.
She became an independent artist and released her first single, 'No More Talking,' in February 2016. She then won the Youth Hip Hop/R&B Award at the 2016 Georgia Music Awards and the following year, she released the EP Time and Pressure. 
In June 2019, she released another EP entitled Big Latto. Then, in 2022, she had her biggest hit with the popular single 'Big Energy,' from her second studio album, 777.
What is Latto's Father & Mother's age?
Latto has spoken many times in the media about wanting to keep her personal life private. Hence, it is hard to find too much personal information about her parents. However, her parents are occasionally seen on her social media and mentioned in her interviews.
But in 2022, Latto's parents became a subject of the media spotlight because of her controversial feud with her idol Nicki Minaj regarding the latter's single Super Freaky Girl not qualifying for rap categories in the 2023 Grammy awards. Minaj was not happy that her single was not selected and called for Latto's song to  get a similar treatment, to which the latter framed that the former was trying to be a "bully."
"I have no prob being moved out the RAP category as long as we r ALL being treated FAIRLY. If SFG has 2B moved out RAP, then so does Big Energy! ANY1 who says diff is simply a Nicki hater or a troll. I'd actually LUV 2 c a more street record win- male OR female! IJS rightIsRight," Minaj insisted on a Twitter post. 
Latto later responded to the post, stating, "Damn, I can't win for losing… all these awards/noms I can't even celebrate."
After the tweet, Sportskeeda stated that the pair reportedly talked about the issue privately but again disagreed with one another. After the disagreement, Minaj accused Latto of being a "Karen" and a "scratch off" for lack of support from Latto despite regarding Minaj as her idol and a source of inspiration.
And as the back and forth between the two personalities escalated, Latto took a dig at Minaj, stating, 
I've ignored countless subtweets since March and instead addressed u in the dm. You're asking why I didn't speak up in ur defense… it's the same answer I gave u when u asked why I didn't congratulate you. Ur literally older than my mom tryna be a bully @NICKIMINAJ
In return, Minaj dissed Latto by calling her to be older than her mom, to which Latto again replied, "Super freaky grandma is married AND related to f***ing r*pists" as she dissed Minaj's husband, Kenny Petty. 
Hereafter, Minaj then posted screenshots of not only her mother's age but also those posts claiming her parents have had an unusual age gap of over 19 years. The Super Bass rapper also called out Latto for not considering her family background when she asked to collaborate together. 
However, as per Famous Birthdays, Latto's mother is currently 39 years old, Misti Pitts, and was born on December 29, 1982. The site reports that Pitts and Latto have an age difference of 16 years.
What is Latto's net worth?
According to Celebritynetworth, she has an estimated net worth of $2 million as of December 2022. 
What is Latto's age?
As of this writing, Latto is 24 years old. She was born on December 22, 1986, in Columbus, Ohio. 
Is Latto dating or married?
Currently, Latto is in an intimate dating relationship. In one of her interviews, she talked about her likeliness toward her partner and described him as a standard man. She explained that she favored "traditional old school" men. She has also praised her man for being there for her amidst her busy schedule and emotional ups and downs.
 Since 2021, the 'Wheelie' singer has also been speculated to be dating rapper 21 Savage, especially by the Eagle-eyed fans. Their dating rumor first started when Savage joined her birthday party in Puerto Rico. Then after, the fans speculated that they might have been dating after they discovered similar content on both Latto's Instagram and Savage's friends' clips.
In addition, Savage later added a  picture of her without makeup on his Instagram, further fueling the boyfriend rumors. He has, however, denied the rumors. 
In the past, at the age of 17, she dated American rapper Bandit Gang Marco in 2017. The pair separated in the same year amicably, Despite the breakup. Latto remained good friends with her ex-boyfriend Bandit.