21 Savage Shades His Ex for Cheating on Him and Gets Called Out for Misogyny
"That's different though, because we conquer women," 21 said while contrasting infidelity amongst men and women.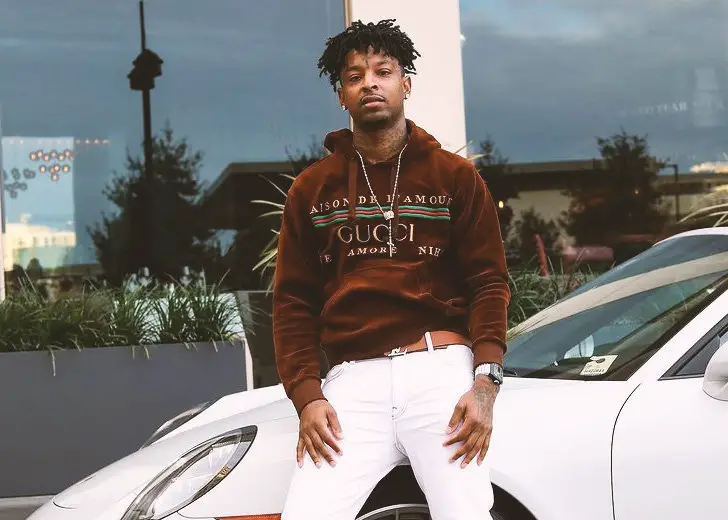 21 Savage just drew a contrast between when a woman cheats on a man and vice versa.
Admittedly, that was a field of landmines he was treading on, and not surprisingly, the rapper got called out for his misogynistic comments.
During a recent appearance on Million Dollaz Worth of Game, the Atlanta rapper pitched that men could cheat on their women because he felt that it meant he was conquering another woman.
21 Savage Outed His Girlfriend Cheating on Him
The conversation began with the rapper getting questioned if he'd ever been heartbroken, to which he replied with an honest yes.
Then, when the conversation took a turn to an instance when the rapper was a victim of infidelity, he outright announced he would end the relationship right then and there, never to speak to that woman again in his life. 
Probing further, the hosts questioned Savage if he ever forgave his girlfriend for cheating on him. The rapper admitted he couldn't because his perception of the women had been altered. He explained, 
I tried to forget it, forgive. Every time you do something wrong, that [expletive] just get you. 'You was suckin' [expletive]' is just automatically what comes to a [expletive] head. I couldn't ever look at her the same.
When Men Cheat V. When Women Cheat
At that point, the host offered up a statistic, claiming that women were more forgiving than men when it came to cheating in a relationship. Agreeing with what the host said, the rapper gave his take on why things were so. 
"That's different though, because we conquer women," 21 replied.
The 'No Heart' rapper expounded that when he'd cheat on his girlfriend, she would look at the situation like, "OK, my man conquered a woman." In other words, the guy won in that situation. 
But when the roles were switched, he would view it as someone else conquering his queen, making his entire castle vulnerable. He added that once someone got into bed with his girlfriend, they would know the ins and outs of his lifestyle and the problems he was facing, making him vulnerable. He added, 
Once you get a girl in your bed, you damn near can get her to do anything you say. Especially if she got a [expletive]. If a girl willing to risk it to get in the bed with you, she's ready to do whatever you say.
The Reactions
When the podcast channel posted the snippet of this conversation on their Instagram page, a surprising number of people actually sided with the rapper.
However, not long after, The Neighbourhood Talk caught wind of the conversation and asked their followers on Instagram for their take on the matter. Their narration of the incident was outlined, "21 Savage says if a man cheats on his girl, it's okay."
The consensus in the comments came down to 21 Savage harboring double standards, being misogynistic, and being dumb. 21 Savage also stopped by to post a comment where he denied ever having said that it was okay for men to cheat. But, then again, the comments section differed.